UGPase | UDP-glucose pyrophosphorylase (cytoplasm marker)
AS05 086 | clonality: polyclonal | host: rabbit | reactivity: A.thaliana, H.vulgare, O.sativa, P. glauca, Populus sp. and more | cellular [compartment marker] of cytoplasm

PRODUCT INFORMATION IN PDF
product information

background
 

UDP-glucose pyrophosphorylase (UGPase, UDPGP) E.C=2.7.7.9. is a key enzyme of synthesis of sucrose, cellulose and other saccharides. There are two cytoplasmic isoforms of UGPase-A (which share 94 % identity on amino acid level) and one chloroplastic UGPase-B isoform in Arabidopsis thaliana which share ca. 10-11 % of identity (Kleczkowski et al. 2011).


immunogen
 

recombinant UGPase Q43772 overexpressed and purified from E.coli

antibody format
 

| | | | | |
| --- | --- | --- | --- | --- |
| rabbit | polyclonal | | serum, | lyophilized |

quantity
 

| | |
| --- | --- |
| 200 µl, | for reconstitution add 200 µl of sterile water. |

storage
 

store lyophilized/reconstituted at -20°C; once reconstituted make aliquots to avoid repeated freeze-thaw cycles. Please, remember to spin tubes briefly prior to opening them to avoid any losses that might occur from lyophilized material adhering to the cap or sides of the tubes.

tested applications
 

western blot (WB)

related products
 

For cytoplasmic marker for Chlamydomonas reinhardtii - please check NAB1

collection of antibodies to carbohydrate metabolism

additional information
 

cellular [compartment marker] of cytoplasm, UGPse is a cytoplasmic protein Martz et al. (2002)
application information

recommended dilution
 

1: 1000 - 1: 3000 with standard ECL (WB)

expected | apparent MW
 

51.6 kDa

confirmed reactivity
 

Arabidopsis thaliana, C. annuum, C. sativus, F. arundinacea, Hordeum vulgare, L. esculentum, L. chilense, N. tabacum, Oryza sativa, Picea glauca, Populus sp., S. tuberosum, S. sogarandinum,

predicted reactivity
 

dicots including: Gossipium hirsutum, Ricinus communis, Solanum tuberosum, Vitis vinifera, monocots including: Saccharum officinarum, Zea mays, trees: Populus tremula, conifers: Pinus taeda

not reactive in
 

no confirmed exceptions from predicted reactivity known in the moment

additional information
 

this antibody detectes 1 ng of UGPase in a western blot and reacts with both cytosolic isoforms only which have similar MW of ca. 52 kDa in Arabidopsis thaliana

selected references
 

McLoughlin et al. (2013). Identification of novel candidate phosphatidic acid binding proteins involved in the salt stress response of Arabidopsis thaliana roots. Biochem J. Jan 17.

Dhont et al. (2012). Tree size affects accumulation of carbon and nitrogen metabolites in white spruce seedlings during short day-induced bud formation. Botany, September 28.

Yasui et al. (2012). The Phytochrome-Interacting VASCULAR PLANT ONE-ZINC FINGER1 and VOZ2 Redundantly Regulate Flowering in Arabidopsis. Plant Cell Aug 17.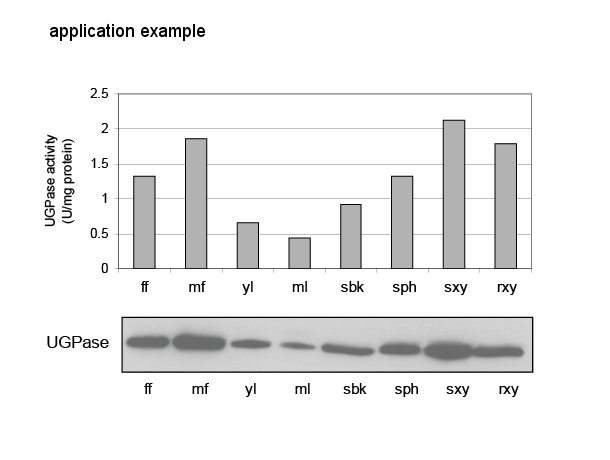 A 1-year-old greehouse grown plant was dissectedinto different tissues, which were then used for enzyme assays and immunoblot analyses. Equal amounts of total protein (7.5 μg) were loaded on each lane. SDS-PAGE was run on a 7.5% gel. Immunoblot was done using Amersham PVDF transfer membrane. Primary antibodies against barley UGPase were used in 1: 1000 dilution. Secondary antibodies (Amersham ECL Rabbit IgG, HRP-Linked Whole Antibody from donkey) were used at 1:10 000.
ff - female flower, mf - male flower, yl - young leaf, ml - mature leaf, sbk - stem bark, sph - stem phloem and cambium, sxy - stem xylem, rxy - root xylem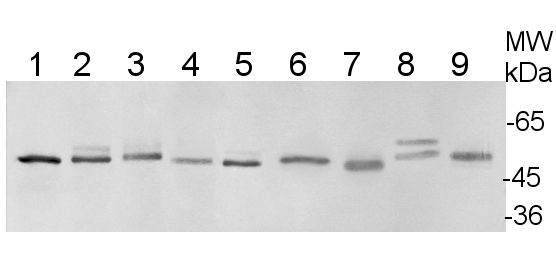 15 µg of total soluble protein extract from leaves and stems of Solanum tuberosum (1), Solanum sogarandinum (2), Lycopersicum esculentum (3), Lycopersicum chilense (4) , Arabidopsis thaliana (5) , Cucumis sativus (6) , Festuca arundinacea (7) , Nicotiana tabacum (8) and Capsicum annuum (9) were separated on 10% SDS-PAGE and blotted onto nitrocellulose . After blocking with 5% milk in TBST , blots were incubated with the primary antibody at a dilution of 1:1500 in TBST for 1h at room temperature. Following incubation and wash steps, blots were incubated with SIGMA secondary Anti-Rabbit IgG , Alkaline Phosphatase Conjugate for 1 hour at a dilution of 1:40000 . Blots were developed with the alkaline phosphatase detection system using NBT/BCIP (SIGMA).
Courtesy of Bartosz Szabala, Institute of Plant Genetics, Polish Academy of Science .
---
||| For applications or usage on species others than stated above Agrisera offers a payment-after-testing option. To learn more about this or for any questions on this product, please use the LiveChat option in the left menue bar or contact us at support@agrisera.com

Product sheet »