UGPase | UDP-glucose pyrophosphorylase (cytoplasm marker)
Buy
2 items
of this product for
198 €/each
Buy
3 items
of this product for
180 €/each
AS05 086  |  clonality: polyclonal  |  host: rabbit  |  reactivity: A. thaliana, C. annuum, C. sativus, F. arundinacea,  H. vulgare, L. esculentum, L. chilense,Malus x domestica Borkh. c.v. Fuji, M. polymorpha, N. tabacum, O. sativa, P. glauca, Populus sp., S. tuberosum, S. sogarandinum, Triticum |  cellular [compartment marker] of cytoplasm

PRODUCT INFORMATION IN PDF
product information

Background

UDP-glucose pyrophosphorylase (UGPase, UDPGP) E.C=2.7.7.9.  is a key enzyme of synthesis of sucrose, cellulose and other saccharides. There are two cytoplasmic isoforms of UGPase-A (which share 94 % identity on amino acid level) and one chloroplastic UGPase-B isoform in Arabidopsis thaliana which share ca. 10-11 % of identity (Kleczkowski et al. 2011).

Immunogen

Recombinant UGPase Q43772 overexpressed and purified from E.coli

Host
Rabbit
Clonality
Polyclonal
Clone
Purity
Serum
Format
Lyophilized
Quantity
50 µl
Reconstitution
For reconstitution add 50 µl of sterile water.
Storage

Store lyophilized/reconstituted at -20°C; once reconstituted make aliquots to avoid repeated freeze-thaw cycles. Please, remember to spin tubes briefly prior to opening them to avoid any losses that might occur from lyophilized material adhering to the cap or sides of the tubes.

Tested applications
Immunolocalization (IL), Western Blot (WB)
Related products

AS14 2813 | UDP-glucose pyrophosphorylase (cytoplasm marker) (Hordeum vulgare) 
For cytoplasmic marker for Chlamydomonas reinhardtii - please check NAB1

Collection of antibodies to carbohydrate metabolism

Recommended secondary antibody

Plant protein extraction buffer

Additional information

Cellular [compartment marker] of cytoplasm, UGPse is a cytoplasmic protein Martz et al. (2002)
application information

Recommended dilution

1: 1000 - 1: 3000  with ECL (WB), 1: 1500 (IL)

Expected | apparent MW

51.6 kDa

Confirmed reactivity
Arabidopsis thaliana, Brassica rapa, Capsicum annuum, Cucumis sativus, Festuca arundinacea, Hordeum vulgare, Lycopersicum esculentum, Lycopersicum chilense, Malus x domestica Borkh. c.v. Fuji,, Marchantia polymorpha, M.vaginalis, Nicotiana tabacum, Oryza sativa, Picea glauca, Populus sp., Solanum lycopersicum, Solanum tuberosum, Solanum sogarandinu, Triticum aestivum
Predicted reactivity

Brassica pekinensis, Capsella rubella, Glycine max, Glycine soja, Gossipium hirsutum, Pinus taeda, Populus tremula, Ricinus communis, Saccharum officinarum, Zea mays, Vitis vinifera, Citrus sinensis, Jatropha curcas, Cucumis melo, Bambusa oldhamii, Eucalyptus grandis, Theobroma cacao, Gossypium hirsutum, Sorghum bicolor, Amorpha fruticosa, Brachypodium distachyon, for more species, please inquire


Not reactive in

C. merolae, diatoms

Additional information

This antibody detectes 1 ng of UGPase in a western blot and reacts with both cytosolic isoforms only which have similar MW of ca. 52 kDa in Arabidopsis thaliana

Selected references
Nagel et al. (2017). Arabidopsis SH3P2 is an ubiquitin-binding protein that functions together with ESCRT-I and the deubiquitylating enzyme AMSH3. Proc Natl Acad Sci U S A. 2017 Aug 7. pii: 201710866. doi: 10.1073/pnas.1710866114.
Schalk et al. (2017). Small RNA-mediated repair of UV-induced DNA lesions by the DNA DAMAGE-BINDING PROTEIN 2 and ARGONAUTE 1. Proc Natl Acad Sci U S A. 2017 Mar 21. pii: 201618834. doi: 10.1073/pnas.1618834114.
Castellano et al. (2016). A pathogenic long noncoding RNA redesigns the epigenetic landscape of the infected cells by subverting host Histone Deacetylase 6 activity. New Phytol. 2016 Sep;211(4):1311-22. doi: 10.1111/nph.14001. Epub 2016 May 12.
Hsu et al. (2016). Super-resolution ribosome profiling reveals unannotated translation events in Arabidopsis. Proc Natl Acad Sci U S A. 2016 Oct 21. pii: 201614788.
Liu et al. (2016). iTRAQ-based quantitative proteomic analysis reveals the role of the tonoplast in fruit senescence. J Proteomics. 2016 Sep 2;146:80-9. doi: 10.1016/j.jprot.2016.06.031.
Bancel et al. (2015). Proteomic Approach to Identify Nuclear Proteins in Wheat Grain. J Proteome Res. 2015 Sep 8.
Kolb et al. (2015). FYVE1 is essential for vacuole biogenesis and intracellular trafficking in Arabidopsis thaliana. Plant Physiol. 2015 Feb 19. pii: pp.114.253377.
Rounis et al. (2014). Seeded and Parthenocarpic Cherry Tomato Fruits Exhibit Similar Sucrose, Glucose, and Fructose Levels, Despite Dissimilarities in UGPase and SPS Gene Expression and Enzyme Activity. J. Plant Growth Regul., July 2014. (immunolocalization)
Komatsu et al. (2014). Phototropin Encoded by a Single-Copy Gene Mediates Chloroplast Photorelocation Movements in the Liverwort Marchantia polymorpha L. 1. Plant Physiol. 2014 Sep;166(1):411-27. doi: 10.1104/pp.114.245100. Epub 2014 Aug 5.
Fukayama et al. (2014). Nocturnal phosphorylation of phosphoenolpyruvate carboxylase in the leaves of hygrophytic C3 monocots. Bioscience, Biotechnology and Biochemistry.
Szabala et al. (2014). Accumulation of acidic SK3 dehydrins in phloem cells of cold- and drought-stressed plants of the Solanaceae. Planta, Jan 7.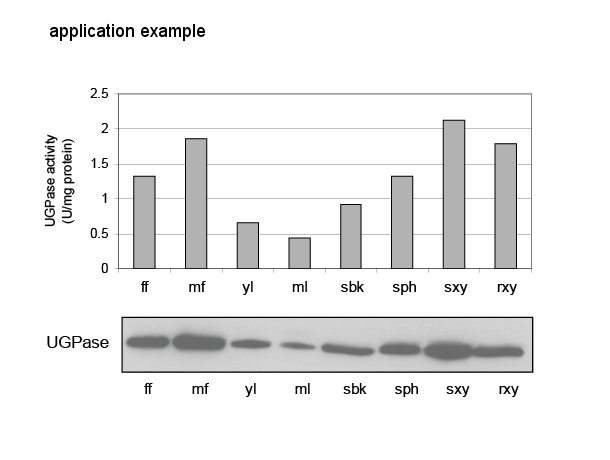 A 1-year-old greehouse grown plant was dissectedinto different tissues, which were then used for enzyme assays and immunoblot analyses. Equal amounts of total protein (7.5 μg) were loaded on each lane. SDS-PAGE was run on a 7.5% gel. Immunoblot was done using Amersham PVDF transfer membrane. Primary antibodies against barley UGPase were used in 1: 1000 dilution. Secondary antibodies (Amersham ECL Rabbit IgG, HRP-Linked Whole Antibody from donkey) were used at 1:10 000.
ff - female flower, mf - male flower, yl - young leaf, ml - mature leaf, sbk - stem bark, sph - stem phloem and cambium, sxy - stem xylem, rxy - root xylem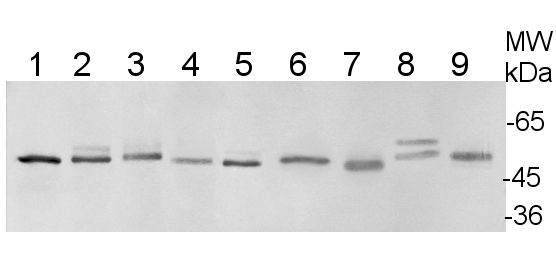 15 µg of  total soluble protein  extract from leaves and stems of  Solanum tuberosum (1),  Solanum sogarandinum (2),   Lycopersicum esculentum (3),  Lycopersicum chilense  (4) , Arabidopsis thaliana (5) , Cucumis sativus (6) ,  Festuca arundinacea  (7) , Nicotiana tabacum (8) and Capsicum annuum (9)  were separated  on 10% SDS-PAGE and blotted onto nitrocellulose .  After blocking with 5% milk in TBST , blots were incubated with the primary antibody at a dilution of 1:1500 in TBST for 1h  at room temperature. Following incubation and wash steps, blots were incubated withSIGMA secondary Anti-Rabbit IgG , Alkaline Phosphatase Conjugate for 1 hour at a dilution of 1:40000 . Blots were developed with the alkaline phosphatase detection system using NBT/BCIP (SIGMA).
Courtesy of Bartosz Szabala, Institute of Plant Genetics, Polish Academy of Science .
---
||| For other applications, usage on species other than stated above or any other questions, please use the LiveChat option or contact us at support@agrisera.com