Agrisera IncuBlocker (rabbit antibody)
AS16 3111-IB
 |
Agrisera IncuBlocker (Rabbit) DATA SHEET IN PDF
Easy – Quick – Clear

Agrisera IncuBlocker (rabbit)
is an "all in one" kit for fast western blot processing. Whole process takes place in a single step as blocking, primary and secondary antibody binding occur simultaneously. Followed by a wash step with included buffer. Depending upon titer of primary antibody it can be re-used up to 5 times (not recommended for quantification work). The kit contains all you need to get you started, except for primary antibody of your choice and chemiluminescence developing reagent, which you can also purchase from Agrisera:
AgriseraECLSuperBright
(extreme low femtogram detection range, highest sensitivity).
Frequently Asked Questions about IncuBlocker are answered here.
Application examples
Application examples
Example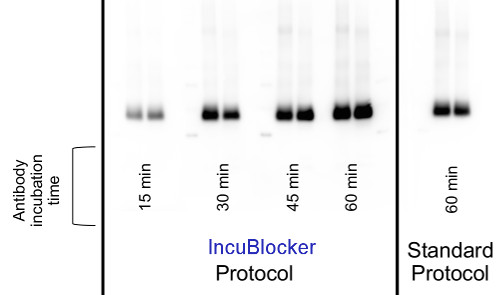 1 µg of total protein from Arabidopsis thaliana leaf (1), Hordeum vulgare leaf (2) were extracted with Protein Extraction Buffer PEB (AS08 300). Samples were diluted with 1X sample buffer (NuPAGE LDS sample buffer (Invitrogen) supplemented with 50 mM DTT and heat at 70°C for 5 min and keept on ice before loading. Protein samples were separated on 4-12% Bolt Plus gels,  LDS-PAGE and blotted for 70 minutes to PVDF using tank transfer. Blots were blocked immediately following transfer in 2% blocking reagent (GE RPN 2125; Healthcare) or 5% non-fat milk dissolved in 20 mM Tris, 137 mM sodium chloride pH 7.6 with 0.1% (v/v) Tween-20 (TBS-T) for 1h at room temperature with agitation. Blots were incubated in the affinity purified anti-PsbA primary antibody at a dilution of 0.1 µg/ml (Standard Protocol, right panel) (in blocking reagent) for 1h at room temperature with agitation or added to Agrisera IncuBlocker (rabbit) rapid western blot reagent and incubated for indicated amount of time together with appropriate secondary antibodies included in IncuBlocker (left panel).

Following standard protocol: the antibody solution was decanted and the blot was rinsed briefly twice, and then washed 1x15 min and 3x5 min with TBS-T at room temperature with agitation. Blots were incubated in secondary antibody (goat anti-rabbit IgG horse radish peroxidase conjugated, recommended secondary antibody AS09 602, Agrisera) diluted to 1:25 000 in blocking reagent for 1h at room temperature with agitation. The blots were washed as above. The blot was developed for 5 min with AgriseraECL SuperBright (AS16 ECL-S-100) detection reagent according the manufacturers instructions. Images of the blots were obtained using a CCD imager (VersaDoc MP 4000) and Quantity One software (Bio-Rad). Exposure time was 30 seconds.


Note:

Solution containing your precious primary antibody can be re-used up to 5 times, depending upon antibody titer. Additional Wash Buffer can be purchased separately.
Proprietary blocking mix assures minimal background.
This kit is recommended for proteins with moderate to high expression and antibodies of a good titer. Can be well combined with Agrisera Global Antibodies.
Additional information
Additional information
Kit components:
Wash Buffer (Reagent A) and the "all in one" goat anti-rabbit HRP-conjugated secondary antibody in advanced blocking solution (Reagent B).

Required: primary antibody of your choice and chemiluminescense detection kit, for example Agrisera ECL BrightEnhanced.

Assay time: 15 minutes to 1 hour  + 3 x 5 minutes wash

Procedure:



  
Washing (3 x 5 min) --> Incubation with IncuBlocker (15 min-1h) --> Washing (3-4 x 5 min)
Instruction of use.

Step by step:

1. Add 2 ml of a Wash Buffer (Reagent A), shake at RT for 5 min. then discard the wash buffer. Repeat this step 3 times.
2. Add your primary antibody to 20 ml of reagent B (recommended concentration 0.2-0.5 µg/ml for affinity purified antibodies or standard dilution recommended by manufacture for antibodies in format of serum.
3. Add this solution to your membrane and shake at RT for 15 min-1h (optimized by end user).
4. Discard or collect the solution then return to step 1.
5. Following this procedure your membrane ready for detection using chemiluminescence.
Related products: Agrisera IncuBlocker (rabbit antibody)