Agrisera IncuBlocker Wash Buffer
AS16 3696
  |
Agrisera IncuBlocker Wash Buffer DATA SHEET IN PDF
Agrisera IncuBlocker Wash Buffer 
to be used with
Agrisera IncuBlocker.


Agrisera IncuBlocker is an "all in one" kit for fast western blot processing. The kit contains all you need to get you started, except for primary antibody of your choice and chemiluminescence developing reagent, which you can also purchase from Agrisera:
AgriseraECL SuperBright
(highest sensitivity, extreme low femtogram detection range).
Frequently Asked Questions about IncuBlocker are answered here.
The wash buffer included in this kit can also be bought separately since your antibody can be re-used up to 5 times (not recommeneded for quantification work).
Application examples
Application examples
Application example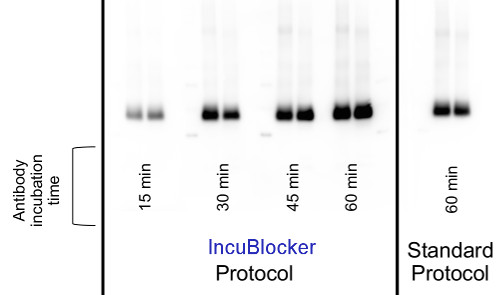 Note:

Solution containing your precious primary antibody can be re-used up to 5 times, depending upon your antibody. Additional Wash Buffer can be purchased separately in different sizes.
Proprietary blocking mix assures minimal background.
This kit is recommended for proteins with moderate to high expression and antibodies of a good titer. Can be well combined with Agrisera Global Antibodies.
Related products: Agrisera IncuBlocker Wash Buffer
AS16 3214 | Agrisera IncuBlocker (Chicken)
130 €
AS16 3215 | Agrisera IncuBlocker (Mouse)
130 €
AS16 3111-IB | Agrisera IncuBlocker (Rabbit)
From 65 €