Agrisera WestBlock/Secondary/ECL offer
Product no:

AS19 WestBlockSecECL



For an extra 30 EUR on your order you will receive:
- Agrisera Non Mammalian Protein Membrane Blocker


- Matching secondary antibody, HRP conjugated
- Two Agrisera chemiluminescence reagents,
  from low picogram (AgriseraBright) to extreme low
  femtogram detection  range (AgriseraSuperBright). DATA SHEET IN PDF
Offer contains the following products:
1. Agrisera Non Mammalian Protein Membrane Blocker

AgriBlock | Non mammalian Protein Membrane Blocker (10 ml) is
a Western Blot friendly formulation for optimal blocking effect.
Ready to use, no mammalian protein included
Stable for a minimum of 2 years
Contains antimicrobial agents (Bromidox, 0.08%) to prevent bacterial growth


2. Secondary antibody
Goat anti-Rabbit IgG, HRP-conjugated-trial sample(10 µl)
, to be used at dilutions from 1: 25 000 to 1: 50 000, 1h/RT incubation. Tested on a wide range of species including: dicots, monocots, moss, algae, cyanobacteria and diatoms.
High dilution this antibody can be used provides a benefit of low background signal.
Enough for 50 Western blots (10 ml incubation volume/test).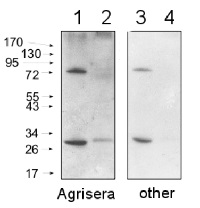 3. Chemiluminescence detection reagents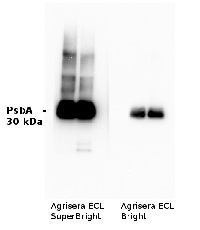 This set combines Agrisera primary antibody with matching effective secondary antibody and high and medium sensitivity chemiluminescent detection reagents.

Related products: Agrisera WestBlock/Secondary/ECL offer