EGFP | Enhanced Green Fluorescence Protein
AS21 4583 | Clonality: Polyclonal | Host: Rabbit | Reactivity: EGFP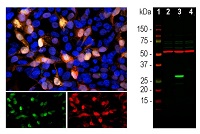 DATA SHEET IN PDF
Product Information
Immunogen
Recombinant GFP from Aequorea coerulescens (belt jellyfish) overexpressed and purified from E.coli, UniProt: Q6YGZ0
Purity
Affinity purified in PBS, pH 7.2-7.6, 0.1% trehalose, 5 mM sodium azide as preservative.
Reconstitution
For reconstitution add 100 µl of sterile water, ultrapure water.
Storage
Store lypholized antibody at 4 ºC. After reconstitution keep aliquots at -20ºC for a higher stability. Avoid repetitive freeze/thaw cycles. Centrifuge briefly to remove any insoluble material.

Expiry date: 12 months after purchase if unopened
Tested applications
Immunocytochemistry (ICC), Western blot (WB)
Recommended dilution
1:2000 - 1:5000 (ICC), 1:1000 - 1:5000 (WB)
Expected | apparent MW
27 kDa (for GFP without fusion partner)
Reactivity
Confirmed reactivity
GFP, EGFP
Application examples
Application examples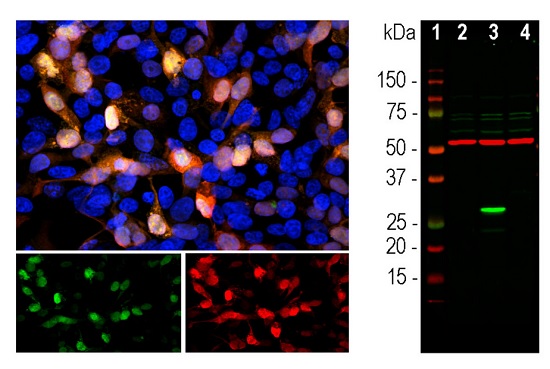 Left panel: Analysis of GFP expression (green) in transfected HEK293 cells by immunocytochemistry. Cells were stained with rabbit anti-GFP antibody (red, 1:2,000). Blue: Hoechst staining for nuclei. Transfected cells appear orange-yellow due to the green (GFP) and red (anti-GFP antibody) color overlay.
Right panel: Western blot analysis of GFP protein in transfected HEK293 lysate using rabbit antibody to GFP (green, 1:2,000). [1] protein standard, [2] non-transfected control cells, [3] transfected cells with GFP construct, [4] transfected cells with mCherry construct. A strong band at ~27 kDa corresponds to the expected molecular weight of GFP protein detected only in cells transfected with GFP construct. The antibody does not cross-react with mCherry protein. The same blot was simultaneously probed with a mouse antibody to beta-tubulin (red, ~ 50 kDa, lanes 2-4).
Additional information
EGFP has Excitation max (nm): 488; Emission max (nm): 509; Extinction coefficient (Cm-1M-1): 61000.
Background
Background
EGFP is an Energy-transfer acceptor. Its role is to transduce the blue chemiluminescence of the protein aequorin into green fluorescent light by energy transfer. Fluoresces in vivo upon receiving energy from the Ca(2+)-activated photoprotein aequorin. Contains a chromophore consisting of modified amino acid residues. The chromophore is formed by autocatalytic backbone condensation between Xaa-N and Gly-(N+2), and oxidation of Tyr-(N+1) to didehydrotyrosine. Maturation of the chromophore requires nothing other than molecular oxygen.
Related products: EGFP | Enhanced Green Fluorescence Protein