DNA Damage (8-OHdG) ELISA kit
AS15 2887 | DNA Damage (8-OHdG) ELISA kit for colorimetric detection of 8-hydroxy-2-deoxy Guanosine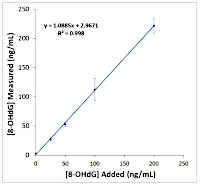 Background
| 8-hydroxy-2-deoxy Guanosine (8-OHdG) is produced by the oxidative damage of DNA by reactive oxygen and nitrogen species and serves as an established marker of oxidative stress. 1-4 Hydroxylation of guanosine occurs in response to both normal metabolic processes and a variety of environmental factors (i.e., anything that increases reactive oxygen and nitrogen species). Increased levels of 8-OHdG are associated with the aging process as well as with a number of pathological conditions including cancer, diabetes, and hypertension.
In complex samples such as plasma, cell lysates, and tissues, 8-OHdG can exist as either the free nucleoside or incorporated in DNA. Once the blood enters the kidney, free 8-OHdG is readily filtered into the urine, while larger DNA fragments remain in the bloodstream. Because of the complexity of plasma samples, urine is a more suitable matrix for the measurement of free 8-OHdG than plasma. Urinary levels of 8-OHdG range between 2.7- 13 ng/mg creatine, while plasma levels of free 8-OHdG have been reported to be between 4-21 pg/ml as determined by LC-MS.
This is a competitive assay that can be used for the quantification of 8HdG in urine, cell culture, plasma and other sample matrices. The ELISA utilizes an 8-hydroxy-2-deoxy Guanosine-coated plate and an HRP-conjugated antibody for detection which allows for an assay range of 0.94 - 60 ng/ml, with a sensitivity of 0.59 ng/ml and a quick incubation time of 60 minutes, stable reagents, and an easy to use protocol. It is important to note that the 8-OHdG antibody used in this assay recognizes both free 8-OHdG and DNA-incorporated 8-OHdG. Since complex samples such as plasma, cell lysates, and tissues are comprised of mixtures of DNA fragments and free 8-OHdG, concentrations of 8-OHdG reported by ELISA methodology will not coincide with those reported by LC-MS where the single nucleoside is typically measured. This should be kept in mind when analyzing and interpreting experimental results.


This kit contains following reagents:
8-Hydroxy-2-Deoxy Guanosine: BSA Coated Plate (1 plate)
8-hydroxy-2-deoxy Guanosine Standard (1 vial/100 μl)
8-hydroxy-2-deoxy Guanosine HRP Conjugated Monoclonal Antibody (1 vial/75 μl)
Sample and Standard Diluent (Red) (1 vial/50 ml)
8-hydroxy-2-deoxy Guanosine Antibody Diluent (Blue) (1 vial/13 ml)
Wash Buffer Concentrate (10X) (1 vial/ 50 ml) TMB Substrate (1 vial/13 ml)
Stop Solution (1 vial/13 ml)
Plate Cover (2)
Assay range
| 0.94 - 60 ng/ml
Sensitivity
| 0.59 ng/ml
Storage
| All reagents are stable as supplied at 4°C, except the
standard
, which should be stored at -20°C. For optimum storage, the 8-OHdG Standard should be aliquotted into smaller portions and then stored appropriately. Avoid repeated freeze/thaw cycles (10 μl of Standard can prepare a triplicate standard curve).
Sample preparation
| Proper sample storage and preparation are essential for consistent and accurate results. Caution should be taken during sample work up, to avoid inadvertent oxidation of undamaged DNA. Please read this section thoroughly before beginning the assay. NOTE: Prepare at least 180 μl of your diluted sample to permit assay in triplicate (approximately 50 μl/ well).
This kit can be used on any biological material containing DNA, which needs to be isolated first. 
Number of samples
| 39 samples in duplicate
Selected references
| 
Chen
et al. (2019). Organophosphate flame retardants (OPFRs) induce genotoxicity in vivo: A survey on apoptosis, DNA methylation, DNA oxidative damage, liver metabolites, and transcriptomics. Environ Int. 2019 Sep;130:104914. doi: 10.1016/j.envint.2019.104914
WARNING: This kit is not for human or animal disease diagnosis or therapeutic drug use.




Product sheet »
Related products: DNA Damage (8-OHdG) ELISA kit
AS15 28875X | DNA Damage (8-OHdG) ELISA kit for colorimetric detection of 8-hydroxy-2-deoxy G...
2608 €