DON | Deoxynivalenol (Vomitoxin) ELISA kit
AS16 4028 | DON | Deoxynivalenol (Vomitoxin) ELISA kit

Background
|
Deoxynivalenol (DON)
is a mycotoxin of grains such as barley, maize, oats, rye, and wheat. It occurs less often in rice, sorghum, and triticale. The plant pathogens
Fusarium graminearu
m (
Gibberella zeae
) and
F. culmorum
, which are causing
Gibberella
ear rot in maize and
Fusarium
head blight in wheat, are associated with the occurence of Deoxynivalenol. DON is a type B trichothecene, an epoxy-sesquiterpeneoid. The kit will provide quantitative and qualitative detection of DON in cereal grains of wheat, corn and feed.
This assay is based on the antigen-antibody reaction. The plastic microwells have been coated with DON antigen and upon addition of the calibrators/samples, DON antibody solutions and enzyme conjugate to the DON antigen coated microtiter plate, the calibrators/samples and the DON antigen compete for the limited number of the DON antibody binding sites. Therefore amount of DON antibody that is able to bind to the microtiter plate will be inversely proportional to the concentration of the calibrators or DON from the samples. By the effect of the chromogenic substrate, blue product is formed. The absorption value is inversely proportional to the DON concentration in the calibrators /samples.


This kit contains following reagents:
Washing buffer (10x), 1 bottle of 50 ml
Microtiter plate, 1 cover/96 well plate
Calibrators (1∼5), 5 vials, 700 µl/vial
DON Antibody, 1 vial of 7 ml
DON enzyme conjugate, 1 vial of 7 ml
Substrate A, 1 vial of 7 ml
Substrate B, 1 vial of 7 ml
Stop solution, 1 vial of 7 ml
Plate membrane, 2 pieces
Instruction of use
Assay range
| 20 ppb
Assay time
| 15 minutes
Variation coefficient (VC)
| intra batch VC <10 %, inter batch VC <15 %
Recovery (%)
| 100 ± 20 %
Storage
| All reagents are stable as supplied at 2 to 8°C with dry seal packaging. Do not freeze and avoid direct sunlight. Shelf life is 1 year at 4°C.
Example of a standard cvurve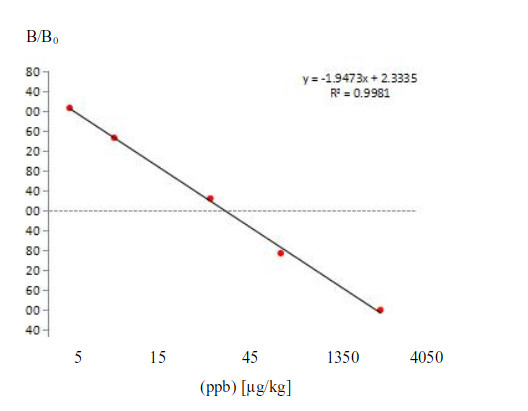 WARNING: This kit is not for human or animal disease diagnosis or therapeutic drug use.




Product sheet »