EGFP | Enhanced Green Fluorescence Protein
AS13 2700 | Clonality: Polyclonal | Host: Rabbit | Reactivity: EGFP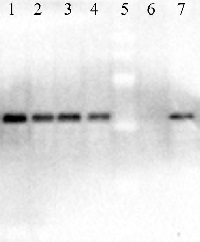 DATA SHEET IN PDF
Product Information
Immunogen
Recombinant EGFP, UniProt: 31711420
Reconstitution
For reconstitution add 100 µl of sterile water.
Storage
After reconstitution keep aliquots at -20ºC for a higher stability, and at  4ºC with an appropriate antibacterial agent. Glycerol (1:1) may be added for an additional stability. Avoid repetitive freeze/thaw cycles.
Tested applications
Immunohistochemistry (IHC), Western blot (WB)
Recommended dilution
1 : 1000-1 : 5000 (IHC), (WB)
Reactivity
Confirmed reactivity
EGFP
Application examples
Application examples
application example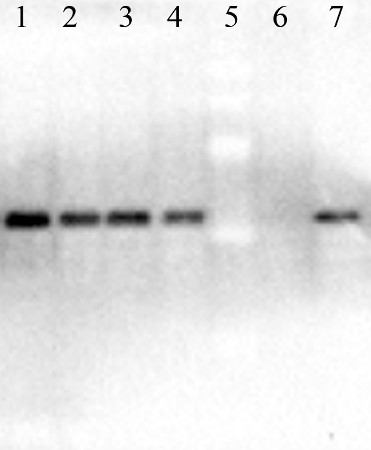 50 mg of leaves were homogenized in 650 μl extraction buffer (100mM glicine, 10mM EDTA and 100mM NaCl pH 9,5) and diluted with equal volume of Laemli buffer. 2 μl extract of Nicotiana benthamiana leaves infiltrated with GFP-containing construct (1-4), non-infiltrated N. benthamiana (6) and GFP transgenic N. benthamiana were separated on 12% SDS-PAGE and blotted overnight on to PVDF membrane using wet tank transfer. After 1h blocking at room temperature (RT) in 5% milk powder solution blots were incubated with EGFP antibody (AS 13 2700) 1h (RT) at a dilution of 1:10 000 in 1% milk powder (1X PBST). Antibody solution was decanted and the blot was washed 3 times for 5 min in 1X PBST. As a secondary antibody, blot was incubated with goat anti-rabbit IgG HRP conjugated from Agrisera (AS09 602) 1h at a dilution of 1:10 000 in 1XPBST with agitation. Washing was carried out as previously described. Blot was developed with ECL, exposure was made using ChemiDoc equipment in signal accumulation mode (50 sec).

Courtesy of Dr. Ágnes Dalmadi, NAIK, Hungary
Additional information
EGFP has Excitation max (nm): 488; Emission max (nm): 509; Extinction coefficient (Cm-1M-1): 61000.

Optimal dilutions/concentrations of this antibody should be determined by the end user.
Background
Background
EGFP is an Energy-transfer acceptor. Its role is to transduce the blue chemiluminescence of the protein aequorin into green fluorescent light by energy transfer. Fluoresces in vivo upon receiving energy from the Ca(2+)-activated photoprotein aequorin. Contains a chromophore consisting of modified amino acid residues. The chromophore is formed by autocatalytic backbone condensation between Xaa-N and Gly-(N+2), and oxidation of Tyr-(N+1) to didehydrotyrosine. Maturation of the chromophore requires nothing other than molecular oxygen.
Related products: EGFP | Enhanced Green Fluorescence Protein