GSH (Glutathione) ELISA kit
AS16 4095 | GSH (Glutathione) ELISA kit

Background
|
This ELISA kit uses Competitive-ELISA as the method. The provided microtiter plate is pre-coated with GSH.

During the reaction, GSH in the sample or standard competes with a fixed amount of GSH on the solid phase supporter for sites on the anti-
GSH b
iotinylated detection antibody. Excess conjugate and unbound sample or standard are washed away from the plate, and a secondary HRP-streptavidin (SABC) antibody is added to each microplate well and incubated. To develope the
enzyme-substrate reaction
a TMB substrate solution is added to each well and a
ddition of a sulphuric acid solution terminates t
his reaction. Color change is measured spectrophotometrically at 450 nm
wavelength
. The concentration of GSH in the samples can be determined from the standard curve.
---
This kit contains following reagents:

Dismountable Micro ELISA Plate |
8
×
6 or 8
×
12 (
4°C/-20°C
)

Lyophilized Standard |
1 vial or 2 vial (
4°C/-20°C)
Sample / Standard dilution buffer |
10 ml/20 ml
Biotin- detection antibody (Concentrated) |
30 μl/60 μl
Antibody dilution buffer |
5 ml/10 ml
HRP-Streptavidin Conjugate (SABC) |
60 μl/120 μl (
4°C (dark storage)

SABC dilution buffer |
5 ml/10ml
TMB substrate |
5 ml/10 ml
4°C (dark storgae)
Stop solution |
5 ml/10 ml
Wash buffer (25X) |
15 ml/30 ml
Plate Sealer |
3/5 pieces
---
Size: 96 wells (allows to process 39 samples and a standard curve)
Assay range | 1.563-100 μg/ml 
Sensitivity | <0.55 μg/ml
Storage
|  4°C for 6 months
Reactivity:
Universal

Application:
For quantitative detection of GSH in a variety of samples.
---
Precautions:


1. Before running your experimet we reccomend performing a pilot experiment using standards and a small amount of samples to establih the validity of experiment and dilutions.
2. Keep plate dry a
fter opening and before using.
3.
Before using this kit, spin tubes and bring down all components to the bottom of tubes.
4. Keep
TMB reagents in dark.
5. To prevent false positive remember to w
ash the plate well.
6. We reccomend d
uplication for both standard and sample testing.
7.
Do not let the plate to dry during assay  as active components will be inactivated.
8. To avoid cross contamination d
o not reuse tips and tubes.
9. Do not use reagents from different batchs t
ogether.
---

Application example


Detection of GSH levels in plant leaves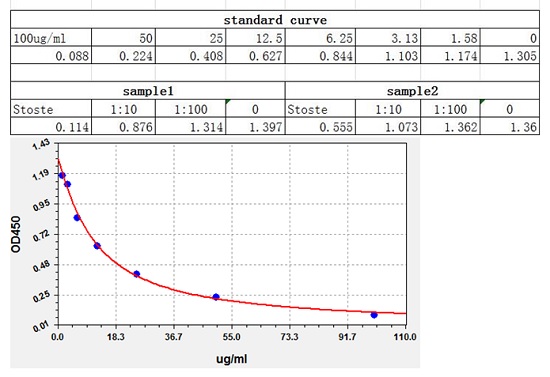 Material:
Arabidopsis thaliana
leaves. 

Product sheet »