PsaB | PSI-B core subunit of photosystem I
AS10 695 | Clonality: Polyclonal | Host: Rabbit | Reactivity: [global antibody] for higher plants, algae, cyanobacteria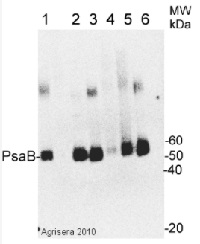 PRODUCT INFORMATION IN PDF
product information

Background

Photosystem I (PSI) of chloroplasts is a multisubunit membrane-protein complex that catalyzes the electron transfer from the reduced plastocyanin (or cytochrome c6) in the thylakoid lumen to the oxidized ferredoxin (or flavodoxin) in the chloroplast stroma. PsaB is a core protein of PSI complex. Synonymes: Photosystem I P700 chlorophyll a apoprotein A2, PSI-B

Immunogen

KLH-conjugated synthetic peptide derived from known PsaB sequences including Arabidopsis thaliana P56767, AtCg00340

Host
Rabbit
Clonality
Polyclonal
Clone
Purity
Serum
Format
Lyophilized
Quantity
50 µl
Reconstitution
For reconstitution add 50 µl of sterile water.
Storage
Store lyophilized/reconstituted at -20°C; once reconstituted make aliquots to avoid repeated freeze-thaw cycles. Please, remember to spin tubes briefly prior to opening them to avoid any losses that might occur from lyophilized material adhering to the cap or sides of the tubes.
Tested applications
Western blot (WB)
Related products

AS06 172 | anti-PsaA rabbit antibody
AS10 695-50 | PsaB | PSI-B core subunit of photosystem I (50 µl)
collection of antibodies to PSI proteins

Plant and algal protein extraction buffer

Additional information

This product can be sold containing ProClin if requested.
application information

Recommended dilution
1 : 1000 (WB)
Expected | apparent MW

82.7 | 55-60 kDa

Confirmed reactivity
Arabidopsis thaliana, Brassica napus, Bryopsis corticulans, Hordeum vulgare, Neochloris oleoabundans (chlorophyta), Nicotiana tabacum, Pisum sativum, Solanum lycopersicum, Synechococcus sp. PCC7942, Synechocystis sp. PCC 6803, Triticum aestivum
Predicted reactivity

Algae, Aloysia triphylla, Beta vulgaris, Borago officinalis, Brachypodium distachyon, Cannabis sativa, Cercidiphyllum japonicum, Citrus x limon, Cyanobacteria, Exbucklandia populnea, Gunnera maniCata, Kalanchoe laciniata, Lagenaria siceraria, Lippia origanoides, Lippia alba, Indocalamus sinicus, Morus notabilis, Medicago truncatula, Monsonia emarginata, Mytilaria laosensis, Geranium endressii, Glycine max, Glycine soja, Lotus japonicus, Oryza sativa, Pandanus utilis, Panax ginseng, Parnassia laxmannii , Pelargonium cotyledonis, Pennisetum americanum, Phyla dulcis, Phaseolus pachyrrhizoides, Phaseolus lunatus, Phaseolus vulgaris, Pinus thunbergii,  Populus trichocarpa, Ribes fasciculatum, Rhodoleia championii, Rhyticaryum macrocarpum, Salvia miltiorrhiza, Setaria italica, Solanum tuberosum, Spinacia oleracea, Vigna angularis, Vitis vinifera, Zea mays

Not reactive in

Chlamydomonas reinhardtii

Additional information

This product can be sold containing ProClin if requested.

Selected references
Rantala and Tikkanen et al. (2018). Phosphorylation‐induced lateral rearrangements of thylakoid protein complexes upon light acclimation. Plant Direct Vol. 2, Issue 2.
Wang et al. (2018). iTRAQ-based quantitative proteomics analysis of an immature high-oleic acid near-isogenic line of rapeseed. Molecular Breeding January 2018, 38:2.
Giovanardi et al. (2017). Higher packing of thylakoid complexes ensures a preserved Photosystem II activity in mixotrophic Neochloris oleoabundans. Algal Research, Volume 25, July 2017, Pages 322-332.
Jusovic et al. (2017). Photosynthetic Responses of a Wheat Mutant (Rht-B1c) with Altered DELLA Proteins to Salt Stress. Journal of Plant Growth Regulation, pp1-12.
Georg et al. (2017). Acclimation of Oxygenic Photosynthesis to Iron Starvation Is Controlled by the sRNA IsaR1. Curr Biol. 2017 May 22;27(10):1425-1436.e7. doi: 10.1016/j.cub.2017.04.010. (Synechocystis 6803 substrain PCC-M)
Tyuereva et al. (2017). The absence of chlorophyll b affects lateral mobility of photosynthetic complexes and lipids in grana membranes of Arabidopsis and barley chlorina mutants. Photosynth Res. 2017 Apr 5. doi: 10.1007/s11120-017-0376-9. (Hordeum vulgare, western blot)
Gandini et al. (2017). The transporter SynPAM71 is located in the plasma membrane and thylakoids, and mediates manganese tolerance in Synechocystis PCC6803. New Phytol. 2017 Mar 20. doi: 10.1111/nph.14526.
Nath et al. (2016). A Nitrogen-Fixing Subunit Essential for Accumulating 4Fe-4S-Containing Photosystem I Core Proteins. Plant Physiol. 2016 Dec;172(4):2459-2470. Epub 2016 Oct 26.
Suorsa et al. (2015). Light acclimation involves dynamic re-organisation of the pigment-protein megacomplexes in non-appressed thylakoid domains. Plant J. 2015 Aug 29. doi: 10.1111/tpj.13004.
Grieco et al. (2015). Light-harvesting II antenna trimers connect energetically the entire photosynthetic machinery - including both photosystems II and I. Biochim Biophys Acta. 2015 Jun-Jul;1847(6-7):607-19. doi: 10.1016/j.bbabio.2015.03.004. Epub 2015 Apr 3.
Subramanyam et al. (2014). Structural and functional changes of PSI-LHCI supercomplexes of Chlamydomonas reinhardtii cells grown under high salt conditions. Planta. 2010 Mar;231(4):913-22.
Qin et al. (2014). Isolation and characterization of a PSI-LHCI super-complex and its sub-complexes from a siphonaceous marine green alga, Bryopsis Corticulans. Photosynth Res. 2014 Sep 12.
Mustila et al. (2014). The bacterial-type [4Fe–4S] ferredoxin 7 has a regulatory function under photooxidative stress conditions in the cyanobacterium Synechocystis sp. PCC 6803. BBA- Bioenergetics, April 2014.
application example


5 µg of total protein from (1) Arabidopsis thaliana leaf extract, (2) Synechococcus sp. PCC 7942 , (3) Hordeum vulgare leaf extract, (4) Physcomitrella patens, (5) Pisum sativum, (6) Zea may were extracted with Agrisera Protein Extraction Buffer PEB and separated on 4-12% NuPage (Invitrogen) LDS-PAGE and blotted 1h to nitrocellulose OSMONICS. Blots were blocked immediately following transfer in 2% ECL Advance blocking reagent (GE Healthcare) in 20 mM Tris, 137 mM sodium chloride pH 7.6 with 0.1% (v/v) Tween-20 (TBS-T) for 1h at room temperature with agitation. Blots were incubated in the primary antibody at a dilution of 1: 10 000 for 1h at room temperature with agitation. The antibody solution was decanted and the blot was rinsed briefly twice, then washed once for 15 min and 3 times for 5 min in TBS-T at room temperature with agitation. Blots were incubated in secondary antibody (anti-rabbit IgG horse radish peroxidase conjugated, from Agrisera, AS09 602) diluted to 1:50 000 in 2% ECL Advance blocking solution for 1h at room temperature with agitation. The blots were washed as above and developed for 5 min with ECL Advance detection reagent according to the manufacturers instructions. Images of the blots were obtained using a CCD imager (FluorSMax, Bio-Rad) and Quantity One software (Bio-Rad). Exposure time was 30 seconds.



 



---
||| For other applications, usage on species other than stated above or any other questions, please use the LiveChat option or contact us at support@agrisera.com