PsaA | PSI-A core protein of photosystem I (100 ĩl)
AS06 172-100  |  Clonality. Polyclonal  |  Host: Rabbit  |  Reactivity: A. thaliana, C. quitensis Kunt Bartl, F. vesiculosus, H.vulgare, M. polymorpha, N. tabacum, O. sativa, P.sativum, P. strobus, P. vulgaris, S. oleracea, C.reinhardtii, Synechococcus  PCC 7942,  Synechocystis PCC 6803, Scenedesmus obliquus, microalgae N. gaditana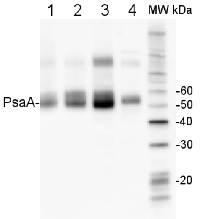 PRODUCT INFORMATION IN PDF
Product Information
Immunogen
N-terminal part of recombinant PsaA protein from Chlamydomonas reinhardtii P12154
Reconstitution
For reconstitution add 50 µl of sterile water to each tube
Storage
Store lyophilized/reconstituted at -20°C; once reconstituted make aliquots to avoid repeated freeze-thaw cycles. Please, remember to spin tubes briefly prior to opening them to avoid any losses that might occur from lyophilized material adhering to the cap or sides of the tubes.
Tested applications
Immunogold (IG), Western blot (WB)
Recommended dilution
1 : 20 (IG), 1 : 1000 (WB)
Expected | apparent MW
82 | 55-60 kDa
Reactivity
Confirmed reactivity
Arabidopsis thaliana, Bryopsis corticulans, Colobanthus quitensis Kunt Bartl, Fucus vesiculosus, Haematococcus pluvialis, Hordeum vulgare, Nicotiana tabacum, Oryza sativa, isum sativum, Marchantia polymorpha (liverwort), Phaseolus vulgaris, Physcomitrella patens, Pinus strobus, Spinacia oleracea, Chlamydomonas reinhardtii, Synechococcus PCC 7942, Synechocystis PCC 6803, Scenedesmus obliquus, micro Nannochloropsis gaditana
Predicted reactivity
Algae, Bigelowiella natans, Cannabis sativa, Citrus x limon, Cyanobacteria, Lycopersicum esculentum, Panax ginseng, Picea spinulosa, Pinus thunbergii, Populus alba, Triticum aestivum
Not reactive in
Chromera velia
Application examples
Application examples
application example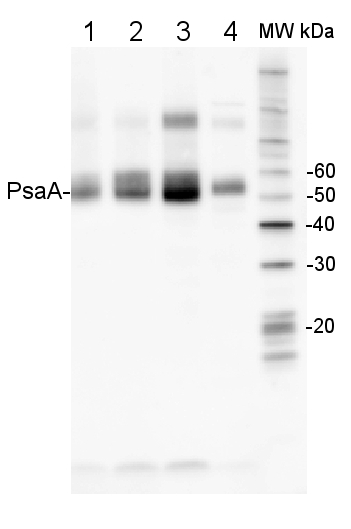 2 µg of total protein from (1) Arabidopsis thaliana leaf, (2) Hordeum vulgare leaf, (3) Chlamydomonas reinhardtii total cell, (4) Synechococcus sp. 7942 total cell all extracted with Protein Extration Buffer, PEB (AS08 300), were separated on  4-12% NuPage (Invitrogen) LDS-PAGE and blotted 1h to PVDF. Blots were blocked immediately following transfer in 2% ECL Advance blocking reagent (GE Healthcare) in 20 mM Tris, 137 mM sodium chloride pH 7.6 with 0.1% (v/v) Tween-20 (TBS-T) for 1h at room temperature with agitation. Blots were incubated in the primary antibody at a dilution of 1: 10 000 for 1h at room temperature with agitation. The antibody solution was decanted and the blot was rinsed briefly twice, then washed once for 15 min and 3 times for 5 min in TBS-T at room temperature with agitation. Blots were incubated in secondary antibody (anti-rabbit IgG horse radish peroxidase conjugated, frecommended secondary antibody AS09 602) diluted to 1:50 000 in 2% ECL Advance blocking solution for 1h at room temperature with agitation. The blots were washed as above and developed for 5 min with ECL Advance detection reagent according the manufacturers instructions. Images of the blots were obtained using a CCD imager (FluorSMax, Bio-Rad) and Quantity One software (Bio-Rad). Exposure time was 10 seconds.
Additional information
Additional information
PsaA is a hydrophobic protein and we recommend to use PVDF membrane for transfer to assure best results
Immunogold localization has been done in leaf material of Arabidopsis thaliana.

This antibody is a larger pack size of anti-PsaA, AS06 170, 50 µl.
Background
Background
PsaA is a core protein of photosystem I. In plants and cyanobacteria, the primary step in oxygenic photosynthesis, the light induced charge separation, is driven bytwo large membrane intrinsic protein complexes, the photosystems I and II.  Synonym: Photosystem I P700 chlorophyll a apoprotein A1.      
Product citations
Selected references
He at al. (2018). FRUCTOKINASE-LIKE PROTEIN 1 interacts with TRXz to regulate chloroplast development in rice. J Integr Plant Biol. 2018 Feb;60(2):94-111. doi: 10.1111/jipb.12631.
Myouga et al. (2018). Stable accumulation of photosystem II requires ONE-HELIX PROTEIN1 (OHP1) of the light harvesting-like family. Plant Physiol. 2018 Feb 1. pii: pp.01782.2017. doi: 10.1104/pp.17.01782.
Muneer et al. (2018). Proteomic Analysis Reveals the Dynamic Role of Silicon in Alleviation of Hyperhydricity in Carnation Grown In Vitro. Int. J. Mol. Sci. 2018, 19(1), 50; doi:10.3390/ijms19010050.
Fu et al. (2017). Redesigning the QA binding site of Photosystem II allows reduction of exogenous quinones. Nat Commun. 2017 May 3;8:15274. doi: 10.1038/ncomms15274. (Chlamydomonas reinhardtii)
Sakuraba et al. (2017). Rice Phytochrome-Interacting Factor-Like1 (OsPIL1) is involved in the promotion of chlorophyll biosynthesis through feed-forward regulatory loops. Journal of Experimental Botany doi:10.1093/jxb/erx231.
Gandini et al. (2017). The transporter SynPAM71 is located in the plasma membrane and thylakoids, and mediates manganese tolerance in Synechocystis PCC6803. New Phytol. 2017 Mar 20. doi: 10.1111/nph.14526. (BN-PAGE)
Míguez et al. (2017). Diversity of winter photoinhibitory responses: A case study in co-occurring lichens, mosses, herbs and woody plants from subalpine environments. Physiol Plant. 2017 Feb 14. doi: 10.1111/ppl.12551.
Mazur et al. (2016). Overlapping toxic effect of long term thallium exposure on white mustard (Sinapis alba L.) photosynthetic activity. BMC Plant Biol. 2016 Sep 2;16(1):191. doi: 10.1186/s12870-016-0883-4.
Yoshida et al. (2016). Hisabori T1.Two distinct redox cascades cooperatively regulate chloroplast functions and sustain plant viability. Proc Natl Acad Sci U S A. 2016 Jul 5;113(27):E3967-76. doi: 10.1073/pnas.1604101113. Epub 2016 Jun 22.
Gerotto et al. (2016). Flavodiiron proteins act as safety valve for electrons in Physcomitrella patens. PNAS DOI 10.1073.
Pavlovič et al. (2016). A carnivorous sundew plant prefers protein over chitin as a source of nitrogen from its traps. Plant Physiol Biochem. 2016 Mar 5;104:11-16. doi: 10.1016/j.plaphy.2016.03.008
Pavlovič et al. (2016). Light-induced gradual activation of photosystem II in dark-grown Norway spruce seedlings. Biochim Biophys Acta. 2016 Feb 18. pii: S0005-2728(16)30028-7. doi: 10.1016/j.bbabio.2016.02.009.