PsbS | 22 kDa Lhc-like PSII protein (rabbit antibody)
Buy
2 items
of this product for
202 €/each
Buy
3 items
of this product for
185 €/each
AS09 533 | Clonality: Polyclonal  |  Host: Rabbit  |  Reactivity: A. thaliana, F. bidentis, H. vulgare, N. tabacum, O. sativa, P. abies, S. oleracea, Z. mays


PRODUCT INFORMATION IN PDF
product information

Background

The 22 kDa PsbS protein of photosystem II functions in the regulation of photosynthetic light harvesting. Along with a low thylakoid lumen pH and the presence of de-epoxidized xanthophylls, PsbS is necessary for photoprotective thermal dissipation of excess absorbed light energy in plants, measured as non-photochemical quenching of chlorophyll fluorescence. Synonymes: NPQ4 (NONPHOTOCHEMICAL QUENCHING).

Immunogen

KLH-conjugated synthetic peptide located in solubilized part of the protein, derived from available di- and monocot PsbS sequences, including Arabidopsis thaliana (At1g44575)

Host
Rabbit
Clonality
Polyclonal
Clone
Purity
Serum
Format
Lyophilized
Quantity
50 µl
Reconstitution
For reconstitution add 50 µl of sterile water.
Storage
Store lyophilized/reconstituted at -20°C; once reconstituted make aliquots to avoid repeated freeze-thaw cycles. Please, remember to spin tubes briefly prior to opening them to avoid any losses that might occur from lyophilized material adhering to the cap or sides of the tubes.
Tested applications
Western blot (WB)
Related products

AS03 032 | anti-PsbS hen antibody

PSII  available antibodies against Photosystem II proteins

Plant protein extraction buffer

Additional information

This product can be sold containing proclin if requested.
application information

Recommended dilution
1 : 2000 (WB)
Expected | apparent MW

28 | 22 kDa for Arabidopsis thaliana

Confirmed reactivity
Arabidopsis thaliana, Cytisus cantabricus (Wilk.) Rchb. F, Flaveria bidentis, Hieracium pilosella L., Hordeum vulgare, Lasallia hispanica, Nicotiana tabacum, Oryza sativa, Picea abies, Picea glauca, Pinus strobus, Ricinus communis, Spinacia oleracea, Syntrichia muralis (Hedw.) Raab, Triticum aestivum, Zea mays
Predicted reactivity
Chlamydomonas reinhardtii, Cucumis sativus, Medicago truncatula, Oryza sativa, Physcomitrella patens, Picea sitchensis, Pinus radiata, Pinus taeda, Populus balsamifera, Solanum lycopersicum, Vitis vinifera
Not reactive in
No confirmed exceptions from predicted reactivity are currently known.
Additional information
Selected references
Chen et al. (2017). Comparison of Photosynthetic Characteristics and Antioxidant Systems in Different Wheat Strains. J Plant Growth Regul.
Merry et al. (2017). A comparison of pine and spruce in recovery from winter stress; changes in recovery kinetics, and the abundance and phosphorylation status of photosynthetic proteins during winter. Tree Physiol. 2017 Sep 1;37(9):1239-1250. doi: 10.1093/treephys/tpx065.
Krishnan et al. (2017). Large-scale in vitro production, refolding and dimerization of PsbS in different microenvironments. Sci Rep. 2017; 7: 15200. Published online 2017 Nov 9.
Míguez et al. (2017). Diversity of winter photoinhibitory responses: A case study in co-occurring lichens, mosses, herbs and woody plants from subalpine environments. Physiol Plant. 2017 Feb 14. doi: 10.1111/ppl.12551.
Yoshida et al. (2016). Hisabori T1.Two distinct redox cascades cooperatively regulate chloroplast functions and sustain plant viability. Proc Natl Acad Sci U S A. 2016 Jul 5;113(27):E3967-76. doi: 10.1073/pnas.1604101113. Epub 2016 Jun 22.
Poudyal et al. (2016). Production of superoxide from photosystem II-light harvesting complex II supercomplex in STN8 kinase knock-out rice mutants under photoinhibitory illumination. J Photochem Photobiol B. 2016 Sep;162:240-7. doi: 10.1016/j.jphotobiol.2016.06.050.
Ishikawa et al. (2016). NDH-Mediated Cyclic Electron Flow Around Photosystem I is Crucial for C4 Photosynthesis. Plant Cell Physiol. 2016 Aug 6. pii: pcw127. [Epub ahead of print]
Pavlovič et al. (2016). Light-induced gradual activation of photosystem II in dark-grown Norway spruce seedlings. Biochim Biophys Acta. 2016 Feb 18. pii: S0005-2728(16)30028-7. doi: 10.1016/j.bbabio.2016.02.009.
Karlsson et al. (2015). The Arabidopsis thylakoid transporter PHT4;1 influences phosphate availability for ATP synthesis and plant growth. Plant J. 2015 Aug 8. doi: 10.1111/tpj.12962.
Dahal et al. (2015). Improved photosynthetic performance during severe drought in Nicotiana tabacum overexpressing a nonenergy conserving respiratory electron sink. New Phytol. 2015 May 29. doi: 10.1111/nph.13479.
Belgio et al. (2015). Light harvesting superstructures of green plant chloroplasts lacking photosystems. Plant Cell Environ. 2015 Mar 4. doi: 10.1111/pce.12528.
Lintala et al. (2013). Arabidopsis tic62 trol mutant lacking thylakoid bound ferredoxin-NADP+ oxidoreductase shows distinct metabolic phenotype. Mol Plant Sep 16.
Zienkiewicz et al. (2013).Light intensity and quality stimulated Deg1-dependent cleavage of PSII components in the chloroplasts of maize. Plan Physiol Biochem. March 16.
Albus et al. (2012). LCAA, a novel factor required for Mg protoporphyrin monomethylester cyclase accumulation and feedback-control of aminolevulinic acid biosynthesis in tobacco. Plant Physiol. Oct 19.
Application example 1


5 µg of total extract from (1) Arabidopsis thaliana leaf,  (2) Spinacia oleracea  (3) Hordeum vulgare (4) Zea mays extracted with PEB (AS08 300) were separated on 4-12% NuPage (Invitrogen) LDS-PAGE and blotted 1h to PVDF. Blots were blocked immediately following transfer in 2% ECL Advance blocking reagent (GE Healthcare) in 20 mM Tris, 137 mM sodium chloride pH 7.6 with 0.1% (v/v) Tween-20 (TBS-T) for 1h at room temperature with agitation. Blots were incubated in the primary antibody at a dilution of 1: 10 000 for 1h at room temperature with agitation. The antibody solution was decanted and the blot was rinsed briefly twice, then washed once for 15 min and 3 times for 5 min in TBS-T at room temperature with agitation. Blots were incubated in secondary antibody (anti-rabbit IgG horse radish peroxidase conjugated) diluted to 1:50 000 in 2% ECL Advance blocking solution for 1h at room temperature with agitation. The blots were washed as above and developed for 5 min with ECL Advance detection reagent according to the manufacturers instructions. Images of the blots were obtained using a CCD imager (FluorSMax, Bio-Rad) and Quantity One software (Bio-Rad). Exposure time was 30 seconds. 

 


Application example 2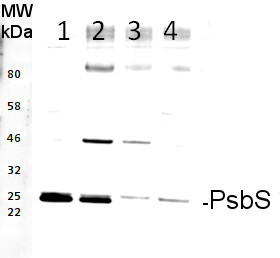 50 mg of leaf tissue from 3-4 week old
Arabidopsis thaliana
(columbia) wilde type
(1,2)
or NPQ4
(3,4)
was ground to fine powder in liquid nitrogen with a small plastic grinder and further homogenized in 200 ul of 1x Sample Loading Buffer (12 % glycerol, 60 mM Tris-HCl pH 6.8, 2.2 % SDS, 0.04 % bromophenol blue, 1.2 % beta-mercaptoethanol). Samples were heated at 95C for 1.5 minute and spun 30 seconds at 12k rpm. 10 ul of total protein extract was loaded onto BoltTM 4-12 % Bis-TrisPlusGels (Invitrogen) and run for 40 min. at 165 V and transferred to nitrocellulose in mini Bolt module for 1 h at 10V. Blot was blocked in 5 % nonfat dry milk in TBST (NaCl 137 mM, KCl 2.7 mM, Tri base 19 mM) and incubated with primary antibodies at 1: 1000 dilution for 1 hour at RT. After 4x5 minute wash in TBST, secondary antibody incubation (goat anti-rabbit IgG HRP conjugated, Agrisera
AS09 602
) at a dilution of 1: 10 000 for 1 h was follwed by 4x5 min. washes. Blots were well drained and incubaed briefly with PierceSuperSignalWest Pico Chemiluminescent Sustraste before exposure to ImageQuant ccd camera

Courtesy of Dr. Laura Roy, University of Amsterdam, The Netherlands
---
||| For other applications, usage on species other than stated above or any other questions, please use the LiveChat option or contact us at support@agrisera.com