Agrisera IncuBlocker (rabbit antibody, 2x1L)
AS16 3111-1L  | Agrisera IncuBlocker (Rabbit)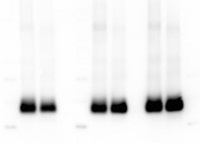 PRODUCT INFORMATION IN PDF
product information

Background
Easy – Quick – Clear

Agrisera IncuBlocker (rabbit) is an "all in one" kit for fast western blot processing. Whole process takes place in a single step as blocking, primary and secondary antibody binding occur simultaneously. Followed by a wash step with included buffer. Depending upon titer of primary antibody it can be re-used up to 5 times (not recommended for quantification work). The kit contains all you need to get you started, except for primary antibody of your choice and chemiluminescence developing reagent, which you can also purchase from Agrisera: AgriseraECL BrightEnhanced (highest sensitivity).

Frequently Asked Questions about IncuBlocker are answered here.
Host
Clonality
Clone
Purity
Format
Quantity
2x1L ml (1L reagent A + 1L reagent B), enough for 100-200 midi blots (6.8 x 8.1 cm).
Reconstitution
Storage
Store at 4°C.
Tested applications
Related products
AS16 3111-20 | Agrisera IncuBlocker (rabbit, 2x20 ml trial pack)
AS16 3111 | Agrisera IncuBlocker (rabbit, 2x100ml)

IncuBlocker for secondary antibodies from other species:
Agrisera IncuBlocker (chicken)
Agrisera IncuBlocker (mouse)
Additional information

Kit components:
Wash Buffer (Reagent A) and the "all in one" goat anti-rabbit HRP-conjugated secondary antibody in advanced blocking solution (Reagent B).

Required: primary antibody of your choice and chemiluminescense detection kit, for example Agrisera ECL BrightEnhanced.

Assay time: 15 minutes to 1 hour  + 3 x 5 minutes wash

Procedure:



  
Washing (3 x 5 min) --> Incubation with IncuBlocker (15 min-1h) --> Washing (3-4 x 5 min)

Instruction of use.

Step by step:

1. Add 2 ml of a Wash Buffer (Reagent A), shake at RT for 5 min. then discard the wash buffer. Repeat this step 3 times.
2. Add your primary antibody to 20 ml of reagent B (recommended concentration 0.2-0.5 µg/ml for affinity purified antibodies or standard dilution recommended by manufacture for antibodies in format of serum.
3. Add this solution to your membrane and shake at RT for 15 min-1h (optimized by end user).
4. Discard or collect the solution then return to step 1.
5. Following this procedure your membrane ready for detection using chemiluminescence.

application information

Recommended dilution
Expected | apparent MW
Confirmed reactivity
Predicted reactivity
Not reactive in
Additional information
Selected references
Example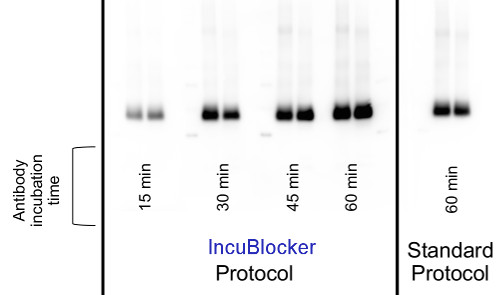 Note:

Solution containing your precious primary antibody can be re-used up to 5 times, depending upon antibody titer. Additional Wash Buffer can be purchased separately.
Proprietary blocking mix assures minimal background.
This kit is recommended for proteins with moderate to high expression and antibodies of a good titer. Can be well combined with Agrisera Global Antibodies.
---
||| For other applications, usage on species other than stated above or any other questions, please use the LiveChat option or contact us at support@agrisera.com