UBQ11 | Ubiquitin (serum)
AS08 307  |  Clonality: Polyclonal  |  Host: Rabbit  |  Reactivity: A. thaliana, E. kansui, H. vulgare, N. benthamina, P.sativum, S. lycopersicum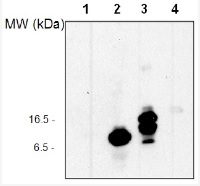 DATA SHEET IN PDF
Product Information
Immunogen
Recombinant Arabidopsis thaliana ubq11, with N-terminal His-tag; UniProt:P0CH33, TAIR: AT4G05050


Reconstitution
For reconstitution add 50 µl of sterile water
Storage
Store lyophilized/reconstituted at -20°C; once reconstituted make aliquots to avoid repeated freeze-thaw cycles. Please remember to spin the tubes briefly prior to opening them to avoid any losses that might occur from material adhering to the cap or sides of the tube.
Tested applications
Western blot (WB)
Recommended dilution
1 : 10 000 (WB)
Expected | apparent MW
8,5 kDa
Reactivity
Confirmed reactivity
Arabidopsis thaliana, Euphorbia kansui, Hordeum vulgare, Nicotiana benthamina, Solanum lycopersicum
Predicted reactivity
Brachypodium distachyon, Brassica napus, Capsella rubella, Cochliobolus heterostrophus, Citrus clementina, Citrus sinensis, Coffea canephora, Cymbidium faberi, Eucalyptus grandis, Erythrane guttata, Glycine max, Glycine soja, Ipomoea batatas, Medicago truncatula, Magnaporthe oryzae, Nicotiana tabacum, Olea europaea var. sylvestris, Oryza sativa, Pisum sativum, Phaseolus vulgaris, Populus trichocarpa, Prunus persica, Pyrus communis, Ricinus communis, Solanum nigrum, Solanum tuberosum, Sorghum bicolor, Triticum aestivum, Theobroma cacao, Zea mays , Vitis vinifera
Species of your interest not listed? Contact us
Application examples
Application examples
Application example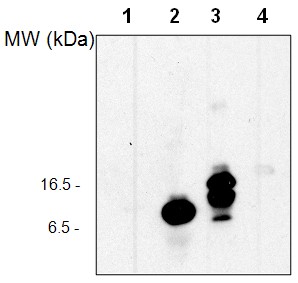 5 μg of recombinant protein from Phytophora sp. (1), human (2), Arabidopsis thaliana His-tagged ubiquitin (3), Arabidopsis thaliana His-tagged SUMO protein (4), was separated on 15% PAA gel and blotted on PVDF membrane. Filters were blocked in 5% milk for 1h, incubated with 1: 10 000 anti-ubiquitin antibody (1h), followed by incubation with 1: 15 000 secondary anti-rabbit antibodies(1h) coupled with HRP and visualization (10 seconds exposure) with standard chemiluminescent detection reagent.

Technical note: It is very difficult to detect ubiquitin monomers in total cell extracts due to a great abundance of poly and multi-ubiquitinated proteins. Recommended is size separation of protein extracts before gel electrophoresis focused on good resolution of region between 6-10 kDa. 
Additional information
Additional information
Ubiquitin mutant is lethal, therefore could not be used in validation of this antibody.
Suggested extraction buffer: 100 mM Tris-HCl, pH 8.0, 0.1% [w/v] SDS, 0.5% [w/v] sodium deoxycholate, 1% [v/v] glycerol, 50 mM sodium metabisulfite, 20 mM N-ethylmaleimide (NEM) and protease inhibitor cocktail (Roche) (Orosa et al. 2018). This buffer will help to stabilize the conjugates and will help to detect any increase or decrease in conjugate accumulation using the antibodies.
Background
Background
Ubiquitin is a highly conserved regulatory protein expressed in all eukaryotic tissues. Originally this protein was called: Ubiquitous Immunopoietic Polypeptide. Its function is labeling of proteins for degradation through ubiquitin proteasome system (UPS).
Product citations
Selected references
Wawrzynska and Sirko (2020). Proteasomal degradation of proteins is important for the proper transcriptional response to sulfur deficiency conditions in plants. Plant Cell Physiol. 2020 Jun 5;pcaa076.doi: 10.1093/pcp/pcaa076.
Grimmer et al. (2020). Mild Proteasomal Stress Improves Photosynthetic Performance in Arabidopsis Chloroplasts. Nat Commun , 11 (1), 1662
Jung et al. (2020). Pathogen-associated Molecular Pattern-triggered Immunity Involves Proteolytic Degradation of Core Nonsense-mediated mRNA Decay Factors During the Early Defense Response. Plant Cell, February 2020.
Zhao et al. (2019). Comparative proteomic analysis of latex from Euphorbia kansui laticifers at different development stages with and without UV-B treatment via iTRAQ-coupled two-dimensional liquid chromatography-MS/MS. Funct Plant Biol. 2019 Dec 10. doi: 10.1071/FP19033.
Chang et al. (2019). PBS3 Protects EDS1 from Proteasome-Mediated Degradation in Plant Immunity. Mol Plant. 2019 Feb 11. pii: S1674-2052(19)30055-3. doi: 10.1016/j.molp.2019.01.023.
Üstün et al. (2018). Bacteria Exploit Autophagy for Proteasome Degradation and Enhanced Virulence in Plants. Plant Cell. 2018 Mar;30(3):668-685. doi: 10.1105/tpc.17.00815.
Witzel et al. (2017). A Proteomic Approach Suggests Unbalanced Proteasome Functioning Induced by the Growth-Promoting Bacterium Kosakonia radicincitans in Arabidopsis. Front Plant Sci. 2017 Apr 26;8:661. doi: 10.3389/fpls.2017.00661.
Gorovits et al. (2017). The six Tomato yellow leaf curl virus genes expressed individually in tomato induce different levels of plant stress response attenuation. Cell Stress Chaperones. 2017 Mar 21. doi: 10.1007/s12192-017-0766-0.
Crozet et al. (2016). SUMOylation represses SnRK1 signaling in Arabidopsis. Plant J. 2016 Jan;85(1):120-133. doi: 10.1111/tpj.13096.
Moshe at al. (2015). Tomato plant cell death induced by inhibition of HSP90 is alleviated by Tomato yellow leaf curl virus infection. Mol Plant Pathol. 2015 May 12. doi: 10.1111/mpp.12275.
Hamorsky et al. (2015). N-Glycosylation of cholera toxin B subunit in Nicotiana benthamiana: impacts on host stress response, production yield and vaccine potential. Sci Rep. 2015 Jan 23;5:8003. doi: 10.1038/srep08003.
Kong et al. (2014). Quantitative proteomics analysis reveals that the nuclear cap-binding complex proteins Arabidopsis CBP20 and CBP80 modulate the salt stress response. J Proteome Res. 2014 Apr 1.
Zulet et al. (2013). Proteolytic Pathways Induced by Herbicides That Inhibit Amino Acid Biosynthesis. PLoS ONE 8(9): e73847. doi:10.1371/journal.pone.0073847. (Pisum sativum, western blot)
Ferrández-Ayela et al. (2013). Arabidopsis TRANSCURVATA1 Encodes NUP58, a Component of the Nucleopore Central Channel. PLOS ONE, June 2013.
Ustun et al. (2013). The Xanthomonas campestris Type III Effector XopJ Targets the Host Cell Proteasome to Suppress Salicylic-Acid Mediated Plant Defence. PLOS Pathog. June 9.
Related products: UBQ11 | Ubiquitin (serum)