Goat anti-rabbit IgG (H&L), HRP conjugated
AS09 602 |  clonality: polyclonal | host: goat | reactivity: rabbit IgG (H&L)


PRODUCT INFORMATION IN PDF
product information

Background

Goat anti-rabbit IgG (H&L) is a secondary antibody conjugated to HRP which binds to all rabbit IgGs in immunological assays.

Immunogen

Purified Rabbit IgG, whole molecule.

Host

Goat

Clonality

Polyclonal

Clone
Purity

Affinity purified goat IgG.

Format

Lyophilized

Quantity
1 mg
Reconstitution

For reconstitution add 1.1 ml of sterile water. Let it stand 30 minutes at room temperature to dissolve. Centrifuge to remove any particulates. Prepare fresh working dilutions daily.

Storage

Store lyophilized material at 2-8°C.

For long time storage after reconstitution, dilute the antibody solution with glycerol to a final concentration of 50% glycerol and store as liquid at -20°C, to prevent loss of enzymatic activity.
For example, if you have reconstituted 1 mg of antibody in 1.1 ml of sterile water add 1.1 ml of glycerol. Such solution will not freeze in -20°C. If you are using a 1:5000 dilution prior to diluting with glycerol, then you would need to use a 1:2500 dilution after adding glycerol. Prepare working dilution prior to use and then discard. Be sure to mix well but without foaming.

Related products

AS09 607 | Goat anti-rabbit IgG (H&L) ALP conjugated
AS09 608 | Goat anti-rabbit IgG (H&L) biotin conjugated
AS10 668 | Goat anti-Rabbit IgG (H&L) HRP conjugated, min.cross-reactivity to bovine/Human/mouse IgG/serum

Tested applications

ELISA (ELISA) , Western Blot (WB), Immunohistochemistry (IHC)

Additional information

Antibody is provided in: 10 mM Sodium Phosphate, 0.15 M Sodium Chloride, pH 7.2, 1% BSA (w/v), Protease IgG free, 0.1 % (v/v) Kathon CG.


Affinity purified antibody is > 95 % pure, according to SDS-PAGE.

No reactivity is observed to non-immunoglobulin rabbit serum.
application information

Recommended dilution

1: 50 000 -1: 90 000 (ELISA), 1 : 75 000 with enhanced ECL and 1: 25 000 with standard ECL (WB), 1: 500 -1: 5000 (IHC)

Selected references
Romanowska et al. (2017). Differences in photosynthetic responses of NADP-ME type C4 species to high light. Planta. 2017 Mar;245(3):641-657. doi: 10.1007/s00425-016-2632-1. Epub 2016 Dec 18.
Application example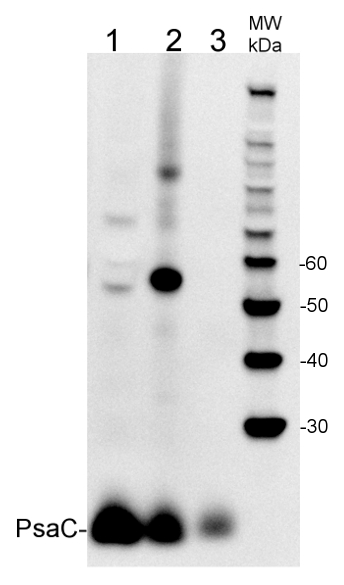 5 µg
of total extract from (
1
)
Hordeum vulgare
total leaf, (
2
)
Zea mays
(
3
)
Spinacia oleracea
extracted with PEB (
AS08 300
) were separated on 4-12% NuPage (Invitrogen)
LDS-PAGE
and blotted 1h to
PVDF
. Blots were blocked immediately following transfer in 2% ECL Advance blocking reagent (GE Healthcare) in 20 mM Tris, 137 mM sodium chloride pH 7.6 with 0.1% (v/v) Tween-20 (TBS-T) for 1h at room temperature with agitation. Blots were incubated in the primary anti-PsaC antibody (
AS04 042
) at a dilution of 1: 10 000 for 1h at room temperature with agitation. The antibody solution was decanted and the blot was rinsed briefly twice, then washed once for 15 min and 3 times for 5 min in TBS-T at room temperature with agitation. Blots were incubated in secondary antibody (goat anti-rabbit IgG horse radish peroxidase conjugated, AGRISERA) diluted to 1:50 000 in 2% ECL Advance blocking solution for 1h at room temperature with agitation. The blots were washed as above and developed for 5 min with ECL Advance detection reagent according to the manufacturers instructions. Images of the blots were obtained using a CCD imager (FluorSMax, Bio-Rad) and Quantity One software (Bio-Rad). Exposure time was 30 seconds.
Comparison of Agrisera secondary antibody sensitivity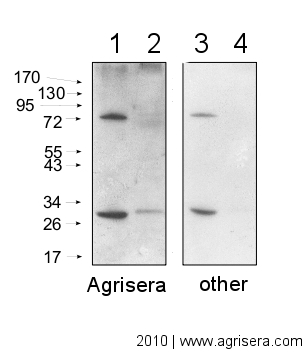 10 μg of mitochondrial fraction from Arabidopsis thaliana (1,3) and Arabidopsis thaliana leaf extract (2,4) were separated on 10% gel and blotted on nitrocellulose membrane using wet transfer (0.22% CAPS, pH 11). Filters where blocked (1.5h) in 5% milk in TBST (1X TBS, 0,1% Tween 20), incubated with 1: 1000 anti-COXII antibodies (2h in TBST) followed by incubation with 1: 10 000 secondary anti-rabbit (1h) HRP-coupled antibodies from Agrisera (left panel) and other manufacture (right panel) and visualized with standard ECL on Kodak autoradiography film for 5 s. Antibody in left panel detects target protein also in total cell extract (2) and can be used in higher dilution than applied 1: 10 000.
Agrisera goat anti-rabbit HRP conjugated antibody (AS09 602) can be used at following dilutions: 1: 50 000 -1: 90 000 (ELISA), 1 : 75 000 with enhanced ECL and 1: 25 000 with regular ECL (WB), 1: 500 -1: 5000 (IHC).
---
||| For other applications or usage on species other than stated above Agrisera offers a payment-after-testing option. To learn more about this or for any questions please use the LiveChat option or contact us at
support@agrisera.com
Accessories: Goat anti-rabbit IgG (H&L), HRP conjugated
AS16 3111  | Agrisera IncuBlocker (rabbit)
114 €