Antibodies that work, and work well
The
Agrisera antibody collection
has been developed since the year 2000, in close collaboration with the scientific community. Our antibodies are independently validated in well-known research laboratories worldwide, using various techniques, such as
Western blot
, immunolocalization and ChIP. Our antibodies are also validated using different sample types from e.g.
Arabidopsis thaliana
,
Hordeum vulgare
,
Oryza sativa
,
Zea mays
,
mosses
,
algae
, and
diatoms
, to name a few. Agrisera Antibodies are produced in chickens, goats, mice, rabbits and rats, which offers an advantage for immunolocalization studies. Antibody results with detailed description are provided on the product information sheets, which are supplied with every antibody.
Agrisera operates under ISO 9001:2015
.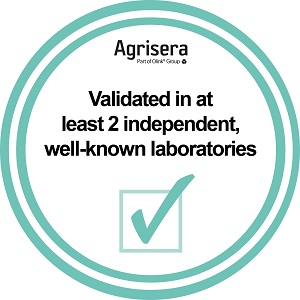 Reactive in your species, and thousands more
The antigens used to elicit Agrisera antibodies are chosen based on a
broad species reactivity
. This means that the same antibody can be used on both algal and higher plant samples (as specified on the product information sheet). Beside antibodies to proteins, Agrisera offers unique antibody collections to components of
plant cell walls
,
hormones
and
epigenetic modifications
.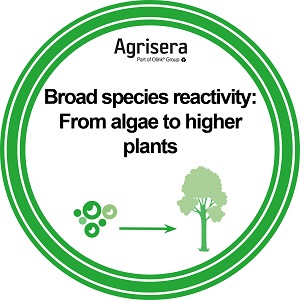 Make many experiments, use many applications
The minimum antibody dilution of Agrisera antibodies is 1: 1000, and in some cases, the antibodies can be diluted as far as 1: 50 000, or even 1: 100 000, meaning our products perform
above market average
, in terms of dilution. Tested antibody applications, like ELISA, Immunolocalization, Immunoprecipitation, Western blot are described on the product information sheets.
Global antibodies
, combined with
calibrated protein standards
, are suitable for quantification of core photosynthetic proteins using
quantitative Western blot technique
.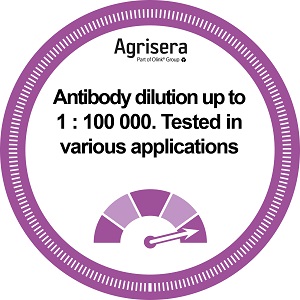 Get your antibodies tomorrow, and use them for years
Most Agrisera antibodies are
antigen affinity purified
using the specific antigen used to elicit said antibody. This means that the vast majority of our products consists of >95% specific antibodies, and not a total immunoglobulin fraction, as obtained when using Protein A or G affinity purification. Chosen antibodies are included into ELISA kits for the quantification of e.g.
hormones
,
plant HSP70
or
Rubisco
. The shelf-life of Agrisera antibodies is many years, if stored properly. Most of our antibodies are lyophilized and shipped in an environmentally-friendly way, with no dry ice or heavy packaging. Agrisera antibodies are
shipped the same day
as the order is placed, if the item is in stock. The general shipping time is 1-2 business days within the EU, and 4-5 business days worldwide.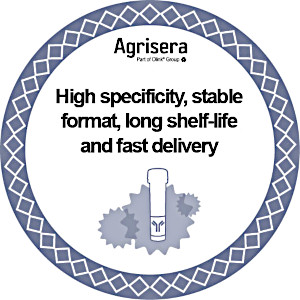 Get inspired, and share your knowledge
The Agrisera product number shows when the antibody was included into our collection. If the product number starts with "AS03", this means that the antibody has been produced and used since the year 2003, with a long publication record. The most relevant publications are listed on the product information sheets for each antibody. In 2019, Agrisera was awarded the
Plant Science Antibody Supplier of the Year
, due to our antibodies having the most extensive publication record in plant science. Scientific references where Agrisera antibodies were successfully used can be found
here
.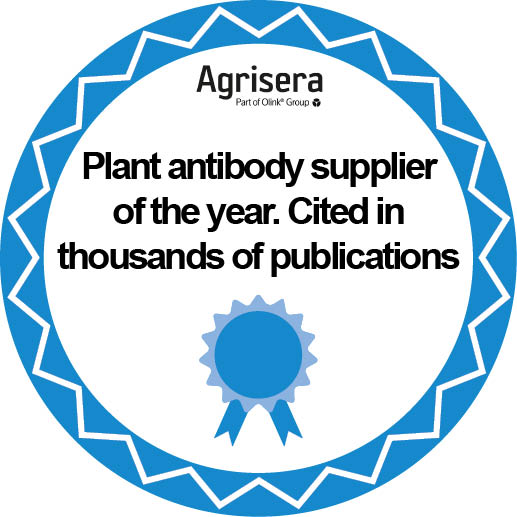 From choosing your antibody, to obtaining successful results
Agrisera offers prompt and professional
support
, within 24 hours. Among other things, we offer
help determining antibody reactivity
in cases when the antibody has not been used on a given species or application and
Western blot troubleshooting
, with a high titer secondary antibody (min. 1: 25 000 1h/RT) and Agrisera outstanding ECL reagents provided (product number
AS18 SecondaryECL
). If there are any issues which cannot be resolved, the customer is refunded. Agrisera's way of working for the last 40 years has been described as "Fast, collaborative and efficient - to secure your scientific success".