Blog
---
---
---
---
---
---
---
---
---
---
---
---
---
---
---
---
---
---
---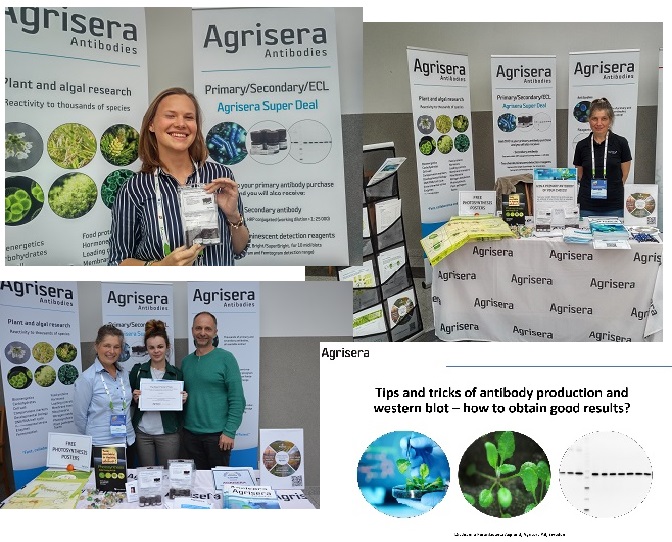 Between the 9th and the 12th of September, Agrisera participated in the 9th biennial Polish Society of Experimental Biology Conference hosted by the Faculty of Biology and Environmental Protection, at the Nicolaus Copernicus University in Toruń, Poland. The theme of the Conference was "New trends in plant reproduction and growth regulation". The Best Poster Prize was funded by Agrisera and awarded to Dawid Kubiak from the group of prof. Janusz Niedojadło (bottom left on the picture) from the Department of Cellular and Molecular Biology, Faculty of Biology and Environment Protection, Nicolaus Copernicus University, Toruń. The title of the poster was "Epigenetic and epitranscriptomic regulation of gene expression". 

On the third day of the conference, Dr. Joanna Porankiewicz Asplund from Agrisera, held a workshop named "Tips and tricks of antibody production and western blot - how to obtain good results?". Thank you to all who participated!
The winner of the Agrisera Kahoot interactive quiz, who received a secondary antibody ECL set, was: Aleksandra Rosińska (top left picture) from Dr. Krystyna Oracz lab. The set contains two chemiluminescent detection reagents (mid picogram and extreme low femtogram range) and an Agrisera goat anti-rabbit HRP-conjugated secondary antibody of high titer (min. 1: 25 000 1h/RT). 

Conference participants could test their weight measuring skills in an Agrisera quiz, conducted during each day of a conference. The winner, who correctly determined the weight of our secondary antibody ECL set, was Magdalena Czołpińska from UAM in Poznań. 

Thank you to everyone who came to the Agrisera table, to talk antibodies, share your experience with western blot, tell us about your work or participate in the quiz.
---
---
---
---
---
---
---
---
---
---
---
---
---
---
---
---
---
---
---
---
---
---
---
---
---
---
---
---
---
---
---
---
---
---
---
---
---
---
---
---
---
---
---
---
---
---
---
---
---
---
---
---
---
---
---
---
---
---
---
---
---
---
---
---
---
---
---
---
---
---
---
---
---
---
---
---
---
---
---
---
---
---
---
---
---
---
---
---
---
---
---
---
---
---
---
---
---
---
---
---
---
---
---
---
---
---
---
---
---
---
---
---
---
---
---
---
---
---
---
---
---
---
---
---
---
---
---
---
---
---
---
---
---
---
---
---
---
---
---
---
---
---
---
---
---
---
---
---
---
---
---
---
---
---
---
---
---
---
---
---
---
---
---
---
---
---
---
---
---
---
---
---
---
---
---
---
---
---
---
---
---
---
---
---
---
---
---
---
---
---
---
---
---
---
---
---
---
---
---
---
---
---
---
---
---
---
---
---
---
---
---
---
---
---
---
---
---
---
---
---
---
---
---
---
---
---
---
---
---
---
---
---
---
---
---
---
---
---
---
---
---