Blog
---
---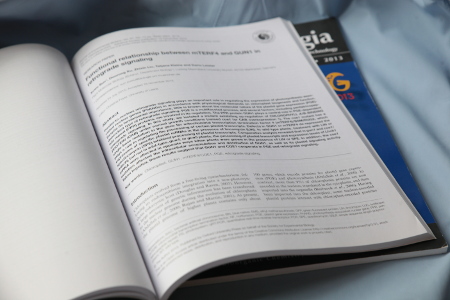 Can listing a product number of primary and secondary antibody used in your research actually minimize waste of work and resources in the future?

More than half of antibodies currently used in research cannot be properly identified, which makes it impossible to conduct given experiment using the same set of antibodies. Companies often offer multiple antibodies to the same target protein (tag, protein modification) and identification which specific antibody has been used in a given publication is simply impossible. 
There are no worldwide standard guidelines on how antibodies should be cited in publications and journals. Beside of a product number for any primary antibody used in research, also a secondary antibody should be properly cited with a product number. As primary and secondary antibodies in a successful experiment create a unique pair, such result may not be reproducible with another secondary antibody. Antibodies differ in their characteristics, and lots of time and money can be saved in the future if product numbers of both primary and secondary antibodies are listed in all publications. 
You can also read about this topic in Citeab blog post:
"Don't forget about citing your secondaries!"
---
---
---
---
---
---
---
---
---
---
---
---
---
---
---
---
---
---
---
---
---
---
---
---
---
---
---
---
---
---
---
---
---
---
---
---
---
---
---
---
---
---
---
---
---
---
---
---
---
---
---
---
---
---
---
---
---
---
---
---
---
---
---
---
---
---
---
---
---
---
---
---
---
---
---
---
---
---
---
---
---
---
---
---
---
---
---
---
---
---
---
---
---
---
---
---
---
---
---
---
---
---
---
---
---
---
---
---
---
---
---
---
---
---
---
---
---
---
---
---
---
---
---
---
---
---
---
---
---
---
---
---
---
---
---
---
---
---
---
---
---
---
---
---
---
---
---
---
---
---
---
---
---
---
---
---
---
---
---
---
---
---
---
---
---
---
---
---
---
---
---
---
---
---
---
---
---
---
---
---
---
---
---
---
---
---
---
---
---
---
---
---
---
---
---
---
---
---
---
---
---
---
---
---
---
---
---
---
---
---
---
---
---
---
---
---
---
---
---
---
---
---
---
---
---
---
---
---
---
---
---
---
---
---
---
---
---
---
---
---
---
---
---
---
---
---
---
---