Lhcb5 | CP26 chlorophyll a/b-binding protein of plant PSII
AS01 009 | Clonality: Polyclonal | Host: Rabbit | Reactivity: Monocots, dicots and gymnosperms including A. thaliana, H. vulgare, D. capensis, O. sativa, P. sativum, S. oleracea, T. aestivum, Triticale, Z. mays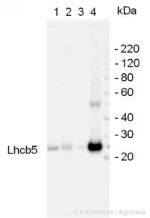 DATA SHEET IN PDF
Product Information
Immunogen
BSA-conjugated synthetic peptide derived from Arabidosis thaliana Lhcb5 protein UniProt: Q9XF89, TAIR: AT4G10340 sequence. This sequence is highly conserved in Lhcb5 proteins from monocots, dicots and conifers but only partial conserved in Physcomitrella patens and Chlamydomonas reinhardtii.
Reconstitution
For reconstitution add 200 µl of sterile water.
Storage
Store lyophilized/reconstituted at -20°C; once reconstituted make aliquots to avoid repeated freeze-thaw cycles. Please, remember to spin tubes briefly prior to opening them to avoid any losses that might occur from lyophilized material adhering to the cap or sides of the tubes.
Tested applications
Immunohistochemistry (IHC), Western blot (WB)
Recommended dilution
1 : 1000 (WB)
Expected | apparent MW
30 | 25-26 kDa for Arabidopsis thaliana
Reactivity
Confirmed reactivity
Arabidopsis thaliana, Hordeum vulgare, Drosera capensis, Oryza sativa, Pisum sativum, Spinacia oleracea, Triticum aestivum, triticale, Zea mays
Predicted reactivity
Dicots, Gymnosperms
Not reactive in
No confirmed exceptions from predicted reactivity are currently known.
Application examples
Application examples
Application example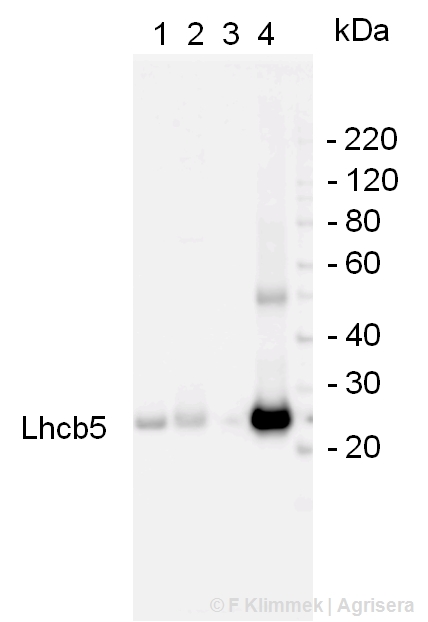 5 µg protein of (1) chloroplasts, (2) thylakoids, and (3) Photosystem I of Arabidopsis thaliana together with (4) BBY (Photosystem II) -particles from Pisum sativum were separated on 4-12% NuPage (Invitrogen) LDS-PAGE and blotted 1h to nitrocellulose. Filters were blocked 1h with 2% low-fat milk powder in TBS-T (0.1% TWEEN 20) and probed with anti-Lhcb5 (AS01 009, 1:1000, 1h) and secondary anti-rabbit (1:20 000, 1 h) antibody (HRP conjugated) in TBS-T containing 2% low fat milk powder. Antibody incubations were followed by washings in TBS-T (15, +5, +5, +5 min). All steps were performed at RT with agitation. Signal was detected with chemiluminescence detection reagent, using a Fuji LAS-3000 CCD (90s, standard sensitivity).

Additional information
Additional information
This product can be sold containing ProClin if requested.
Protein is processed into mature form (Jansson 1999).
Background
Background
Lhcb5 is one of the 3 minor highly conserved chlorophyll a/b-binding proteins associated with Photosystem II in plants and algae. As a part of the inner light-harvesting antenna it has been sugested to regulate (together with Lhcb4 and Lhcb6) the energy flow from the outer LHCII antenna to the PSII reaction center.
Product citations
Selected references
Rogowski et al. (2019). Photosynthesis and organization of maize mesophyll and bundle sheath thylakoids of plants grown in various light intensities. Environmental and Experimental Botany Volume 162, June 2019, Pages 72-86.
Krupinska et al. (2019). The nucleoid-associated protein WHIRLY1 is required for the coordinate assembly of plastid and nucleus-encoded proteins during chloroplast development. Planta. 2019 Jan 11. doi: 10.1007/s00425-018-03085-z.
Mao et al. (2018). Comparison on Photosynthesis and Antioxidant Defense Systems in Wheat with Different Ploidy Levels and Octoploid Triticale. Int J Mol Sci. 2018 Oct 2;19(10). pii: E3006. doi: 10.3390/ijms19103006.
Chen et al. (2018). Exogenous melatonin enhances salt stress tolerance in maize seedlings by improving antioxidant and photosynthetic capacity. Physiol Plant. 2018 Apr 6. doi: 10.1111/ppl.12737.
Tyuereva et al. (2017). The absence of chlorophyll b affects lateral mobility of photosynthetic complexes and lipids in grana membranes of Arabidopsis and barley chlorina mutants. Photosynth Res. 2017 Apr 5. doi: 10.1007/s11120-017-0376-9. (Hordeum vulgare, western blot)
Yang-Er Chen et al. (2017). Responses of photosystem II and antioxidative systems to high light and high temperature co-stress in wheat. J. of Exp. Botany, Volume 135, March 2017, Pages 45–55.
Pavlovič et al. (2016). A carnivorous sundew plant prefers protein over chitin as a source of nitrogen from its traps. Plant Physiol Biochem. 2016 Mar 5;104:11-16. doi: 10.1016/j.plaphy.2016.03.008
Sun et al. (2014). Direct energy transfer from the major antenna to the photosystem II core complexes in the absence of minor antennae in liposomes. Biochim Biophys Acta. 2014 Nov 22. pii: S0005-2728(14)00650-1. doi: 10.1016/j.bbabio.2014.11.005
Ido et al. (2014). Cross-Linking Evidence for Multiple Interactions of the PsbP and PsbQ Proteins in a Higher Plant Photosystem II Supercomplex. J Biol Chem. 2014 Jul 18;289(29):20150-7. doi: 0.1074/jbc.M114.574822. Epub 2014 Jun 9.
Zhou et al. (2013) Mutation of the Light-Induced Yellow Leaf 1 Gene, Which Encodes a Geranylgeranyl Reductase, Affects Chlorophyll Biosynthesis and Light Sensitivity in Rice. PLoS ONE 8(9): e75299. doi:10.1371/journal.pone.0075299.

Related products: Lhcb5 | CP26 chlorophyll a/b-binding protein of plant PSII
AS01 011  |  Clonality: Polyclonal  |  Host: Rabbit  |  Reactivity: ...
1839 €
AS09 607 Clonality: Polyclonal Host: Goat Reactivity: Rabbit IgG (H&L)
...
195 €
AS09 602 |  Clonality: Polyclonal | Host: Goat | Reactivity: Rabbit IgG (H&L)
...
190 €