Lhcb4 | CP29 chlorophyll a/b binding protein of plant PSII
AS04 045  |  Clonality: Polyclonal  |  Host: Rabbit  |  Reactivity: A. thaliana, C. sativus, H. vulgare, N. tabacum, O. sativa, P. sativum, P. vulgaris, T. aestivum, Triticale, Z. mays




DATA SHEET IN PDF
Product Information
Immunogen
BSA-conjugated synthetic peptide derived from a highly conserved sequence of Lhb4 proteins from angiosperms (monocots and dicots) and gymnosperms, including Arabidopsis thaliana (Lhcb4.1 At5g01530 and Lhcb4.2 At3g08940 and Lhcb4.3 At2G40100).
Purity
Total IgG. Protein G purified in PBS pH 7.4.
Reconstitution
For reconstitution add 250 µl of sterile water
Storage
Store lyophilized/reconstituted at -20°C; once reconstituted make aliquots to avoid repeated freeze-thaw cycles. Please remember to spin the tubes briefly prior to opening them to avoid any losses that might occur from material adhering to the cap or sides of the tube.
Tested applications
Western blot (WB)
Recommended dilution
1 : 7 000 (WB)
Expected | apparent MW
31.9 | 29 kDa for Arabidopsis thaliana
Reactivity
Confirmed reactivity
Arabidopsis thaliana, Cucumis sativus L. cv. Jihong no. 2, Drosera capensis, Hordeum vulgare, Lactuca sativa, Nicotiana tabacum, Oryza sativa, Pisum sativum, Phaseolus vulgaris, Triticum aestivum, Triticale, Zea mays

Predicted reactivity
Catalpa bungei, Cucumis sativus, Populus, gymnosperms and microalgae Ostrecococcus tauri; the target sequence is only weakly conserved in Physcomitrium patens


Species of your interest not listed? Contact us
Not reactive in
Chlamydomonas reinhardtii (please use AS06 117 for this organism)
Application examples
Application examples
Application example



5 µg of total protein from embebed seeds of Nicotiana tabacum growing during 4 d in dark (0) and then transfer to continue light growing for 6 h (6) extracted with LB2x buffer and denatured 90 ºC for 2-5 min, were separated on 12.5 % SDS-PAGE and blotted 1h to PVDF using tank transfer. Blots were blocked with TBS-T with 5% dry-milk for 3h at room temperature (RT) with agitation. Blot was incubated in the primary antibody at a dilution of 1: 10 000 overnight at 4 ºC with agitation in TBS-T with 5% dry-milk. The antibody solution was decanted and the blot was rinsed briefly twice, then washed 4 times for 15 min in TBS-T at RT with agitation. Blot was incubated in secondary antibody (anti-rabbit IgG horse radish peroxidase conjugated, AS09 602, from Agrisera) diluted to 1:30 000 in TBS-T with 5% dry-milk for 1h at RT with agitation. The blot was washed as above and developed for 5 min with chemiluminescent detection. Exposure time was 60 seconds.

Courtesy of Dr. Concha Almoguera, Inst. de Recursos Naturales y Agrobiología –CSIC, Spain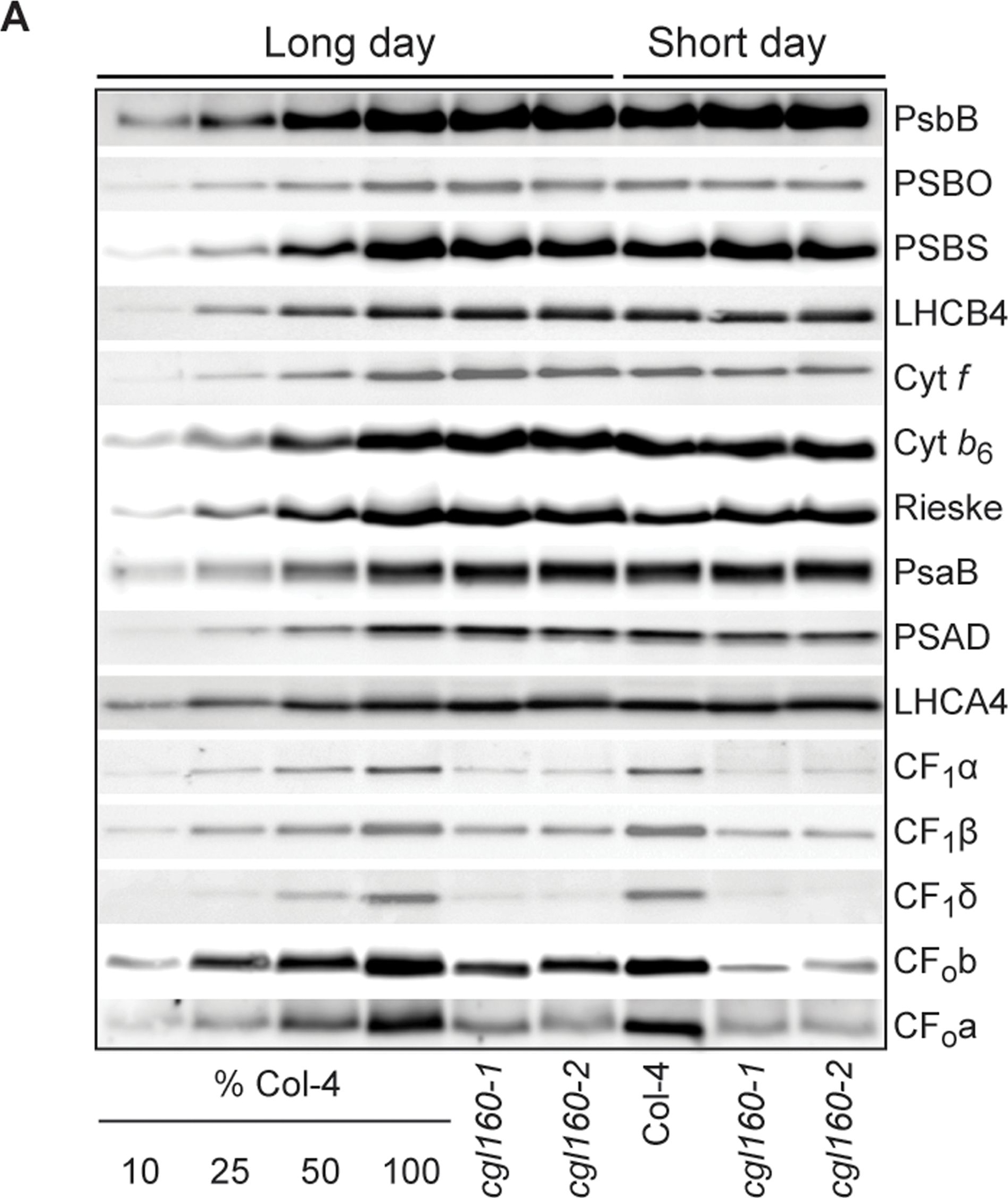 Reactant: Arabidopsis thaliana (Thale cress)
Application: Western Blotting
Pudmed ID: 25835989
Journal: PLoS One
Figure Number: 7A
Published Date: 2015-04-04
First Author: Fristedt, R., Martins, N. F., et al.
Impact Factor: 2.942
Open Publication
Altered protein accumulation and stability of the chloroplast ATP synthase in the cgl160 mutant visualized by immunoblotting.A. Immunoblots with antibodies against essential subunits of the photosynthetic protein complexes of wild-type (Col-4) Arabidopsis and the two cgl160 T-DNA insertion lines grown under long-day and short-day conditions. Isolated thylakoid membranes were used, and equal amounts of chlorophyll were loaded onto the SDS-PAGE gel. For approximate quantification, wild-type samples from long-day plants were diluted to 10%, 25% and 50%, respectively. Accumulation of PSII was probed with antibodies against PsbB and PSBO. Additionally, the PSBS protein involved in NPQ and the minor PSII antenna protein LHCB4 were probed. Accumulation of the cytochrome b6f complex was probed with antibodies against the essential subunits PetA (cytochrome f), PetB (cytochrome b6), and PETC (Rieske protein). Accumulation of PSI was probed with antibodies against the reaction center subunit PsaB and the stromal ridge subunit PsaD. ATP synthase accumulation was probed with antibodies against the CF1 subunits AtpA (CF1?), AtpB (CF1?) and AtpD (CF1?) and antibodies against the CF0 subunits AtpF (CF0b) and AtpI (CF0a). B. Loading difference estimation for immunoblotting CF1 between wild type and cgl160-1. To obtain similar immunoblotting signal three times more (15 ?g protein) was needed for cgl160-1 compared to wild type (5 ?g protein). C. Maintenance of CF1 was measured by incubating leaves from wild type and cgl160-1 in solution containing the plastid protein synthesis inhibitor chloramphenicol for the indicated time points. Protein extract was isolated and separated by SDS-PAGE, immunoblotted and probed with specific antibodies against CF1 and LHCB2.1. Three times more protein was loaded from the mutant to obtain equal level of CF1 immunoblotting signal, as specified in B.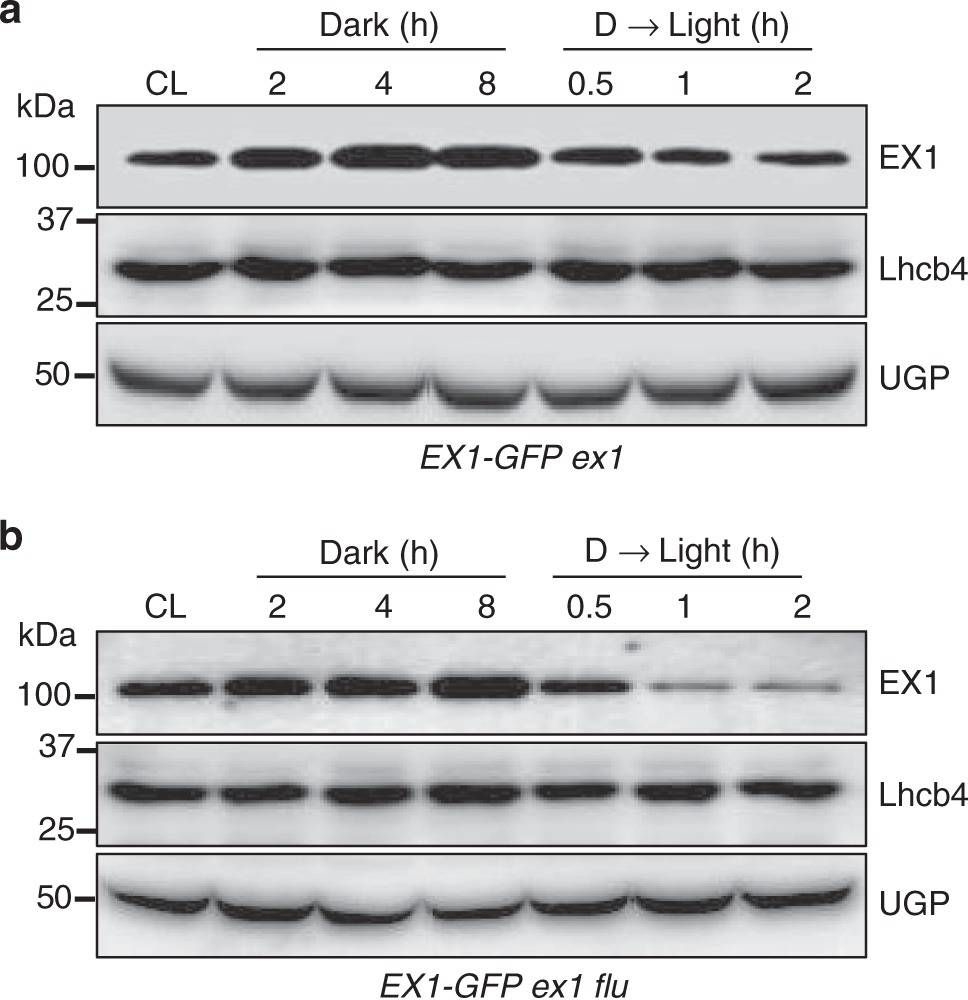 Reactant: Arabidopsis thaliana (Thale cress)
Application: Western Blotting
Pudmed ID: 31249292
Journal: Nat Commun
Figure Number: 1A,B
Published Date: 2019-06-27
First Author: Dogra, V., Li, M., et al.
Impact Factor: 13.783
Open Publication
Light- and 1O2-dependent EX1 degradation. Continuous light (CL)-grown 5-day-(d)-old transgenic seedlings of aex1 and bex1 flu expressing EX1-GFP under the control of the 35S promoter were transferred to the dark (for 2, 4, 8?h) and the 8-h-dark (D)-treated seedlings were re-exposed to light (for 0.5, 1, 2?h) at the light intensity of 100?µmolm-2?s-1. Total protein was extracted and analyzed by western blot. Chlorophyll a/b binding protein CP29 (Lhcb4) and cytosolic UDP-glucose pyrophosphorylase (UGP) were used as controls. EX1-GFP, Lhcb4, and UGPase were detected using antibodies against GFP, Lhcb4, and UGP, respectively. c The levels of EX1-GFP in the dark or after re-exposing to light were compared to its abundances under CL conditions. Average intensity values of the protein bands were calculated using AzureSpot software v14.0 (AZURE). Data represents the mean of three biological repeats. Error bars show standard error of the mean. Asterisks in c indicate statistically significant differences to CL condition (P?<?0.05, Student's t-test)
Additional information
Additional information
An overview about the different Lhc-protein types in plants can be found in Klimmek et al. (2006) Abundantly and rarely expressed Lhc protein genes exhibit distinct regulation patterns in plants. Plant Physiol 140: 793-804.

Lhcb4 protein is processed into mature form (Jansson 1999).
Background
Background
Lhcb4 (CP29) is one of the 3 minor chlrorophyll a/b-binding proteins associated with Photosystem II in plants and algae. Lhcb4 has been suggested to act in the regulation of the chl a excited state concentration of PSII because of its ability of sensing lumenal pH resulting in reversible phosphorylation. In Arabidopsis thaliana 2 genes code for two isoforms Lhcb4.1 and Lhcb4.2. A third isoform (Lhcb4.3, At2g40100), probably only present in dicots, has found to be differently regulated and therefore has been denoted as Lhcb8.
Product citations
Selected references
Cazzaniga et al. (2022). Engineering astaxanthin accumulation reduces photoinhibition and increases biomass productivity under high light in Chlamydomonas reinhardtii. Biotechnol Biofuels Bioprod. 2022 Jul 11;15(1):77. doi: 10.1186/s13068-022-02173-3. PMID: 35820961; PMCID: PMC9277849.
Bru, Steen, Park, et al. (2022) The major trimeric antenna complexes serve as a site for qH-energy dissipation in plants. J Biol Chem. 2022;298(11):102519. doi:10.1016/j.jbc.2022.102523
Pavlovic & Kocab. (2021) Alternative oxidase (AOX) in the carnivorous pitcher plants of the genus Nepenthes: what is it good for? Ann Bot. 2021 Dec 18:mcab151. doi: 10.1093/aob/mcab151. Epub ahead of print. PMID: 34922341.
Fukura et al. (2021) Enrichment of chlorophyll catabolic enzymes in grana margins and their cooperation in catabolic reactions. J Plant Physiol. 2021 Nov;266:153535. doi: 10.1016/j.jplph.2021.153535. Epub 2021 Sep 25. PMID: 34607178.
Chen et al. (2021)Degradation of the photosystem II core complex is independent of chlorophyll degradation mediated by Stay-Green Mg2+ dechelatase in Arabidopsis,Plant Science,Volume 307,2021,110902,ISSN 0168-9452,https://doi.org/10.1016/j.plantsci.2021.110902.
Grieco et al. (2020). Adjustment of photosynthetic activity to drought and fluctuating light in wheat. Plant Cell Environ. 2020 Mar 16. doi: 10.1111/pce.13756.
Grimmer et al. (2020). Mild Proteasomal Stress Improves Photosynthetic Performance in Arabidopsis Chloroplasts. Nat Commun , 11 (1), 1662
Chen et al. (2019). Effects of Stripe Rust Infection on the Levels of Redox Balance and Photosynthetic Capacities in Wheat. Int J Mol Sci. 2019 Dec 31;21(1). pii: E268. doi: 10.3390/ijms21010268.
Fristedt et al. (2015). The thylakoid membrane protein CGL160 supports CF1CF0 ATP synthase accumulation in Arabidopsis thaliana. PLoS One. 2015 Apr 2;10(4):e0121658. doi: 10.1371/journal.pone.0121658.
Lv et al. (2019). Uncoupled Expression of Nuclear and Plastid Photosynthesis-Associated Genes Contributes to Cell Death in a Lesion Mimic Mutant. Plant Cell. 2019 Jan;31(1):210-230. doi: 10.1105/tpc.18.00813.
Rogowski et al. (2019). Photosynthesis and organization of maize mesophyll and bundle sheath thylakoids of plants grown in various light intensities. Environmental and Experimental Botany Volume 162, June 2019, Pages 72-86.
Lee et al. (2018). Prolines in Transit Peptides Are Crucial for Efficient Preprotein Translocation into Chloroplasts. Plant Physiol. 2018 Jan;176(1):663-677. doi: 10.1104/pp.17.01553. Epub 2017 Nov 20.
Mao et al. (2018). Comparison on Photosynthesis and Antioxidant Defense Systems in Wheat with Different Ploidy Levels and Octoploid Triticale. Int J Mol Sci. 2018 Oct 2;19(10). pii: E3006. doi: 10.3390/ijms19103006.
Geem at al. (2018). Jasmonic acid-inducible TSA1 facilitates ER body formation. Plant J. 2018 Sep 28. doi: 10.1111/tpj.14112.
Myouga et al. (2018). Stable accumulation of photosystem II requires ONE-HELIX PROTEIN1 (OHP1) of the light harvesting-like family. Plant Physiol. 2018 Feb 1. pii: pp.01782.2017. doi: 10.1104/pp.17.01782.
Kim et al. (2018). The rice zebra3 (z3) mutation disrupts citrate distribution and produces transverse dark-green/green variegation in mature leaves. Rice (N Y). 2018 Jan 5;11(1):1. doi: 10.1186/s12284-017-0196-8.
Schottler et al. (2017). The plastid-encoded PsaI subunit stabilizes photosystem I during leaf senescence in tobacco. J Exp Bot. 2017 Feb 1;68(5):1137-1155. doi: 10.1093/jxb/erx009.
Tyuereva et al. (2017). The absence of chlorophyll b affects lateral mobility of photosynthetic complexes and lipids in grana membranes of Arabidopsis and barley chlorina mutants. Photosynth Res. 2017 Apr 5. doi: 10.1007/s11120-017-0376-9. (Hordeum vulgare, western blot)
Yang-Er Chen et al. (2017). Responses of photosystem II and antioxidative systems to high light and high temperature co-stress in wheat. J. of Exp. Botany, Volume 135, March 2017, Pages 45-55.
Betterle et al. (2016). The STN8 kinase-PBCP phosphatase system is responsible for high-light-induced reversible phosphorylation of the PSII inner antenna subunit CP29 in rice. Plant J. 2016 Nov 4. doi: 10.1111/tpj.13412. [Epub ahead of print]
Pavlovic et al. (2016). A carnivorous sundew plant prefers protein over chitin as a source of nitrogen from its traps. Plant Physiol Biochem. 2016 Mar 5;104:11-16. doi: 10.1016/j.plaphy.2016.03.008
Kim et al. (2015). Cytosolic targeting factor AKR2A captures chloroplast outer membrane-localized client proteins at the ribosome during translation. Nat Commun. 2015 Apr 16;6:6843. doi: 10.1038/ncomms7843.
Sun et al. (2014). Direct energy transfer from the major antenna to the photosystem II core complexes in the absence of minor antennae in liposomes. Biochim Biophys Acta. 2014 Nov 22. pii: S0005-2728(14)00650-1. doi: 10.1016/j.bbabio.2014.11.005.
Grimmer et al. (2014). The RNA-binding protein RNP29 is an unusual Toc159 transport substrate. Front. Plant Sci. | doi: 10.3389/fpls.2014.00258

Related products: Lhcb4 | CP29 chlorophyll a/b binding protein of plant PSII
AS16 ECL-S-N | low pico to mid femtogram and extreme low femtogram detection

This product can b...
From 26 €
AS09 607 |  Clonality: Polyclonal Host: Goat Reactivity: Rabbit IgG (H&L)

10 % until...
206 €
AS09 602 |  Clonality: Polyclonal | Host: Goat | Reactivity: Rabbit IgG (H&L)

10 ...
201 €