V-ATPase | Epsilon subunit of tonoplast H+ATPase
Buy
2 items
of this product for
202 €/each
Buy
3 items
of this product for
185 €/each
AS07 213  |  Clonality: Polyclonal  |  Host: Rabbit  |  Reactivity: higher plants including A.comosus, A.thaliana, C.sativus, C.reinhardtii, H.vulgare, L.esculentum, L.longiflorum, Malus x domestica Borkh. c.v. Fuji, M. truncatula, M.crystallinum, N.tabacum, N.caerulescens, O.sativa, P.hybrida cv. Mitchell, Populus sp., P.vittata, Thellungiella sp., T. aestivum, Z.mays |  Cellular [compartment marker] of tonoplast membrane

PRODUCT INFORMATION IN PDF
product information

Background

Plant vacuole V-ATPase is responsible for energization of transport of ions and metabolites, and acts as well 'house-keeping' and as a stress response enzyme. V-ATPase is a multi-subunit enzyme composed of a membrane sector and a cytosolic catalytic sector. It is related to the FoF1 ATP synthase. Alternative protein names: Vacuolar proton pump subunit E, Protein EMBRYO DEFECTIVE 2448

Immunogen

KLH-conjugated synthetic peptide chosen from subunit E of plant V-ATPase including Arabidopsis thaliana At4g11150. Peptide is conserved in vacuolar H+-ATPase subunit E, isoform 1 to 3 (VHA-E1).

Host
Rabbit
Clonality
Polyclonal
Clone
Purity
Serum
Format
Lyophilized
Quantity
50 µl
Reconstitution
For reconstitution add 50 µl of sterile water.
Storage
Store lyophilized/reconstituted at -20°C; once reconstituted make aliquots to avoid repeated freeze-thaw cycles. Please, remember to spin tubes briefly prior to opening them to avoid any losses that might occur from lyophilized material adhering to the cap or sides of the tubes.
Tested applications
Immunohistochemistry (IHC), Western blot (WB)
Related products
Additional information

Cellular [compartment marker] of tonoplast membrane.
application information

Recommended dilution
1 : 50 (IHC), 1 : 2000-1 : 5000 (WB)
Expected | apparent MW

26 | 31 kDa (Arabidopsis thaliana)

Confirmed reactivity
Ananas comosus, Arabidopsis thaliana, Cucumis sativus, Chlamydomonas reinhardtii, Hordeum vulgare, Lycopersicum esculentum, Lilium longiflorum, Malus x domestica Borkh. c.v. Fuji, Medicago truncatula, Mesembryanthemum crystallinum, Nicotiana tabacum, Noccaea caerulescens, Oryza sativa, Petunia hybrida cv. Mitchell, Populus sp., Pteris vittata (fern), Thellungiella sp., Triticum aestivum, Zea mays
Predicted reactivity

Brachypodium dystachyon, Capsella rubella,  Citrus clementina, Citrus unshiu, Citrus limon, Eucalypsus grandis, Glyxine max, Glycine soja, Lotus japonicus, Phaseolus sp. , Physcomitrella patens, Populus trichocarpa, Prunus persica, Ricinus communis, Riticum aestivum, Solanum lycopersicum, Solanum tuberosum, Sorghum bicolor Theobroma cacao, Vitis vinifera,       Bull frog,  Chicken, Bovine, Drosophila melanogaster, Human, Mouse, Rat

Not reactive in

Avicennia sp., mangrove plants, Schizosaccharomyces pombe

Additional information

V-ATPase is very sensitive for the redox of the SDS buffer. We recommend using at least 50-100 mM DTT freshly prepared before handling the sample.

Immunostaining protocol using V-ATPase antibodies can be found here.

Selected references
Lynch et al. (2017). Multifaceted plant responses to circumvent Phe hyperaccumulation by downregulation of flux through the shikimate pathway and by vacuolar Phe sequestration. Plant J. 2017 Dec;92(5):939-950. doi: 10.1111/tpj.13730.
Nagel et al. (2017). Arabidopsis SH3P2 is an ubiquitin-binding protein that functions together with ESCRT-I and the deubiquitylating enzyme AMSH3. Proc Natl Acad Sci U S A. 2017 Aug 7. pii: 201710866. doi: 10.1073/pnas.1710866114.
Vera-Estrella et al. (2017). Cadmium and zinc activate adaptive mechanisms in Nicotiana tabacum similar to those observed in metal tolerant plants. Planta. 2017 Apr 28. doi: 10.1007/s00425-017-2700-1.
Xing et al. (2016). Proteome Profile of Starch Granules Purified from Rice (Oryza sativa) Endosperm. PLoS One. 2016 Dec 19;11(12):e0168467. doi: 10.1371/journal.pone.0168467.
LaMontagne et al. (2016). Isolation of Microsomal Membrane Proteins from Arabidopsis thaliana. Curr. Protoc. Plant Biol. 1:217-234. doi: 10.1002/cppb.20020.
Barkla et al. (2016). Single-cell-type quantitative proteomic and ionomic analysis of epidermal bladder cells from the halophyte model plant Mesembryanthemum crystallinum to identify salt-responsive proteins. BMC Plant Biol. 2016 May 10;16(1):110. doi: 10.1186/s12870-016-0797-1.
Liu et al. (2016). iTRAQ-based quantitative proteomic analysis reveals the role of the tonoplast in fruit senescence. J Proteomics. 2016 Sep 2;146:80-9. doi: 10.1016/j.jprot.2016.06.031.
Wattelet-Boyer et al. (2016). Enrichment of hydroxylated C24- and C26-acyl- chain sphingolipids mediates PIN2 apical sorting at trans-Golgi network subdomains. Nat Commun. 2016 Sep 29;7:12788. doi: 10.1038/ncomms12788.
Jiskrová et al. (2016). Extra- and intracellular distribution of cytokinins in the leaves of monocots and dicots. N Biotechnol. 2016 Jan 8. pii: S1871-6784(16)00002-9. doi: 10.1016/j.nbt.2015.12.010
Bancel et al. (2015). Proteomic Approach to Identify Nuclear Proteins in Wheat Grain. J Proteome Res. 2015 Sep 8.
Milner et al. (2014). Root and shoot transcriptome analysis of two ecotypes of Noccaea caerulescens uncovers the role of NcNramp1 in Cd hyperaccumulation. Plant J. 2014 Feb 18. doi: 10.1111/tpj.12480.
Shen et al. (2014). The fronds tonoplast quantitative proteomic analysis in arsenic hyperaccumulator Pteris vittata L. J Proteomics. 2014 Feb 4. pii: S1874-3919(14)00047-5. doi: 10.1016/j.jprot.2014.01.029.
Ranocha et al. (2013).Arabidopsis WAT1 is a vacuolar auxin transport facilitator required for auxin homoeostasis. Nat Commun. 2013;4:2625. doi: 10.1038/ncomms3625.
Chen et al. (2013). Mn tolerance in rice is mediated by MTP8.1, a member of the cation diffusion facilitator family. J Exp. Bot. August 20.
McLoughlin et al. (2013). Identification of novel candidate phosphatidic acid binding proteins involved in the salt stress response of Arabidopsis thaliana roots. Biochem J. Jan 17.
Rainteau et al. (2012). Acyl Chains of Phospholipase D Transphosphatidylation Products in Arabidopsis Cells: A Study Using Multiple Reaction Monitoring Mass Spectrometry. PLOS ONE (Arabidopsis thaliana suspension cells).
Lang, E.G.E., S.J. Mueller, S.N.W. Hoernstein, J. Porankiewicz-Asplund, M. Vervliet-Scheebaum, R. Reski (2010). Simultaneous isolation of pure and intact chloroplasts and mitochondria from moss as basis for sub-cellular proteomics. Plant Cell Reports, DOI: 10.1007/s00299-010-0935-4. (open source).
Application example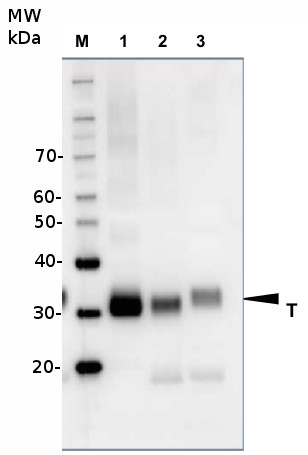 10 µg of total protein from samples such as
Arabidopsis thaliana
leaf
(1)
,
Hordeum vulgare
leaf
(2)
,
Zea mays
leaf
(3)
were extracted with Protein Extraction Buffer PEB (
AS08 300
). Samples were diluted with 1X sample buffer (NuPAGE LDS sample buffer (Invitrogen) supplemented with 50 mM DTT and heat at 70°C for 5 min and keept on ice before loading. Protein samples were separated on 4-12% Bolt Plus gels, LDS-PAGE and blotted for 70 minutes to PVDF using tank transfer. Blots were blocked immediately following transfer in 2% blocking reagent (GE RPN 2125; Healthcare) or 5% non-fat milk dissolved in 20 mM Tris, 137 mM sodium chloride pH 7.6 with 0.1% (v/v) Tween-20 (TBS-T) for 1h at room temperature with agitation. Blots were incubated in the primary antibody at a dilution of 1: 5 000 (in blocking reagent) for 1h at room temperature with agitation. The antibody solution was decanted and the blot was rinsed briefly twice, and then washed 1x15 min and 3x5 min with TBS-T at room temperature with agitation. Blots were incubated in secondary antibody (anti-rabbit IgG horse radish peroxidase conjugated, recommended secondary antibody
AS09 602
, Agrisera) diluted to 1:25 000 in blocking reagent for 1h at room temperature with agitation. The blots were washed as above. The blot was developed for 5 min with TMA-6 (Lumigen) detection reagent according the manufacturers instructions. Images of the blots were obtained using a CCD imager (VersaDoc MP 4000) and Quantity One software (Bio-Rad). Exposure time was 30 seconds.
---
||| For other applications, usage on species other than stated above or any other questions, please use the LiveChat option or contact us at support@agrisera.com