H+ATPase | Plasma membrane H+ATPase (rabbit)
Buy
2 items
of this product for
198 €/each
Buy
3 items
of this product for
180 €/each
AS07 260 | Clonality: Polyclonal | Host: Rabbit | Reactivity: [global antibody] for di- and monocots, conifers, ferns, mosses, green algae | Cellular [compartment marker] for plasma membrane


PRODUCT INFORMATION IN PDF
product information

Background

The Plasma Membrane H+ATPase is a family of proteins of ca. 100 kDa that are believed to be exclusive to the plasma membranes of plants and fungi. The protein is anchored within biological membrane which creates an electrochemical gradient used as an energy source and is essential for uptake of most metabolites and plant responses to environment, for example movement of leaves.

Immunogen

KLH-conjugated synthetic peptide exposed to cytoplasm in H+ATPase model, derived from available di and monocot, fern, mosses and algal plasma membrane ATPase sequences including Arabidopsis thaliana ATPase 1 (UniProt: P20649, TAIR: At2g18960) and ATPase 2 (UniProt: P19456 , TAIR: At4g30190), 3 (UniProt: P20431, TAIR: At5g57350), 4 (UniProt: Q9SU58, TAIR: At3g47950), 6 (UniProt: Q9SH76, TAIR: At2g07560), 7 (UniProt: Q9LY32, TAIR: At3g60330), 8 (UniProt: Q9M2A0, TAIR: At3g42640), 9 (UniProt: Q42556, TAIR: At1g80660), 11 (UniProt: Q9LV11, TAIR: At5g62670) of Arabidopsis thaliana and hydrogen ATPase of Chlamydomonas reinhardtii (Q9FNS3)

Host
Rabbit
Clonality
Polyclonal
Clone
Purity
Serum
Format
Lyophilized
Quantity
50 µl
Reconstitution
For reconstitution add 50 µl of sterile water.
Storage

Store lyophilized/reconstituted at -20°C; once reconstituted make aliquots to avoid repeated freeze-thaw cycles. Please, remember to spin tubes briefly prior to opening them to avoid any losses that might occur from lyophilized material adhering to the cap or sides of the tubes. Do not store this antibody in 4°C.

Tested applications

Immunofluorescence (IF), Immunolocalization (IL), Western Blot (WB)

Related products

AS07 213 | anti-V-ATPase rabbit antibody

AS07 260PRE | H+ATPase | plasma membrane H+ATPase, pre-immune serum

AS13 2671 | H+ATPase plasma membrane H+ATPase (chicken antibody)

Antibodies to membrane transport system

Recommended secondary antibody

Additional information

Cellular [compartment marker] for plasma membrane
application information

Recommended dilution

1: 1000 - 1: 10 000 depending upon developing reagent (WB), 1: 600 - 1: 1000 (IF), 1: 100 (IL)

Expected | apparent MW

90- 95 kDa (Arabidopsis thaliana, depending upon an isoform)

Confirmed reactivity
dicots including: Arabidopsis thaliana, Cucumis sativus, Cucurbita moschata, Glycine max (weak), Kandelia obovata, Lolium perenne, Lycopersicon esculentum, Malus x domestica Borkh. c.v. Fuji,  Marchantia polymorpha, Medicago truncatula, Nicotiana tabacum, Noccaea caerulescens, Petunia hybrida, Phalenopsis Sogo Yukidian cultivar V3, Ricinus communis, Spinacia oleracea, monocots inlcuding: Hordeum vulgare, Oryza sativa, Zea mays, trees: Picea abies, Populus tremula, Pteris vittata (fern), algae: Chlamydmonas reinhardtii
Predicted reactivity

dicots including: Mesembruanthemum crystallinum, Solanum tuberosum; monocots (including Avena sativa, Gossypium hirsutum, Hordeum vulgare, conifers (Pinus thunbergii), mosses (Physocomitrella patens), algae (Dunaliella spp., Ostreococcus spp.), fungus: Mortierella elongata, Saccharomyces cerevisiae

Not reactive in

Aspergillus niger

Additional information

For additional Western blot detection image please refer to the article below.



VERY IMPORTANT: please, do not heat up your samples over 70°C as this might cause H+ATPase to precipitate and there will be no signal on your Western Blot.

H+ATPase will be less abundant in mature roots and leafs. 

This product can be sold with ProClin if requested.

Selected references
Nagel et al. (2017). Arabidopsis SH3P2 is an ubiquitin-binding protein that functions together with ESCRT-I and the deubiquitylating enzyme AMSH3. Proc Natl Acad Sci U S A. 2017 Aug 7. pii: 201710866. doi: 10.1073/pnas.1710866114.
Aloui et al. (2017). The plasma membrane proteome of Medicago truncatula roots as modified by arbuscular mycorrhizal symbiosis. Mycorrhiza. 2017 Jul 19. doi: 10.1007/s00572-017-0789-5.
Lomin et al. (2017). Studies of cytokinin receptor–phosphotransmitter interaction provide evidences for the initiation of cytokinin signalling in the endoplasmic reticulum. Functional Plant Biology, CSIRO Publications. (Nicotiana benthamiana, western blot)
Kovaleva et al. (2017). Regulation of Petunia Pollen Tube Growth by Phytohormones: Identification of Their Potential Targets. DOI:10.17265/2161-6256/2016.04.004. (immunolocalization)
Liao et al. (2017). Arabidopsis E3 ubiquitin ligase PLANT U-BOX13 (PUB13) regulates chitin receptor LYSIN MOTIF RECEPTOR KINASE5 (LYK5) protein abundance. New Phytol. 2017 Feb 14. doi: 10.1111/nph.14472.
LaMontagne et al. (2016). Isolation of Microsomal Membrane Proteins from Arabidopsis thaliana. Curr. Protoc. Plant Biol. 1:217-234. doi: 10.1002/cppb.20020.
Je et al. (2016). Signaling from maize organ primordia via FASCIATED EAR3 regulates stem cell proliferation and yield traits. Nat Genet. 2016 Jul;48(7):785-91. doi: 10.1038/ng.3567. Epub 2016 May 16.
Liu et al. (2016). iTRAQ-based quantitative proteomic analysis reveals the role of the tonoplast in fruit senescence. J Proteomics. 2016 Sep 2;146:80-9. doi: 10.1016/j.jprot.2016.06.031.
Wattelet-Boyer et al. (2016). Enrichment of hydroxylated C24- and C26-acyl- chain sphingolipids mediates PIN2 apical sorting at trans-Golgi network subdomains. Nat Commun. 2016 Sep 29;7:12788. doi: 10.1038/ncomms12788.
de Michele et al. (2016). Free-Flow Electrophoresis of Plasma Membrane Vesicles Enriched by Two-Phase Partitioning Enhances the Quality of the Proteome from Arabidopsis Seedlings. J Proteome Res. 2016 Mar 4;15(3):900-13. doi: 10.1021/acs.jproteome.5b00876. Epub 2016 Feb 4.
Li et al. (2015). Three SAUR proteins SAUR76, SAUR77 and SAUR78 promote plant growth in Arabidopsis. Sci Rep. 2015 Jul 24;5:12477. doi: 10.1038/srep12477.
Kolb et al. (2015). FYVE1 is essential for vacuole biogenesis and intracellular trafficking in Arabidopsis thaliana. Plant Physiol. 2015 Feb 19. pii: pp.114.253377.
Hu et al. (2015). Re-examination of chlorophyllase function implies its involvement in defense against chewing herbivores. Plant Physiol. 2015 Jan 12. pii: pp.114.252023.
Komatsu et al. (2014). Phototropin Encoded by a Single-Copy Gene Mediates Chloroplast Photorelocation Movements in the Liverwort Marchantia polymorpha L. 1. Plant Physiol. 2014 Sep;166(1):411-27. doi: 10.1104/pp.114.245100. Epub 2014 Aug 5.
Berthier et al. (2014).Identification of a new sucrose transporter in rye-grass (LpSUT2): Effect of defoliation and putative fructose sensing. Plant Physiol & Biochem, vol: 84, Nov. 2014. (immunolocalization, leaf sheath)
Migocka et al. (2014). Molecular and biochemical properties of two P 1B2 -ATPases, CsHMA3 and CsHMA4, from cucumber. Plant Cell Environ. 2014 Sep 11. doi: 10.1111/pce.12447.
Shen et al. (2014). The fronds tonoplast quantitative proteomic analysis in arsenic hyperaccumulator Pteris vittata L. J Proteomics. 2014 Feb 4. pii: S1874-3919(14)00047-5. doi: 10.1016/j.jprot.2014.01.029.
Zhang et al. (2014). Arabidopsis ABCG14 protein controls the acropetal translocation of root-synthesized cytokinins. Nat Commun. 2014 Feb 11;5:3274. doi: 10.1038/ncomms4274.
Sobrino-Plata et al. (2014). Glutathione is a key antioxidant metabolite to cope with mercury and cadmium stress. Plant Soil, DOI 10.1007/s11104-013-2006-4.
Application example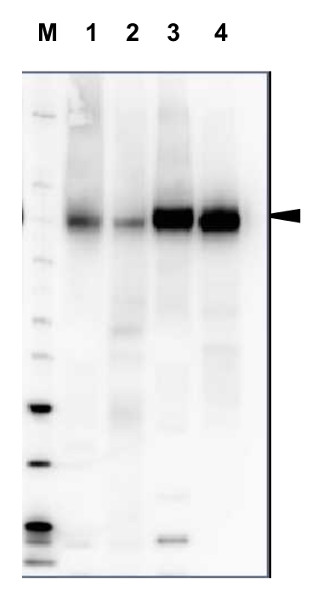 20 µg of total protein from Arabidopsis thaliana (1), Hordeum vulgare (2), Zea mays (3), Nicotiana tabaccum plasma membrane fraction, 2.5 µg (4), extracted with Protein Extration Buffer, PEB (AS08 300), were boiled for 10 min. in 70°C and separated on 4-12% NuPage (Invitrogen) LDS-PAGE and blotted 1h to PVDF. Blots were blocked immediately following transfer in 2% ECL Advance blocking reagent (GE Healthcare) in 20 mM Tris, 137 mM sodium chloride pH 7.6 with 0.1% (v/v) Tween-20 (TBS-T) for 1h at room temperature with agitation. Blots were incubated in the primary antibody at a dilution of 1: 5 000 for 1h at room temperature with agitation. The antibody solution was decanted and the blot was rinsed briefly twice, then washed once for 15 min and 3 times for 5 min in TBS-T at room temperature with agitation. Blots were incubated in secondary antibody (anti-rabbit IgG horse radish peroxidase conjugated, recommended secondary antibody AS09 602) diluted to 1:20 000 in 2% ECL Advance blocking solution for 1h at room temperature with agitation. The blots were washed as above and developed for 5 min with ECL Advance detection reagent according the manufacturers instructions. Images of the blots were obtained using a CCD imager (FluorSMax, Bio-Rad) and Quantity One software (Bio-Rad). Exposure time was 2 min.


Immunolocalization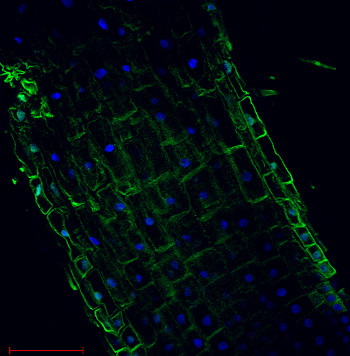 Plasma membrane H+ATPase localization inArabidopsis thaliana roots.
Arabidopsis thaliana, elongation zone, H+ATPase (green). Arabidopsis thaliana roots were fixed in para-formaldehyde for 30 minutes. Tissue cleaning has been performed before immunolocalization. Anti-rabbit H+ATPase | plasma membrane primary antibody diluted in 1: 300 and anti-rabbit IgG secondary antibody conjugated with Alexa 555. Co-staining with DAPI visualized nucleus (blue color). Scale bar – 100 µm.
Courtesy Dr. Taras Pasternak, Freiburg University
---
||| For other applications, usage on species other than stated above or any other questions, please use the LiveChat option or contact us at support@agrisera.com
Accessories: H+ATPase | Plasma membrane H+ATPase (rabbit)
AS16 3111  | Agrisera IncuBlocker (rabbit)
114 €