Arabinogalactan-protein, AGP (monoclonal, clone LM2)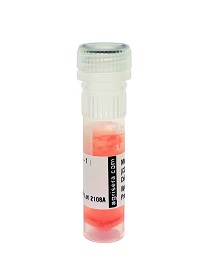 DATA SHEET IN PDF
Product Information
Immunogen
Polysaccharide Arabinogalactan-protein (AGP) from Oryza sativa
Purity
Cell culture supernatant.
Storage
Store at +4°C (short term) and at -20°C (long term).
Tested applications
ELISA (ELISA), Immuniflourescence (IF)
Recommended dilution
1:10 (ELISA, IF)
Reactivity
Confirmed reactivity
Higher plants, ferns and mosses
Not reactive in
No confirmed exceptions from predicted reactivity are currently known
Additional information
Additional information
Contains 0.05% Sodium Azide.

This antibody is made to rice arabinogalactan-proteins (AGPs) and it recognizes a carbohydrate epitope containing B-linked glucuronic acid. 
In competitive inhibition ELISAs antibody binding to gum arabic was inhibited (50%) by 70 mg/ml 1-O-methyl-B-D-GlcA. The binding of the antibody to AGPs can be fully inhibited by 10 mM 1-O-methyl-B-D-GlcA.
Antibody is recognizing carbohydrate epitope containing Β-linked glucuronic acid.
Background
Background
The plant cell wall surrounds the plant cell as a complex network of polysaccharides classed as: cellulose, hemicelluloses and pectic polysaccharides and glycoproteins.  Anchored to or embedded into plant cell wall are other polymers, like: lignin, suberin or cutin.

 Arabinogalactans can be found in plants as free glycans, or attached to rhamnogalacturonan-I or protein backbones.
Product citations
Selected references
Stacey et al. (1990). Patterns of expression of the JIM4 arabinogalactan-protein epitope in cell cultures and during somatic embryogenesis in Daucus carota L Planta. 1990 Jan;180(2):285-92.doi: 10.1007/BF00194009.
Knox et al.(1991). Developmentally regulated epitopes of cell surface arabinogalactan proteins and their relation to root tissue pattern formation. Plant J. 1991 ov;1(3):317-326.doi: 10.1046/j.1365-313X.1991.t01-9-00999.x.