Lhcb1 | LHCII type I chlorophyll a/b-binding protein
AS01 004 | Clonality: Polyclonal | Host: Rabbit  | Reactivity: Photosynthetic eukaryotes including A. thaliana, A. hypogaea, B. napus, C. vulgaris, C. quitensis Kunt Bartl, C. pumilum, H. vulgare, L. esculentum (Solanum lycopersicon), M. crystallinum, N. tabacum, O. sativa, P. sativum, P. vulgaris, R. discolor, S. alaba, S. vulgaris, S. oleracea, T. aestivum, Z. mays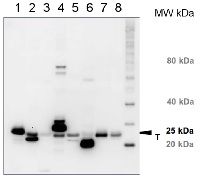 DATA SHEET IN PDF
Product Information
Immunogen
BSA-conjugated synthetic peptide derived from a highly conserved sequence of Lhb1 proteins from angiosperms (monocots and dicots) and gymnosperms, including Arabidopsis thaliana  At1g29910 (Lhcb1.1), At1g29920 (Lhcb1.2), At1g29930 (Lhcb1.3, most expressed), At2g34430  (Lhcb1.4), and At2g34420 (Lhcb1.5)
Purity
Affinity purified serum
Reconstitution
For reconstitution add 50 µl of sterile water.
Storage
Store lyophilized/reconstituted at -20°C; once reconstituted make aliquots to avoid repeated freeze-thaw cycles. Please, remember to spin tubes briefly prior to opening them to avoid any losses that might occur from lyophilized material adhering to the cap or sides of the tubes.
Tested applications
Western blot (WB)
Recommended dilution
1 : 2000 (WB)
Expected | apparent MW
28 | 25 kDa for Arabidopsis thaliana
Reactivity
Confirmed reactivity
Arabidopsis thaliana, Arachis hypogaea, Brassica napus, Chlorella vulgaris, Colobanthus quitensis Kunt Bartl, Craterostigma pumilum, Hordeum vulgare, Lycopersicon esculentum (Solanum lycopersicon), Mesembryanthemum crystallinum, Nicotiana tabacum, Oryza sativa, Pisum sativum, Phaseolus vulgaris, Rhoeo discolor, Silene vulgaris, Sinapsis alba, Spinacia oleracea, Triticum aestivum, Triticale, Zea mays
Predicted reactivity
Aegilops tauschii, Catalpa bungei, Cucumis sativus, Brachypodium distachyon, Lotus japonicus, Hordeum vulgare, Musa acuminata, Nicotiana tabacum, Physcomitrella patens, Solanum tuberosum, Zosteria marina, Vitis vinifera
Not reactive in
No confirmed exceptions from predicted reactivity are currently known.
Application examples
Application examples
Application example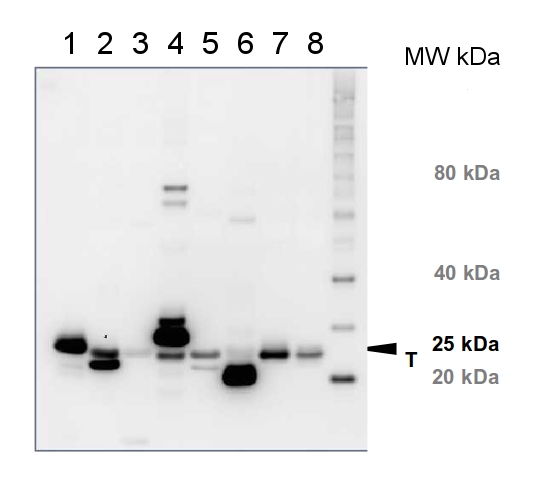 10 µg of total protein from (1) Arabidopsis thaliana leaf, (2) Hordeum vulgare leaf, (3) Zea mays leaf, (4) Chlamydomonas reinhardtii total cell, (5) Spinacia oleracea total leaf, (6) Physcomitrella patens, (7) Solanum tuberosum total leaf, (8) Solanum esculentum total leaf, all extracted with Protein Extraction Buffer PEB (AS08 300) were separated on 4-12% NuPage (Invitrogen) LDS-PAGE and blotted 1h to PVDF. Blots were blocked immediately following transfer in 2-2.5 % blocking reagent in 20 mM Tris, 137 mM sodium chloride pH 7.6 with 0.1% (v/v) Tween-20 (TBS-T) for 1h at room temperature with agitation. Blots were incubated in the primary antibody at a dilution of 1: 10 000 for 1h at room temperature with agitation. The antibody solution was decanted and the blot was rinsed briefly twice, then washed once for 15 min and 3 times for 5 min in TBS-T at room temperature with agitation. Blots were incubated in secondary antibody (anti-rabbit IgG horse radish peroxidase conjugated, recommended secondary antibody AS09 602) diluted to 1:25 000 in TBS-T for 1h at room temperature with agitation. The blots were washed as above and developed for 5 min with chemiluminescent detection reagent according the manufacturers instructions. Images of the blots were obtained using a CCD imager (FluorSMax, Bio-Rad) and Quantity One software (Bio-Rad). Exposure time was 2 minutes.
Additional information
Additional information
This product can be sold containing ProClin if requested
This antibody is provided as a total IgG fraction, e.g. serum purified on Protein G to total immunoglobulin.

Lhcb1 Protein is processed into mature form (Jansson 1999).
Background
Background
The major light-harvesting antenna complex II (LHCII) in photosynthetic eukaryotes is located in the thylakoid membrane of the chloroplast. It is a heterotrimeric complex formed by up to 3 different individual subtypes of chlorophyll a/b-binding proteins: Lhcb1, Lhcb2, and Lhcb3. Lhcb1 is the most abundant chlorophyll a/b-binding protein in eukaryotic phototrophs and often is coded by several nuclear genes.
A molecular characterisation of the LHCII proteins can be found in Caffarri et al. (2004) A Look within LHCII:  Differential Analysis of the Lhcb1−3 Complexes Building the Major Trimeric Antenna Complex of Higher-Plant Photosynthesis. Biochemistry 43 (29): 9467–9476
Product citations
Selected references
Wang et al. (2020). Effects and Mechanisms of Foliar Application of Silicon and Selenium Composite Sols on Diminishing Cadmium and Lead Translocation and Affiliated Physiological and Biochemical Responses in Hybrid Rice (Oryza Sativa L.) Exposed to Cadmium and Lead. Chemosphere. 2020 Jul;251:126347. doi: 10.1016/j.chemosphere.2020.126347.
Galvis et al. (2020). H+ transport by K+ EXCHANGE ANTIPORTER3 promotes photosynthesis and growth in chloroplast ATP synthase mutants. Plant Physiol. pp.01561.2019. doi: 10.1104/pp.19.01561.
Averina et al. (2019). Photosynthesis and Oxygen Uptake Rate in Winter Rape Plants Treated with 5-Aminolevulinic Acid. Russian Journal of Plant Physiology volume 66, pages966–975(2019).
Koh et al. (2019). Heterologous synthesis of chlorophyll b in Nannochloropsis salina enhances growth and lipid production by increasing photosynthetic efficiency. Biotechnol Biofuels. 2019 May 14;12:122. doi: 10.1186/s13068-019-1462-3. eCollection 2019.
Rogowski et al. (2019). Photosynthesis and organization of maize mesophyll and bundle sheath thylakoids of plants grown in various light intensities. Environmental and Experimental Botany Volume 162, June 2019, Pages 72-86.
Lv et al. (2019). Uncoupled Expression of Nuclear and Plastid Photosynthesis-Associated Genes Contributes to Cell Death in a Lesion Mimic Mutant. Plant Cell. 2019 Jan;31(1):210-230. doi: 10.1105/tpc.18.00813.
Chen et al. (2018). TIC236 links the outer and inner membrane translocons of the chloroplast. Nature. 2018 Dec;564(7734):125-129. doi: 10.1038/s41586-018-0713-y.
Mao et al. (2018). Comparison on Photosynthesis and Antioxidant Defense Systems in Wheat with Different Ploidy Levels and Octoploid Triticale. Int J Mol Sci. 2018 Oct 2;19(10). pii: E3006. doi: 10.3390/ijms19103006.
Giovanardi et al. (2018). In pea stipules a functional photosynthetic electron flow occurs despite a reduced dynamicity of LHCII association with photosystems. Biochim Biophys Acta. 2018 May 24. pii: S0005-2728(18)30129-4. doi: 10.1016/j.bbabio.2018.05.013.
Myouga et al. (2018). Stable accumulation of photosystem II requires ONE-HELIX PROTEIN1 (OHP1) of the light harvesting-like family. Plant Physiol. 2018 Feb 1. pii: pp.01782.2017. doi: 10.1104/pp.17.01782.
Rantala et al. (2017). Proteomic characterization of hierarchical megacomplex formation in Arabidopsis thylakoid membrane. Plant J. 2017 Dec;92(5):951-962. doi: 10.1111/tpj.13732.
Shin et al. (2017), Complementation of a mutation in CpSRP43 causing partial truncation of light-harvesting chlorophyll antenna in Chlorella vulgaris. Sci Rep. 2017 Dec 20;7(1):17929. doi: 10.1038/s41598-017-18221-0.
Yang-Er Chen et al. (2017). Responses of photosystem II and antioxidative systems to high light and high temperature co-stress in wheat. J. of Exp. Botany, Volume 135, March 2017, Pages 45–55.
Mazur et al. (2016). Overlapping toxic effect of long term thallium exposure on white mustard (Sinapis alba L.) photosynthetic activity. BMC Plant Biol. 2016 Sep 2;16(1):191. doi: 10.1186/s12870-016-0883-4.
Kowalewska et al. (2016). Three-dimensional visualization of the internal plastid membrane network during runner bean chloroplast biogenesis. Dynamic model of the tubular-lamellar transformation. The Plant Cell March 21, 2016 tpc.01053.2015.
Fristedt et al. (2015). The thylakoid membrane protein CGL160 supports CF1CF0 ATP synthase accumulation in Arabidopsis thaliana. PLoS One. 2015 Apr 2;10(4):e0121658. doi: 10.1371/journal.pone.0121658.
Armbruster et al. (2014). Ion antiport accelerates photosynthetic acclimation in fluctuating light environments. Nat Commun. 2014 Nov 13;5:5439. doi: 10.1038/ncomms6439
Related products: Lhcb1 | LHCII type I chlorophyll a/b-binding protein