AGO1 | Argonaute 1
AS09 527  |  Clonality: Polyclonal  |  Host: Rabbit  |  Reactivity: Arabidopsis thaliana, Nicotiana benthamiana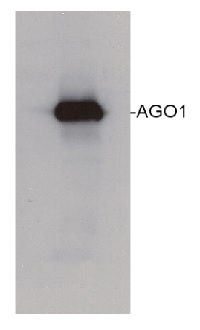 DATA SHEET IN PDF
Product Information
Purity
Affinity purified serum in PBS pH 7.4.
Reconstitution
For reconstitution add 50 µl of sterile water.
Storage
Store lyophilized/reconstituted at -20°C; once reconstituted make aliquots to avoid repeated freeze-thaw cycles. Please, remember to spin tubes briefly prior to opening them to avoid any losses that might occur from lyophilized material adhering to the cap or sides of the tubes.
Tested applications
Chromatin ImmunoPrecipitation (ChIP), Immunolocalization (IL), small-RNA-IP-Seq, Western blot (WB)
Recommended dilution
2 µg (ChIP), 1: 200 (IL), small-RNA-IP-Seq, 1 : 5000-1 : 10 000 (WB)
Expected | apparent MW
116.4 | 130 kDa
Reactivity
Confirmed reactivity
Arabidopsis thaliana, Hyacinthus orientalis, Nicotiana benthamiana

Predicted reactivity
Brassica pekinensis, Capsella rubella, Glycine max, Malus domestica, Pisum sativum, Ricinus communis, Solanum tuberosum, Zea mays, Vitis vinifera
Species of your interest not listed? Contact us
Not reactive in
Chlamydomonas reinhardtii, Oryza sativa, Phaseolus vulgaris, Triticum aestivum, Zea mays

Application examples
Application examples
Application example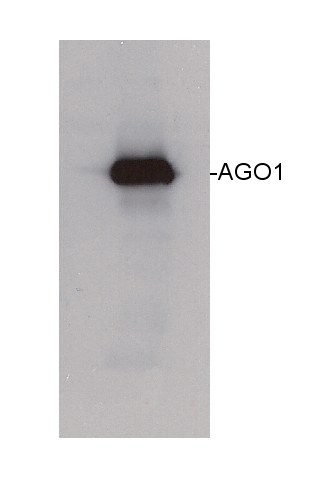 80 µg of Arabidopsis thaliana soluble total cell extract (extracted in 20 mMTris pH 7.5, 5mM MgCl2, 2.5mM DTT, 300 mM NaCl, 0.1% NP-40, 1% proteasome inhibitor MG132) was separated on 6% SDS-PAGE and blotted 1h to nitrocellulose. Filters were blocked 1h with 5% low-fat milk powder in TBS-TT (0.25% TWEEN20; 0.1% Triton-X) and probed with anti-AGO1 antibody (1:10 000, 1h) and secondary anti-rabbit (1:10000, 1 h) antibody (HRP conjugated) in TBS-TT containing 5% low fat milk powder. Antibody incubationswere followed by washings in TBS-TT. All steps were performed at RT withagitation. Blots were developed for 5 min with ECL-PLUS detection reagent according the manufacturer's instructions. Exposure time was 5 seconds.

Roche protease inhibitor cocktail (no EDTA) can also be applied in extraction buffer.
Courtesy Dr. Ericka Havecker, University of Cambridge, UK
Additional information
AGO expression may be tissue specific and using floral tissue is recommended where most of the AGOs are expressed the highest. Use of proteasome inhibitors as MG132 can help to stabilize AGO proteins during extraction procedure. Buffer for extraction of AGO proteins:
Paudel
et al. 2018.
The AGO1 antibody is extremely specific to AGO1 and does not cross-react with other antibodies. The evidence is 1) the peptide to which it was raised is at the very N-terminus of the protein and is not present in other AGOs 2) aAGO1 does not cross react with the AGOs which are overexpressed (AGO2, AGO3, AGO4, AGO5, AGO6, AGO9) using a western blot.
TCA acetone precipitation method
Background
Background
AGO1 belongs to a group of argonaute proteins which are catalytic component of the RNA-incudes silencing complex (RISC). This protein complex is responsible for the gene silencing (RNAi).

Product citations
Selected references
Dunker, Lederer, and Weiberg. (2021). Plant ARGONAUTE Protein Immunopurification for Pathogen Cross Kingdom Small RNA Analysis. Bio-protocol 11(3): e3911. DOI: 10.21769/BioProtoc.3911.
Dunker et al. (2020). Oomycete small RNAs bind to the plant RNA-induced silencing complex for virulence. Elife. 2020 May 22;9:e56096.doi: 10.7554/eLife.56096.
Niedojadlo et al. (2020). Dynamic distribution of ARGONAUTE1 (AGO1) and ARGONAUTE4 (AGO4) in Hyacinthus orientalis L. pollen grains and pollen tubes growing in vitro. Protoplasma. 2020 Jan 8. doi: 10.1007/s00709-019-01463-2.
You et al. (2019). FIERY1 promotes microRNA accumulation by suppressing rRNA-derived small interfering RNAs in Arabidopsis. Nat Commun. 2019 Sep 27;10(1):4424. doi: 10.1038/s41467-019-12379-z
Dalmadi et al. (2019). AGO-unbound cytosolic pool of mature miRNAs in plant cells reveals a novel regulatory step at AGO1 loading. Nucleic Acids Res. 2019 Aug 8. pii: gkz690. doi: 10.1093/nar/gkz690.
Li (2019). The Isolation of Total and Membrane-Bound Polysomes from Arabidopsis and the Detection of Their Associated AGO1 and sRNAs. Methods Mol Biol. 2019;1932:317-333. doi: 10.1007/978-1-4939-9042-9_23.
Sprunck et al. (2019). Elucidating small RNA pathways in Arabidopsis thaliana egg cells. http://dx.doi.org/10.1101/525956
Chen et al. (2018). Structural and biochemical insights into small RNA 3' end trimming by Arabidopsis SDN1. Nat Commun. 2018 Sep 4;9(1):3585. doi: 10.1038/s41467-018-05942-7. (Immunoprecipitation)
Bologna et al. (2018). Nucleo-cytosolic Shuttling of ARGONAUTE1 Prompts a Revised Model of the Plant MicroRNA Pathway. Mol Cell. 2018 Feb 15;69(4):709-719.e5. doi: 10.1016/j.molcel.2018.01.007.
Zhang et al. (2017). RISC-interacting clearing 3'- 5' exoribonucleases (RICEs) degrade uridylated cleavage fragments to maintain functional RISC in Arabidopsis thaliana. Elife. 2017 May 2;6. pii: e24466. doi: 10.7554/eLife.24466.
Schalk et al. (2017). Small RNA-mediated repair of UV-induced DNA lesions by the DNA DAMAGE-BINDING PROTEIN 2 and ARGONAUTE 1. Proc Natl Acad Sci U S A. 2017 Mar 21. pii: 201618834. doi: 10.1073/pnas.1618834114.
Dolata et al. (2016). Salt Stress Reveals a New Role for ARGONAUTE1 in miRNA Biogenesis at the Transcriptional and Posttranscriptional Levels. Plant Physiol. 2016 Sep;172(1):297-312. doi: 10.1104/pp.16.00830. (ChIP and Immunolocalization)
Pumplin et al. (2016). DNA Methylation Influences the Expression of DICER-LIKE4 Isoforms, Which Encode Proteins of Alternative Localization and Function. The Plant Cell November 14, 2016 tpc.00554.2016 . Advance Publication November 14, 2016.
Minoia et al. (2014). Specific Argonautes Selectively Bind Small RNAs Derived from Potato Spindle Tuber Viroid and Attenuate Viroid Accumulation In Vivo. J Virol. 2014 Oct 15;88(20):11933-45. doi: 10.1128/JVI.01404-14. Epub 2014 Aug 6.
Haveckeret al. (2010). The Arabidopsis RNA-directed DNA methylation argonautes functionally diverge based on their expression and interaction with target loci. Plant Cell. 2010 Feb;22(2):321-34. doi: 10.1105/tpc.109.072199. (small-RNA-IP-Seq)

Related products: AGO1 | Argonaute 1