Goat anti-Rabbit IgG (H&L), HRP conjugated - trial sample
AS09 602-trial |  Clonality: Polyclonal |  Host: Goat  | Reactivity: Rabbit IgG (H&L)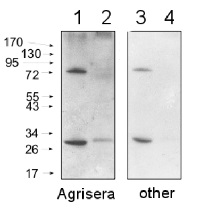 DATA SHEET IN PDF
Product Information
Immunogen
Purified Rabbit IgG, whole molecule,
Purity
Immunogen affinity purified using solid phase rabbit IgG.
Storage
Store liquid material at 2-8°C up to 6 months.
Tested applications
ELISA (ELISA) , Immunohistochemistry (IHC), Western blot (WB)
Recommended dilution
1 : 50 000 -1 : 90 000 (ELISA), 1 : 500 -1 : 5000 (IHC), 1: 10 000 -1 : 50 000 (WB)
Reactivity
Confirmed reactivity
Based on IEP, this antibody Reacts with: Rabbit IgG heavy chainslight chains on all Rabbit immunoglobulins
Not reactive in
No confirmed exceptions from predicted reactivity are currently known
Application examples
Application examples
application example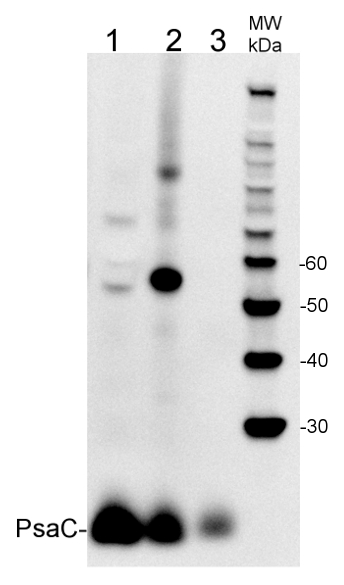 5 µg of total extract from (1) Hordeum vulgaretotal leaf, (

2

) Zea mays (3) Spinacia oleracea extracted with PEB (AS08 300) were separated on 4-12% NuPage (Invitrogen) LDS-PAGE and blotted 1h to PVDF. Blots were blocked immediately following transfer in 2% ECL Advance blocking reagent (GE Healthcare) in 20 mM Tris, 137 mM sodium chloride pH 7.6 with 0.1% (v/v) Tween-20 (TBS-T) for 1h at room temperature with agitation. Blots were incubated in the primary anti-PsaC antibody (AS04 042) at a dilution of 1: 10 000 for 1h at room temperature with agitation. The antibody solution was decanted and the blot was rinsed briefly twice, then washed once for 15 min and 3 times for 5 min in TBS-T at room temperature with agitation. Blots were incubated in secondary antibody (goat anti-rabbit IgG horse radish peroxidase conjugated, AGRISERA) diluted to 1:50 000 in 2% ECL Advance blocking solution for 1h at room temperature with agitation. The blots were washed as above and developed for 5 min with ECL Advance detection reagent according to the manufacturers instructions. Images of the blots were obtained using a CCD imager (FluorSMax, Bio-Rad) and Quantity One software (Bio-Rad). Exposure time was 30 seconds.



Comparison of Agrisera secondary antibody sensitivity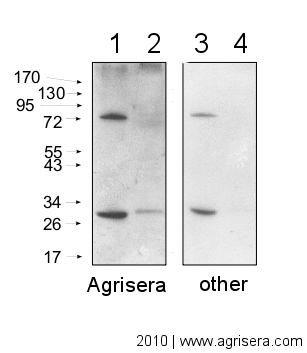 10 μg of mitochondrial fraction from Arabidopsis thaliana (1,3) and Arabidopsis thaliana leaf extract (2,4) were separated on 10% gel and blotted on nitrocellulose membrane using wet transfer (0.22% CAPS, pH 11). Filters where blocked (1.5h) in 5% milk in TBST (1X TBS, 0,1% Tween 20), incubated with 1: 1000 anti-COXII antibodies (2h in TBST) followed by incubation with 1: 10 000 secondary anti-rabbit (1h) HRP-coupled antibodies from Agrisera (left panel) and other manufacture (right panel) and visualized with standard ECL on Kodak autoradiography film for 5 s. Antibody in left panel detects target protein also in total cell extract (2) and can be used in higher dilution than applied 1: 10 000.
Agrisera goat anti-rabbit HRP conjugated antibody (AS09 602) can be used at following dilutions: 1: 50 000 -1: 90 000 (ELISA), 1 : 75 000 with enhanced ECL and 1: 25 000 with regular ECL (WB), 1: 500 -1: 5000 (IHC).
Additional information
Additional information
Concentration: 1.0 mg/ml.

Antibody is provided in: 10 mM Sodium Phosphate, 0.15 M Sodium Chloride, pH 7.2, 1% BSA (w/v), Protease IgG free, 0.1 % (v/v) Kathon CG.

Affinity purified antibody is > 95 % pure, according to SDS-PAGE.
No reactivity is observed to non-immunoglobulin rabbit serum
Background
Background
Goat anti-rabbit IgG (H&L) is a secondary antibody conjugated to HRP which binds to all rabbit IgGs in immunological assays.
Product citations
Selected references
Migocka et al. (2018). Cucumber metal tolerance protein 7 (CsMTP7) is involved in the accumulation of Fe in mitochondria under Fe excess. Plant J. 2018 Jun 22. doi: 10.1111/tpj.14006.
Tong et al. (2018). Delivery of siRNA in vitro and in vivo using PEI-capped porous silicon nanoparticles to silence MRP1 and inhibit proliferation in glioblastoma. J Nanobiotechnology. 2018 Apr 13;16(1):38. doi: 10.1186/s12951-018-0365-y.
Nikkanen et al. (2018). Regulation of chloroplast NADH dehydrogenase-like complex by NADPH-dependent thioredoxin system. CSH, BioRixiv. doi.org/10.1101/261560.
Gzyl et al. (2017). Gamma-tubulin distribution and ultrastructural changes in root cells of soybean (Glycine max L.) seedlings under cadmium stress. Environmental and Experimental Botany, Vol 143, Nov 2017, Pages 82-90.
Kamies et al. (2017). A Proteomic Approach to Investigate the Drought Response in the Orphan Crop Eragrostis tef. Proteomes. 2017 Nov 15;5(4). pii: E32. doi: 10.3390/proteomes5040032.
Niederhuber et al. (2017). Super-resolution microscopy of the ß-carboxysome reveals a homogenous matrix. Mol Biol Cell. 2017 Aug 9. pii: mbc.E17-01-0069. doi: 10.1091/mbc.E17-01-0069.

This antibody is listed in first 7000 most published antibodies in the world by CiteAB report.
Related products: Goat anti-Rabbit IgG (H&L), HRP conjugated - trial sample