AtpD | CF1 delta subunit of ATP synthase
AS10 1591 | Clonality: polyclonal | Host: Rabbit | Reactivity:Spinacia oleracea, Synechocystis sp. PCC 6803


DATA SHEET IN PDF
Product Information
Immunogen
isolated CF1 subunit of the chloroplast ATP synthase complex from Spinacia oleracea, UniProt: P11402.2
Storage
Store at at Store short-term 4°C, Long-term -20°. Repeated freezing and thawing is not recommended.
Tested applications
Western blot (WB)
Recommended dilution
1 : 2000 (WB)
Expected | apparent MW
23 kDa
Reactivity
Confirmed reactivity
Higher plants, Helicobacter pylori, Synechocystis sp. PCC 6803
Predicted reactivity
Populus trichocarpa, Picea sitchensis, Ricinus communis, Vitis vinifera
Species of your interest not listed? Contact us
Not reactive in
No confirmed exceptions from predicted reactivity are currently known
Application examples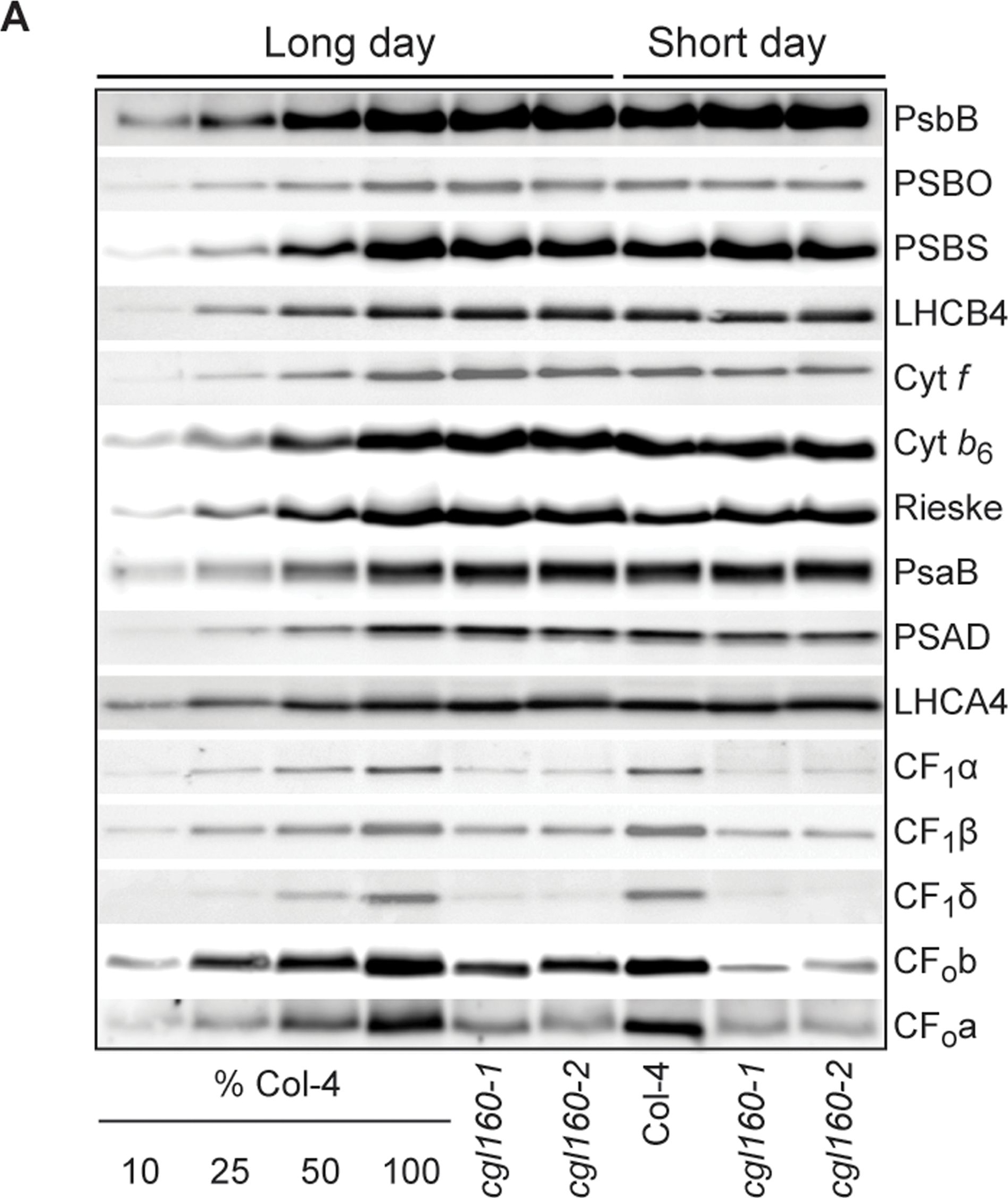 Reactant: Arabidopsis thaliana (Thale cress)
Application: Western Blotting
Pudmed ID: 25835989
Journal: PLoS One
Figure Number: 7A
Published Date: 2015-04-04
First Author: Fristedt, R., Martins, N. F., et al.
Impact Factor: 2.942
Open Publication
Altered protein accumulation and stability of the chloroplast ATP synthase in the cgl160 mutant visualized by immunoblotting.A. Immunoblots with antibodies against essential subunits of the photosynthetic protein complexes of wild-type (Col-4) Arabidopsis and the two cgl160 T-DNA insertion lines grown under long-day and short-day conditions. Isolated thylakoid membranes were used, and equal amounts of chlorophyll were loaded onto the SDS-PAGE gel. For approximate quantification, wild-type samples from long-day plants were diluted to 10%, 25% and 50%, respectively. Accumulation of PSII was probed with antibodies against PsbB and PSBO. Additionally, the PSBS protein involved in NPQ and the minor PSII antenna protein LHCB4 were probed. Accumulation of the cytochrome b6f complex was probed with antibodies against the essential subunits PetA (cytochrome f), PetB (cytochrome b6), and PETC (Rieske protein). Accumulation of PSI was probed with antibodies against the reaction center subunit PsaB and the stromal ridge subunit PsaD. ATP synthase accumulation was probed with antibodies against the CF1 subunits AtpA (CF1?), AtpB (CF1?) and AtpD (CF1?) and antibodies against the CF0 subunits AtpF (CF0b) and AtpI (CF0a). B. Loading difference estimation for immunoblotting CF1 between wild type and cgl160-1. To obtain similar immunoblotting signal three times more (15 ?g protein) was needed for cgl160-1 compared to wild type (5 ?g protein). C. Maintenance of CF1 was measured by incubating leaves from wild type and cgl160-1 in solution containing the plastid protein synthesis inhibitor chloramphenicol for the indicated time points. Protein extract was isolated and separated by SDS-PAGE, immunoblotted and probed with specific antibodies against CF1 and LHCB2.1. Three times more protein was loaded from the mutant to obtain equal level of CF1 immunoblotting signal, as specified in B.
Additional information
This product can be sold with ProClin if requested
Background
Background
The chloroplast ATP synthase belongs to the family of F1-type ATPases, which are also present in bacteria and mitochondria. ATP synthase generates ATP from ADP and inorganic phosphate using energy derived from a trans-thylakoidal electrochemical proton gradient.
Related products: AtpD | CF1 delta subunit of ATP synthase