Cyt f | Cytochrome f protein (PetA) of thylakoid Cyt b6/f-complex (algal)
AS06 119 | Clonality: Polyclonal | Host: Rabbit | Reactivity: A. thaliana, C. reinhardtii, C. quitensis Kunt Bartl, C. pumilum,  H. vulgare, N. gaditana, N. tabacum, P. patens, S. martensi, Synechocystis 6803 substrain PCC-M, U. prolifera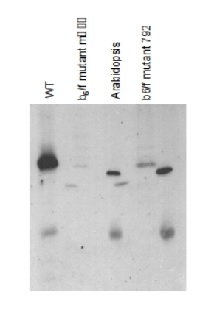 DATA SHEET IN PDF
Product Information
Immunogen
GST fusion to cytochrome f from Chlamydomonas reinhartii P23577
Reconstitution
For reconstitution add 50 µl of sterile water.
Storage
Store lyophilized/reconstituted at -20°C; once reconstituted make aliquots to avoid repeated freeze-thaw cycles. Please, remember to spin tubes briefly prior to opening them to avoid any losses that might occur from lyophilized material adhering to the cap or sides of the tubes.
Tested applications
Western blot (WB)
Recommended dilution
1 : 2000-1 : 50 000 (WB)
Expected | apparent MW
34 | 31-32 kDa
Reactivity
Confirmed reactivity
Arabidopsis thaliana, Chlamydomonas reinhardtii, Chlorella vulgaris, Colobanthus quitensis Kunt Bartl, CRaterostigma pumilum, Hordeum vulgare, Nannochloropsis gaditana, Nicotiana tabacum, Nostoc sp. PCC7120, Physcomitrella patens, Selaginella martensi, Synechocystis sp. 6803 substrain PCC-M, Ulva prolifera
Predicted reactivity
Algae, Citrus x limon, Zea mays
Species of your interest not listed? Contact us
Application examples
Application examples
Application example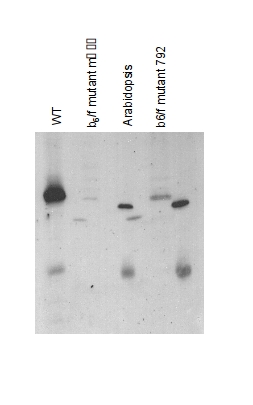 Chlamydomonas reinhardtii samples are lysed cells, Arabidopsis thaliana samples are prepared from thylakoid membranes; Samples were boiled 1 min in 3%SDS,then 10ug of chlorophylls were loaded in each well of a 12% acrylamide gel.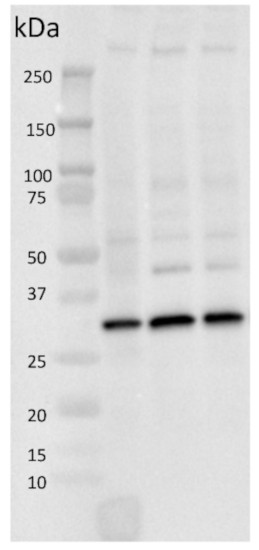 15 µg protein of whole cell extracts precipitated with 80 % acetone followed by re-suspension in 100 mM Tris HCl pH 6.8, 4 % SDS, 20 mM EDTA of Chlamydomonas reinhardtii were loaded on BioRad 4-20% Criterion TGX Precast Mini protein gels. Gels were run at 85V. For electro-blotting wet transfer onto nitrocellulose membrane was performed (105 V for 1h). Overnight blocking with 5% milk in TBS-T in the cold room. Two-hour-long incubation with anti-cyt f antibodies at a dilution of 1:50 000 in TBS-T was followed by washes and incubation with matching anti-rabbit secondary antibodies and development with chemiluminescent detection reagent following manufacture's recommendations. Image was taken using Chemidoc MP Imaging system. Exposure time was in a range of 3 to 10 seconds. 

Courtesy of Dr. Angeliki Tsichla, Petroutsos lab, CEA Grenoble, France
Additional information
Additional information
Contains 0.02 % sodium azide as preservative.
Reaction with cyanobacteria: Synechocystis 6803 and Synechococcus 7942 possible to obtain on total cell extract when using antibody at 1: 500 and longer exposure time.
Background
Background
Multi-subunit complex of cytb6/f is a crucial component for the photosynthetic electron transport chain of higher plants, green algae and cyanobacteria. This complex is catalyzing oxidation of quinols and the reduction the reduction of plastocyanin. This reaction allows to establish the proton force required for the ATP synthesis. Four major subunits build the complex: the petA gene product corresponding to a c-type cytochrome (cytf), the petB gene product corresponding to a b-type/c'-type cytochrome with three haems (cyt b6), the petD gene product (subunit IV, or suIV), and the petC gene product, corresponding to the Rieske/Iron/sulfur protein.
Product citations
Selected references
Redekop et al. (2020). PsbS Contributes to Photoprotection in Chlamydomonas Reinhardtii Independently of Energy Dissipation . Biochim Biophys Acta Bioenerg . 2020 Jun 1;1861(5-6):148183.doi: 10.1016
Liu et al. (2020). Acid treatment combined with high light leads to increased removal efficiency of Ulva prolifera. Algal Research,Volume 45, January 2020, 101745
Storti et al. (2020). The activity of chloroplast NADH dehydrogenase-like complex influences the photosynthetic activity of the moss Physcomitrella patens. doi.org/10.1101/2020.01.29.924597
Koh et al. (2019). Heterologous synthesis of chlorophyll� b� in� Nannochloropsis salina� enhances growth and lipid production by increasing photosynthetic efficiency. Biotechnol Biofuels.� 2019 May 14;12:122. doi: 10.1186/s13068-019-1462-3. eCollection 2019.
Dall'Osto et al. (2019). Combined resistance to oxidative stress and reduced antenna size enhance light-to-biomass conversion efficiency in Chlorella vulgaris cultures.Biotechnol Biofuels. 2019 Sep 16;12:221. doi: 10.1186/s13068-019-1566-9.
Fristedt et al. (2015). The thylakoid membrane protein CGL160 supports CF1CF0 ATP synthase accumulation in Arabidopsis thaliana. PLoS One. 2015 Apr 2;10(4):e0121658. doi: 10.1371/journal.pone.0121658.
Storti et al. (2018). Role of cyclic and pseudo-cyclic electron transport in response to dynamic light changes in Physcomitrella patens. Plant Cell Environ. 2018 Nov 29. doi: 10.1111/pce.13493.
Kong et al. (2018) Interorganelle Communication: Peroxisomal MALATE DEHYDROGENASE2 Connects Lipid Catabolism to Photosynthesis through Redox Coupling in Chlamydomonas. Plant Cell. 2018 Aug;30(8):1824-1847. doi: 10.1105/tpc.18.00361
Jokel et al. (2018). Hunting the main player enabling Chlamydomonas reinhardtii growth under fluctuating light. Plant J. 2018 Mar 25. doi: 10.1111/tpj.13897.
Du et al. (2018). Galactoglycerolipid Lipase PGD1 Is Involved in Thylakoid Membrane Remodeling in Response to Adverse Environmental Conditions in Chlamydomonas. Plant Cell. 2018 Feb;30(2):447-465. doi: 10.1105/tpc.17.00446.
Schöttler et al. (2017). The plastid-encoded PsaI subunit stabilizes photosystem I during leaf senescence in tobacco. J Exp Bot.Ã? 2017 Feb 1;68(5):1137-1155. doi: 10.1093/jxb/erx009.
Zou et al. (2017). An Animal-Like Cryptochrome Controls the Chlamydomonas Sexual Cycle. Plant Physiol. 2017 Jul;174(3):1334-1347. doi: 10.1104/pp.17.00493.
Georg et al. (2017). Acclimation of Oxygenic Photosynthesis to Iron Starvation Is Controlled by the sRNA IsaR1. Curr Biol. 2017 May 22;27(10):1425-1436.e7. doi: 10.1016/j.cub.2017.04.010. (Synechocystis PCC6803)
Tyuereva et al. (2017). The absence of chlorophyll b affects lateral mobility of photosynthetic complexes and lipids in grana membranes of Arabidopsis and barley chlorina mutants. Photosynth Res. 2017 Apr 5. doi: 10.1007/s11120-017-0376-9. (Hordeum vulgare, western blot)
Ferroni et al. (2016). Light acclimation in the lycophyte Selaginella martensii depends on changes in the amount of photosystems and on the flexibility of the light-harvesting complex II antenna association with both photosystems. New Phytol. 2016 Apr 5. doi: 10.1111/nph.13939.
Suorsa et al. (2015). Light acclimation involves dynamic re-organisation of the pigment-protein megacomplexes in non-appressed thylakoid domains. Plant J. 2015 Aug 29. doi: 10.1111/tpj.13004.
Charuvi et al. (2015). Photoprotection Conferred by Changes in Photosynthetic Protein Levels and Organization during Dehydration of a Homoiochlorophyllous Resurrection Plant. Plant Physiol. 2015 Apr;167(4):1554-65. doi: 10.1104/pp.114.255794.
Hojka et al. (2014). Inducible repression of nuclear-encoded subunits of the cytochrome b6f complex in tobacco reveals an extraordinarily long lifetime of the complex. Plant Physiol. 2014 Jun 24. pii: pp.114.243741.
Dang et al. (2014). Combined Increases in Mitochondrial Cooperation and Oxygen Photoreduction Compensate for Deficiency in Cyclic Electron Flow in Chlamydomonas reinhardtii. Plant Cell. 2014 Jul 2. pii: tpc.114.126375.
Related products: Cyt f | Cytochrome f protein (PetA) of thylakoid Cyt b6/f-complex (algal)