GFP | Green Fluorescence Protein (affinity purified)
AS15 2987 | Clonality: Polyclonal | Host: Rabbit | Reactivity: Native and Recombinant GFP DATA SHEET IN PDF
Product Information
Immunogen
Highly purified native GFP protein derived from Aequorea victoria, UniProt: P42212

Purity
Immunogen affinity purified serum in PBS pH 7.4.
Quantity
100 µg at 1 mg/ml
Storage
Store at -20°C. Avoid repeated freeze-thaw cycles. Please remember to spin the tubes briefly prior to opening them to avoid any losses that might occur from material adhering to the cap or sides of the tube.
Tested applications
ELISA (ELISA), Immunofluorescence (IF), Immunoprecipitation (IP), Western blot (WB)
Recommended dilution
1 : 5000-1 : 25 000 (ELISA), 1 : 500 (IF), 1 : 2000-1 : 10 000 (WB)
Reactivity
Confirmed reactivity
Native GFP, Recombinant GFP (E,coli), all variants of GFP, including EGFP
Application examples
Application examples
Immunolocalization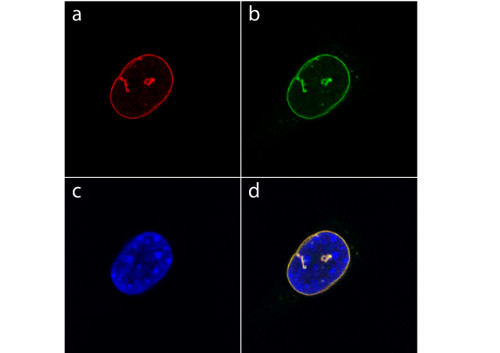 Detection of YFP-tagged Lamin A in the nucleus of mouse fibroblasts using GFP | Green Fluorescence Protein (affinity purified) antibodies. Fixation and permeabilization was performed with methanol at -20°C for 10 min. a) Indirect immunofluorescence labeling of YFP-lamin A with anti-GFP primary antibody (dilution 1: 500) as primary antibody and detected by TRITC-conjugated goat-anti-rabbit as secondary antibody.
b) Green fluorescence image of YFP-tagged Lamin A, which is incorporated into the nuclear lamina and tubular structures that penetrate into the nucleus.
c) DAPI staining of nuclear DNA.
d) Merged images



western blot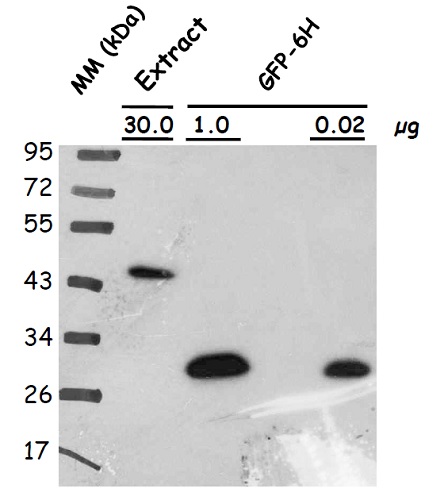 Protein extracts were obtained from Arabidopsis thaliana seeds (producing atLEA4-5 fused to GFP; other lanes contain GFP-6H loaded in indicated amounts). Following extraction buffer was used: 0.7 M sucrose, 0.5 M Tris-base, 30 mM HCl, 50 mM EDTA, 0.1 M KCl, 2% β-mercaptoethanol, 12 mg/ml poly-vinyl-poly-pyrrolidone (PVPP). This buffer was complemented with 2mL of equilbrated phenol before extraction. Samples were centrifuged and the protein phase was recovered; the extracted proteins were precipitated with 0.1 m ammonium acetate dissolved in methanol, centrifuged and the pellet washed with cold (-20 ℃) 80% acetone. The protein pellet was dissolved in SDS-solubilization buffer (1% CHES, 2% SDS, 2% ß-mercaptoethanol, 10% glicerol). Thirty 𝜇g of seed protein extract was denatured with Laemmli buffer at 95 °C for 5 min and proteins were separated on 15% SDS-PAGE and blotted 1.5 h to nitrocellulose membrane in a liquid transfer system. Blots were blocked with 2% skim milk ON at 4°C with agitation. After rinsing with TBS, blots were incubated in the primary antibody at a dilution of 1:10 000 (anti-GFP) for 3h at 4°C with agitation. The antibody solution was decanted and the blot was rinsed briefly, then washed once for 15 min. and 3 times for 5 min in TBS-T at 4°C with agitation. Then, blots were incubated in secondary antibody (anti-rabbit IgG horse-radish peroxidase conjugate) diluted to 1:25 000 in for 1h at RT with agitation. The blot was washed as above and developed for 2 min with SuperSignal West Pico Chemiluminescent Substrate, Thermo Fisher Scientific. Exposure time was for 30 seconds.

Courtesy of Dr. Alejandra Covarrubias, UNAM, Mexico
Additional information
Additional information
10 mM TRIS buffer pH 8,0 containing 0,02% sodium azide
Minimal cross-reactivity with E.coli proteins.
Background
Background
GFP (Green fluorescent protein) was originally identified in photo organs on jellyfish Aequorea victoria. It is a naturally fluorescent protein which emits green light at a maximum wavelength of 509 nm when excited by blue or UV light. It is extensively used in laboratory as a reporter molecule to label and study cellular and subcellular proteins in living cells using a wide range of applications. Antibodies to GFP protein are used in immunoblotting and ELISA. GFP protein has molecular weight of 27 kDa.
Product citations
Selected references
Sun et al. (2021) The epigenetic factor FVE orchestrates cytoplasmic SGS3-DRB4-DCL4 activities to promote transgene silencing in Arabidopsis. Sci Adv. 2021 Aug 4;7(32):eabf3898. doi: 10.1126/sciadv.abf3898. PMID: 34348894; PMCID: PMC8336953.
Stelate et al. (2021) Correlative Light-Environmental Scanning Electron Microscopy of Plasma Membrane Efflux Carriers of Plant Hormone Auxin. Biomolecules. 2021 Sep 26;11(10):1407. doi: 10.3390/biom11101407. PMID: 34680040; PMCID: PMC8533460.
Wieczorek et al. (2020) Development of a New Tomato Torrado Virus-Based Vector Tagged with GFP for Monitoring Virus Movement in Plants. Viruses. 2020 Oct 20;12(10):1195. doi: 10.3390/v12101195. PMID: 33092281; PMCID: PMC7588970.
Kulich et al. (2018). Deubiquitinase OTU5 affects Root Responses to Phosphate Starvation. Plant Physiol. 2018 Jan 4. pii: pp.01693.2017. doi: 10.1104/pp.17.01693.
Related products: GFP | Green Fluorescence Protein (affinity purified)
AS16 ECL-S-N | low pico to mid femtogram and extreme low femtogram detection

This product can b...
From 26 €
AS15 2998 | Clonality: Polyclonal | Host: Chicken | Reactivity: native and recombinant GFP
402 €
AS09 602 |  Clonality: Polyclonal | Host: Goat | Reactivity: Rabbit IgG (H&L)

201 €