HSP101 | ClpB heat shock protein, N-terminal (rabbit antibody)
AS07 253 | Clonality: Polyclonal | Host: Rabbit | Reactivity: A.thaliana, A. tequilana var. Weber,B. oleracea,  N. tabacum, O. sativa, S. lycopersicum, T. aestivum, T. salsuginea, V.faba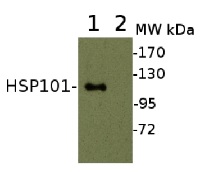 DATA SHEET IN PDF
Product Information
Immunogen
Recombinant Hsp101 N-terminal derived from the sequence of Arabidopsis thaliana Hsp101 protein P42730, At1g74310
Reconstitution
For reconstitution add 50 µl of sterile water
Storage
Store lyophilized/reconstituted at -20°C; once reconstituted make aliquots to avoid repeated freeze-thaw cycles. Please remember to spin the tubes briefly prior to opening them to avoid any losses that might occur from material adhering to the cap or sides of the tube.
Tested applications
Western blot (WB)
Recommended dilution
1 : 1000 (WB)
Expected | apparent MW
101 kDa
Reactivity
Confirmed reactivity
Arabidopsis thaliana, Agave tequilana,Brassica oleracea, Oryza sativa, Solanum lycopersicum, Thellungiella salsuginea, Triticum aestivum, Vicia faba

Predicted reactivity
dicots including: Glycine max, Vitis vinifera, monocots


Species of your interest not listed? Contact us
Not reactive in
No confirmed exceptions from predicted reactivity are currently known
Application examples
Application examples
Application example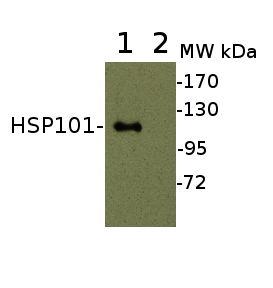 2 µg of total protein from (1) Arabidopsis thaliana WT stressed at 38ºC for 1.5 hour, (2) Arabidopsis thaliana HSP101 null mutant (hot 1-3) were separated on 7.5% SDS-PAGE and blotted 1h to nitrocellulose (Biorad). Blots were incubated in the primary antibody at a dilution of 1: 1 000 for 1h at room temperature with agitation and secondary HRP-conjugated antibody (1: 10 000).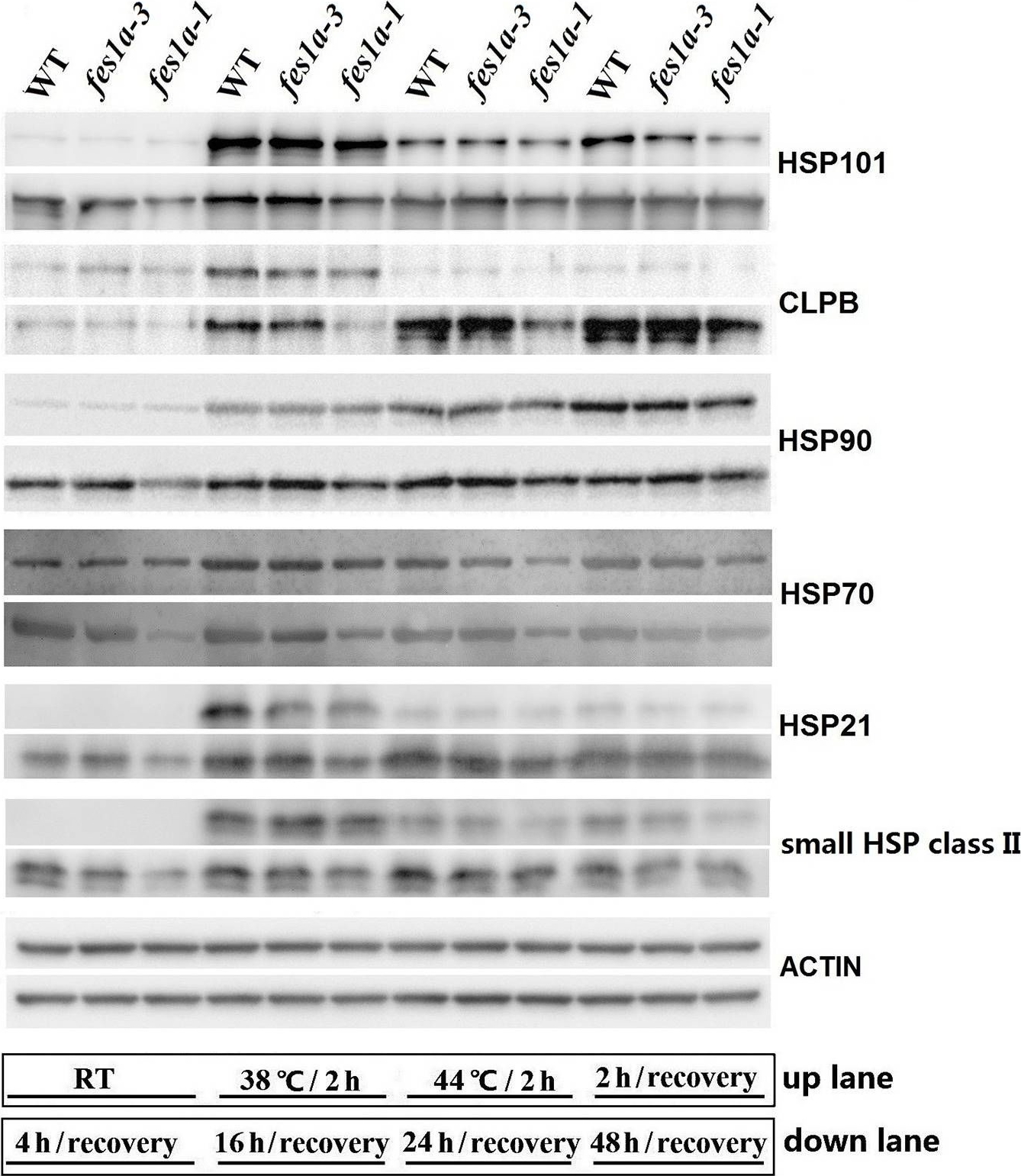 Reactant: Arabidopsis thaliana (Thale cress)
Application: Western Blotting
Pudmed ID: 32210987
Journal: Front Plant Sci
Figure Number: 5A
Published Date: 2020-03-27
First Author: Fu, C., Liu, X., et al.
Impact Factor: 5.435
Open Publication
The expression of HSPs over the period from heat acclimation to the stage of recovery. Ten-day-old seedlings were first acclimated for 2 h at 38 °C, and then exposed to 44 °C for 2 h, and lastly returned to room temperature (RT) for recovery. At the indicated times (shown at the bottom of the picture), proteins were extracted for western blots. ACTIN was used as a loading control.
Background
Background
Hsp101/ClpB is a member of HSP100 protein family. These proteins help protein aggregates formed during heat stress to fall apart to allow them to be refolded by other chaperones. HSP101 is a cytosolic heat shock protein required for acclimation to high temperature.
Product citations
Selected references
Szadeczky-Kardoss et al. (2022) Elongation factor TFIIS is essential for heat stress adaptation in plants. Nucleic Acids Res. 2022 Feb 28;50(4):1927-1950. doi: 10.1093/nar/gkac020. PMID: 35100405; PMCID: PMC8886746.
Wang et al. (2022) 17-(Allylamino)-17-demethoxygeldanamycin treatment induces the accumulation of heat shock proteins and alleviates senescence in broccoli. Postharvest Biology and Technology,Volume 186, 2022, 111818, ISSN 0925-5214, https://doi.org/10.1016/j.postharvbio.2021.111818.
Fedotova et al. (2020). Influence of high temperatures on heat tolerance and synthesis of heat shock proteins in spring wheat at the initial stages of development // Siberian Journal of Life Sciences and Agriculture. 2020. ?. 12, ? 5. C. 179-191. DOI: 10.12731/2658-6649-2020-12-5-179-191
Gorovits et al. (2020). Pharmaceuticals in treated wastewater induce a stress response in tomato plants. Sci Rep. 2020 Feb 5;10(1):1856. doi: 10.1038/s41598-020-58776-z.
McLoughlin et al. (2019) HSP101 Interacts with the Proteasome and Promotes the Clearance of Ubiquitylated Protein Aggregates. Plant Physiol. 2019 Aug;180(4):1829-1847. doi: 10.1104/pp.19.00263
Borovik and Grabelnych (2018). Mitochondrial alternative cyanide-resistant oxidase is involved in an increase of heat stress tolerance in spring wheat. J Plant Physiol. 2018 Dec;231:310-317. doi: 10.1016/j.jplph.2018.10.007.
Fragkostefanakis et al. (2018). The repressor and co-activator HsfB1 regulates the major heat stress transcription factors in tomato. Plant Cell Environ. 2018 Sep 6. doi: 10.1111/pce.13434.
Alamri et al. (2018). Nitric oxide-mediated cross-talk of proline and heat shock proteins induce thermotolerance in Vicia faba L. Environmental and Experimental Botany Available online 23 June 2018.
Lamke et al. (2016). A hit-and-run heat shock factor governs sustained histone methylation and transcriptional stress memory. EMBO J. 2016 Jan 18;35(2):162-75. doi: 10.15252/embj.201592593. Epub 2015 Dec 9.
McLoughlin et al. (2016) Class I and II Small Heat Shock Proteins Together with HSP101 Protect Protein Translation Factors during Heat Stress. Plant Physiol. 2016 Oct;172(2):1221-1236.
Shen et al. (2016). The Arabidopsis polyamine transporter LHR1/PUT3 modulates heat responsive gene expression by enhancing mRNA stability. Plant J. 2016 Aug 19. doi: 10.1111/tpj.13310. [Epub ahead of print]
Muench et al. (2016). Reactive electrophilic oxylipins trigger a heat stress-like response through HSFA1 transcription factors. J of Exp. Botany,10.1093/jxb/erw376.
Fragkostefanakis et al. (2016). HsfA2 controls the activity of developmentally and stress-regulated heat stress protection mechanisms in tomato male reproductive tissues. Plant Physiol. 2016 Feb 25. pii: pp.01913.2015.
Mishra et al. (2015). Characterization of 5'UTR of rice ClpB-C/Hsp100 gene: evidence of its involvement in post-transcriptional regulation. Cell Stress Chaperones. 2015 Nov 6.
Kumar et al. (2015). Expression analysis of ClpB/Hsp100 gene in faba bean (Vicia faba L.) plants in response to heat stress. Saudi Journal of Biol. Sciences, March 2015.
Almoguera et al. (2015). Heat shock transcription factors involved in seed desiccation tolerance and longevity retard vegetative senescence in transgenic tobacco. Planta. 2015 May 29.
Yamauchi et al. (2015). Reactive short-chain leaf volatiles act as powerful inducers of abiotic stress-related gene expression. Sci Rep. 2015 Jan 26;5:8030. doi: 10.1038/srep08030.
Mishra and Grover (2014). Intergenic Sequence between Arabidopsis Caseinolytic Protease B-Cytoplasmic/Heat Shock Protein100 and Choline Kinase Genes Functions as a Heat-Inducible Bidirectional Promoter 1. Plant Physiol. 2014 Nov;166(3):1646-58. doi: 10.1104/pp.114.250787.
Gamburg et al. (2014). The Relationship between the Differences in Frost Resistance of Arabidopsis and Thellungiella and Heat Shock Proteins and Dehydrins. Russian J. Plant Physiol. May 2014, Volume 61, Issue 3, pp 318-323
Pyatrikas et al. (2014). Mitochondrial Retrograde Regulation of HSP101 Expression in Arabidopsis thaliana under Heat Stress and Amiodarone Action. Russian J. Plant Physiol. 61 (1):88-98. (Western blot, cell culture)
Related products: HSP101 | ClpB heat shock protein, N-terminal (rabbit antibody)