HSP21 | Chloroplastic heat shock protein
AS08 285 |Clonality: Polyclonal | Host: Rabbit | Reactivity: A. stolonifera cv. 'Penncross', A.thaliana, N. tabacum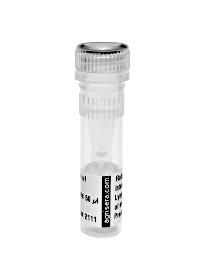 DATA SHEET IN PDF
Product Information
Immunogen
Recombinant Hsp21 protein derived from the sequence of Arabidopsis thaliana hsp21 UniProt: P31170, TAIR:At4g27670
Reconstitution
For reconstitution add 50 ĩl of sterile water
Storage
Store lyophilized/reconstituted at -20°C; once reconstituted make aliquots to avoid repeated freeze-thaw cycles. Please remember to spin the tubes briefly prior to opening them to avoid any losses that might occur from material adhering to the cap or sides of the tube.
Tested applications
Western blot (WB)
Recommended dilution
1 : 3000 (WB)
Expected | apparent MW
25 | 21 kDa
Reactivity
Confirmed reactivity
Agostis stolonifera

 

cv. 'Penncross', Arabidopsis thaliana, Nicotiana tabacum

Not reactive in
Chlamydomonas reinhardtii
Application examples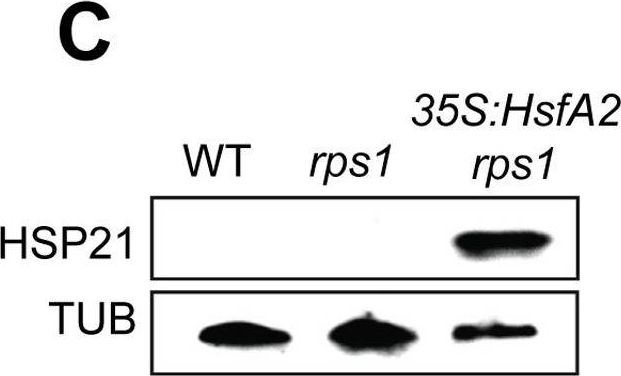 Reactant: Arabidopsis thaliana (Thale cress)
Application: Western Blotting
Pudmed ID: 22570631
Journal: PLoS Genet
Figure Number: 5C
Published Date: 2012-05-10
First Author: Yu, H. D., Yang, X. F., et al.
Impact Factor: 5.334
Open Publication
Overexpression of HsfA2 leads to constitutive expression of its target genes in rps1 mutant plants.(A) qRT-PCR analysis of mRNA levels of the representative HsfA2 target genes in the fully-extended leaves of WT, rps1 and rps1 with a 35S:HsfA2 cDNA transgene plants. Actin2 was used as the internal standard. Error bars indicate standard deviations of three technical replicates, and the results were consistent in three biological replicates. (B) Western blot analysis of thylakoid membrane proteins extracted from the leaves of the genotypes indicated in (A). Equal protein loading was determined by contents (2 ĩg) of chlorophyll in thylakoid membrane extracts according to (Peng et al., 2006). (C) Protein levels of HSP21, encoded by HsfA2 target gene Hsp25.3, in leaves of the plants described in (A) were analyzed by western blots with a polyclonal antibody against HSP21.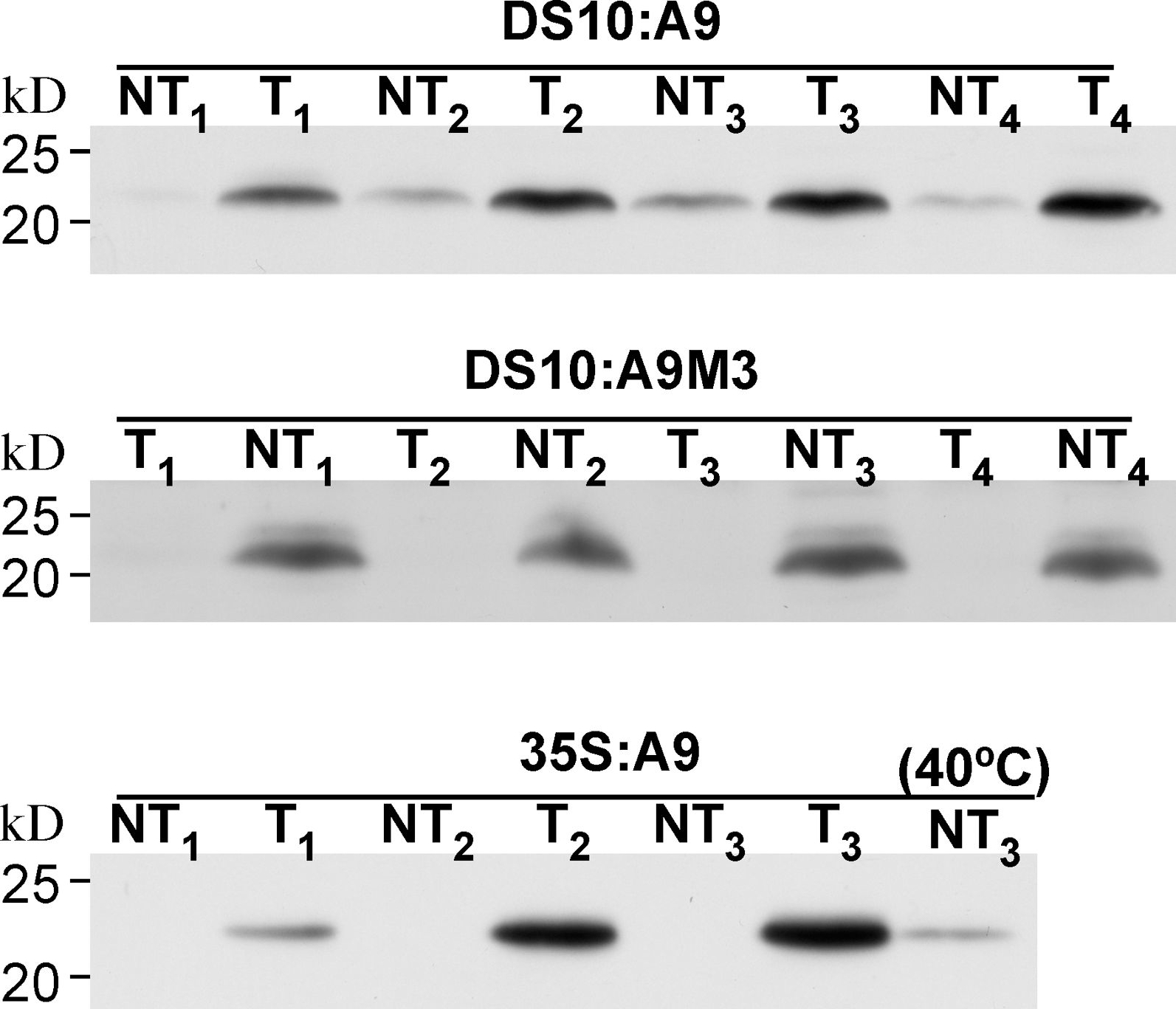 Reactant: Nicotiana tabacum (Common tobacco)
Application: Western Blotting
Pudmed ID: 23227265
Journal: PLoS One
Figure Number: 1A
Published Date: 2012-12-12
First Author: Almoguera, C., Prieto-Dapena, P., et al.
Impact Factor: 2.942
Open Publication
Effects of gain and loss of function of HaHSFA9 on the accumulation of plastidial sHSPs in seeds and seedlings.Immunoblot detection with the anti-HSP21 antibody at 1/2,500 dilution. Different transgenic lines (T) were compared with sibling non-transgenic (NT) lines. From top to bottom: DS10:A9 seeds, DS10:A9M3 seeds, and 35S:A9 seedlings. Protein amounts loaded: 25 ?g total protein for the seed samples and for the 40°C seedling sample; 15 ?g for the rest of seedling samples. Enhanced detection conditions were used for the DS10:A9M3 samples with respect to DS10:A9 (90 min instead of 5 min exposure, compare the respective NT signals). The high-level accumulation of plastidial sHSPs in unstressed seedlings of the 35S:A9 lines was compared with that in NT seedlings after heat-acclimation for 3 h at 40°C (40°C). Molecular mass markers (kD) are indicated to the left.
Additional information
Additional information
Recommended load per well 20 µg of total protein

This product can be sold containing proClin if requested.
Please, note that there might be no HSPs accumulation below temperature of 32-34°C, HSPs are induced when the plant experience temperatures higher than the growing temperature with around 10°C, So, the HSPs induction temperatures for plants grown at 18C differ from these for plants grown at 24C,Another very effective parameter is the humidity, When using low humidity the plant has a chance to cool down through transpiration, In this case the HSPs induction requires higher temperatures
Background
Background
HSP21 is a chloroplast-localized small heat shock protein. The way small hsp proteins are protecting a living cell are not fully understood. They seem to be involved in chaperone functions by protecting other proteins from irreversible denaturation.
Product citations
Selected references
Jespersen et al. (2017). Metabolic Effects of Acibenzolar-S-Methyl for Improving Heat or Drought Stress in Creeping Bentgrass. Front Plant Sci. 2017 Jul 11;8:1224. doi: 10.3389/fpls.2017.01224. eCollection 2017. (western blot, Agostis stolonifera cv. 'Penncross')
Lämke et al. (2016). A hit-and-run heat shock factor governs sustained histone methylation and transcriptional stress memory. EMBO J. 2016 Jan 18;35(2):162-75. doi: 10.15252/embj.201592593. Epub 2015 Dec 9.
McLoughlin et al. (2016) Class I and II Small Heat Shock Proteins Together with HSP101 Protect Protein Translation Factors during Heat Stress. Plant Physiol. 2016 Oct;172(2):1221-1236.
Shen et al. (2016). The Arabidopsis polyamine transporter LHR1/PUT3 modulates heat responsive gene expression by enhancing mRNA stability. Plant J. 2016 Aug 19. doi: 10.1111/tpj.13310. [Epub ahead of print]
Almoguera et al. (2015). Heat shock transcription factors involved in seed desiccation tolerance and longevity retard vegetative senescence in transgenic tobacco. Planta. 2015 May 29.
Hai-Dong Yu et al. (2012). Downregulation of Chloroplast RPS1 Negatively Modulates Nuclear Heat-Responsive Expression of HsfA2 and Its Target Genes in Arabidopsis. Plos Genetics.

Related products: HSP21 | Chloroplastic heat shock protein