HSP90-1 | heat shock protein 90-1
AS08 346  |  Clonality: Polyclonal  |  Host: Rabbit  |  Reactivity: A. thaliana, B. distachyon, Chlamydomonas sp. UWO241, H. vulgaris, Salicornia sp., S. lycopersicum, Z. mays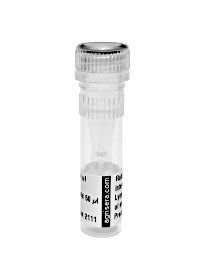 DATA SHEET IN PDF
Product Information
Immunogen
Full length recombinant Hsp90-1 from Arabidopsis thaliana, UniProt: P27323-1, TAIR: AT5G52640.
Reconstitution
For reconstitution add 50 µl of sterile water
Storage
Store lyophilized/reconstituted at -20°C; once reconstituted make aliquots to avoid repeated freeze-thaw cycles. Please remember to spin the tubes briefly prior to opening them to avoid any losses that might occur from material adhering to the cap or sides of the tube.
Tested applications
Western blot (WB)
Recommended dilution
1 : 3000 (WB)
Expected | apparent MW
80.6 | 95 kDa (Arabidopsis thaliana)
Reactivity
Confirmed reactivity
Arabidopsis thaliana, Brachypodium distachyon, Brassica napus, Chlamydomonas sp. UWO241, Fagopyrum esculentum, Hordeum vulgare, Salicornia sp., Solanum lycopersicum, Zea mays, Vicia faba

Predicted reactivity
Fraxinus sp., Glycne max, Micromonas pulsilla, Nicotiana benthamina, Nicotiana tabacum, Oryza sativa, Ostreococcus lucimarinus, Physcomitrium patens, Populus balsamifera, Ricinus communis, Solanum tuberosum, Sorghum bicolor, Triticum aestivum, Zea mays, Vitis vinifera
Species of your interest not listed? Contact us
Not reactive in
No confirmed exceptions from predicted reactivity are currently known
Application examples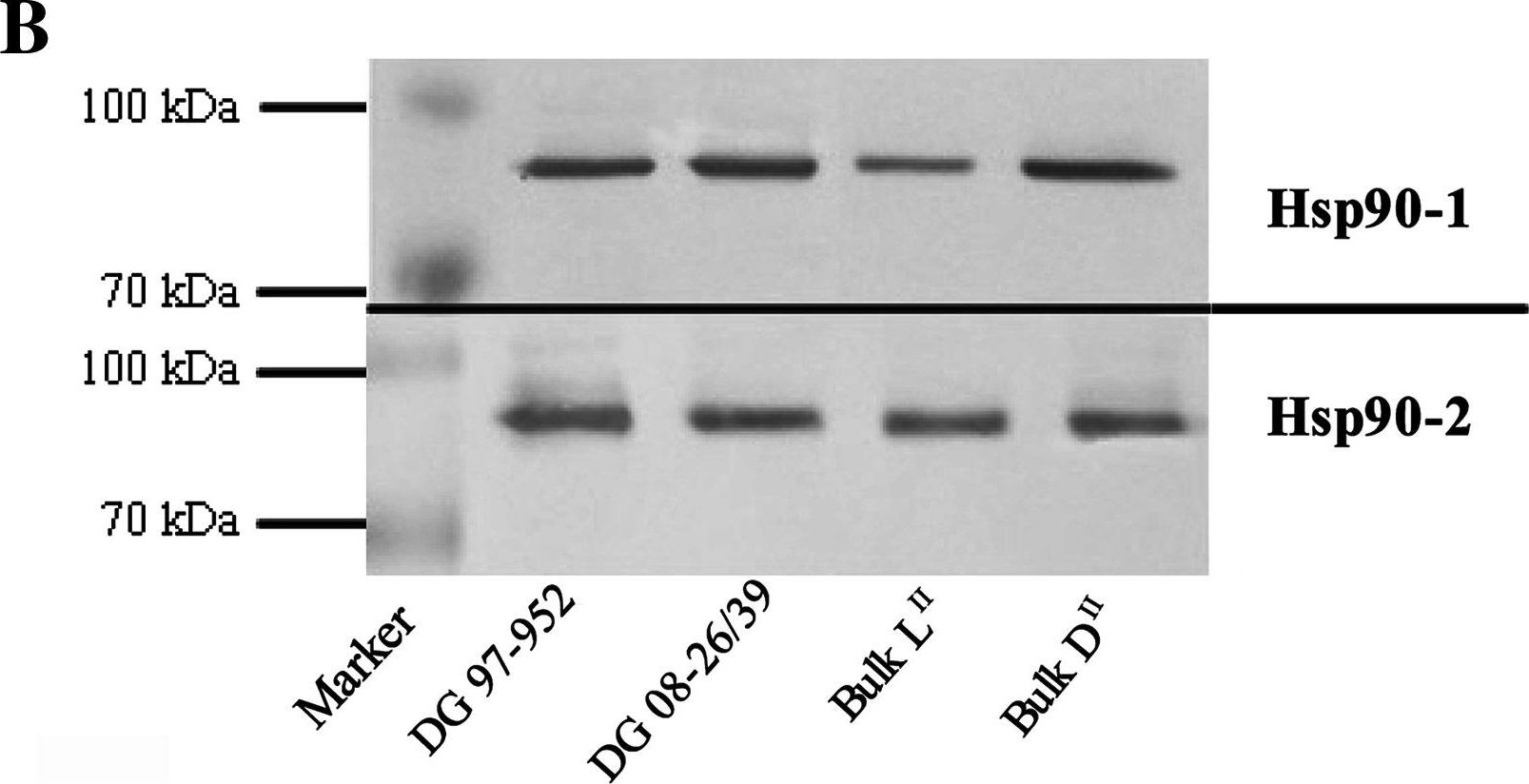 Reactant: Solanum tuberosum (Potato)
Application: Western Blotting
Pudmed ID: 26612975
Journal: Mol Breed
Figure Number: 3B
Published Date: 2015-11-28
First Author: So?tys-Kalina, D., Szajko, K., et al.
Impact Factor: 2.533
Open Publication
a Expression level of the Hsp90 gene in tubers after cold storage (CS); ns non-significant differences between parental clones (Student's t test); a and b homogenous groups between bulk samples LII and DII (Tukey's test). b Amounts of Hsp90-1 and Hsp90-2 protein isoforms in tubers after cold storage (CS); Marker—Prosieve® QuadColor™ Protein Marker. Parental clones: DG 97-952 (chip color 7) and DG 08-26/39 (chip color 4); bulk samples: LII (chip color 8–9) and DII (chip color 1–3)
Additional information
Additional information
Antibody is recognizing both, heat inducible Hsp90-1 and constitutive isofrom Hsp90-2. Both proteins have ca. 85 % similarity.

This product can be sold containing ProClin if requested
Background
Background
HSP90-1 (heast shock protein 90-1) is an isoform involved in response to bacterium, arsenic and heat. Synonymes: ATHS83; ATHSP90.1; F6N7.13; F6N7_13; HEAT SHOCK PROTEIN 81-1; HEAT SHOCK PROTEIN 83; HEAT SHOCK PROTEIN 90.1; HSP81-1; HSP81.1; HSP83.
Product citations
Selected references
Szadeczky-Kardoss et al. (2022) Elongation factor TFIIS is essential for heat stress adaptation in plants. Nucleic Acids Res. 2022 Feb 28;50(4):1927-1950. doi: 10.1093/nar/gkac020. PMID: 35100405; PMCID: PMC8886746.
Bychkov et al. (2022) The role of PAP4/FSD3 and PAP9/FSD2 in heat stress responses of chloroplast genes. Plant Sci. 2022 Sep;322:111359. doi: 10.1016/j.plantsci.2022.111359. Epub 2022 Jun 20. PMID: 35738478.
Cvetkovska et al. (2022) A constitutive stress response is a result of low temperature growth in the Antarctic green alga Chlamydomonas sp. UWO241. Plant, Cell & Environment, 45, 156– 177. https://doi.org/10.1111/pce.14203
Mishra et al. (2021) Interplay between abiotic (drought) and biotic (virus) stresses in tomato plants. Mol Plant Pathol. 2021 Dec 30. doi: 10.1111/mpp.13172. Epub ahead of print. PMID: 34970822.
Shteinberg et al. (2021) Tomato Yellow Leaf Curl Virus (TYLCV) Promotes Plant Tolerance to Drought. Cells. 2021 Oct 25;10(11):2875. doi: 10.3390/cells10112875. PMID: 34831098; PMCID: PMC8616339.
Jeran et al. (2021) The PUB4 E3 Ubiquitin Ligase Is Responsible for the Variegated Phenotype Observed upon Alteration of Chloroplast Protein Homeostasis in Arabidopsis Cotyledons. Genes (Basel). 2021 Sep 6;12(9):1387. doi: 10.3390/genes12091387. PMID: 34573369; PMCID: PMC8464772.
Ojeda et al. (2021) A chloroplast redox relay adapts plastid metabolism to light and affects cytosolic protein quality control, Plant Physiology, 2021;, kiab246, https://doi.org/10.1093/plphys/kiab246
Plazek et al. (2020). Synthesis of heat-shock proteins HSP-70 and HSP-90 in flowers of common buckwheat (Fagopyrum esculentum) under thermal stress. Crop and Pasture Science, 71(8), 760-767, July 2020
Esteve-Bruna et al. (2020). Prefoldins Contribute to Maintaining the Levels of the Spliceosome LSM2-8 Complex Through Hsp90 in Arabidopsis. Nucleic Acids Res. 2020 May 12;gkaa354. doi: 10.1093/nar/gkaa354.
Sadura et al. (2020). HSP Transcript and Protein Accumulation in Brassinosteroid Barley Mutants Acclimated to Low and High Temperatures . Int J Mol Sci . 2020 Mar 10;21(5):1889.doi: 10.3390/ijms21051889.
Gorovits et al. (2020). Pharmaceuticals in treated wastewater induce a stress response in tomato plants. Sci Rep. 2020 Feb 5;10(1):1856. doi: 10.1038/s41598-020-58776-z.
Sedaghatmehr et al. (2019). A regulatory role of autophagy for resetting the memory of heat stress in plants. Plant Cell Environ. 2019 Mar;42(3):1054-1064. doi: 10.1111/pce.13426.
Kato et al. (2019). Induction of the heat shock response in Arabidopsis by chlorinated 1,4-naphthoquinones. Plant Growth Regul (2019). https://doi.org/10.1007/s10725-019-00477-3.
Balazova et al. (2018). Zinc oxide nanoparticles phytotoxicity on halophyte from genus Salicornia. Plant Physiol Biochem. 2018 Sep;130:30-42. doi: 10.1016/j.plaphy.2018.06.013.
Alamri et al. (2018). Nitric oxide-mediated cross-talk of proline and heat shock proteins induce thermotolerance in Vicia faba L. Environmental and Experimental Botany Available online 23 June 2018.
Sedaghatmehr et al. (2018). A regulatory role of autophagy for resetting the memory of heat stress in plants. Plant Cell Environ. 2018 Aug 22. doi: 10.1111/pce.13426.
Danilova et al. (2018). Differential impact of heat stress on the expression of chloroplast-encoded genes. Plant Physiol Biochem. 2018 May 23;129:90-100. doi: 10.1016/j.plaphy.2018.05.023.
Gil et al. (2017) ZEITLUPE Contributes to a Thermoresponsive Protein Quality Control System in Arabidopsis. PlantCell. 2017 Nov;29(11):2882-2894. doi: 10.1105/tpc.17.00612.
Ghandi et al. (2016). Tomato yellow leaf curl virus infection mitigates the heat stress response of plants grown at high temperature. Sci Rep. 2016 Jan 21;6:19715. doi: 10.1038/srep19715
Derbyshire et al. (2015). Proteomic Analysis of Microtubule Interacting Proteins over the Course of Xylem Tracheary Element Formation in Arabidopsis. Plant Cell. 2015 Oct 2. pii: tpc.15.00314.
Moshe et al. (2015). Tomato plant cell death induced by inhibition of HSP90 is alleviated by Tomato yellow leaf curl virus infection. Mol Plant Pathol. 2015 May 12. doi: 10.1111/mpp.12275.
Svozil et al. (2015). Proteasome targeting of proteins in Arabidopsis leaf mesophyll, epidermal and vascular tissues. Front Plant Sci. 2015 May 28;6:376. doi: 10.3389/fpls.2015.00376. eCollection 2015.
Tillmann et al. (2014). Hsp90 is involved in the regulation of cytosolic precursor protein abundance in tomato. Mol Plant. 2014 Oct 20. pii: ssu113.
Svozil et al. (2014). Protein abundance changes and ubiquitylation targets identified after inhibition of the proteasome with Syringolin A. Mol Cell Proteomics. 2014 Apr 13.
Finka et al. (2012). Plasma Membrane Cyclic Nucleotide Gated Calcium Channels Control Land Plant Thermal Sensing and Acquired Thermotolerance. Plant Cell, June 2012.
Related products: HSP90-1 | heat shock protein 90-1