NBR1 | Autophagy substrate NBR1
AS14 2805  |  Clonality: Polyclonal   |  Host: Rabbit   |  Reactivity: Arabidopsis thaliana, Physcomitrella patens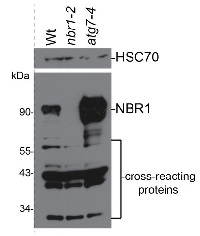 DATA SHEET IN PDF
Product Information
Reconstitution
For reconstitution add 50 ĩl of sterile water
Storage
Store lyophilized/reconstituted at -20°C; once reconstituted make aliquots to avoid repeated freeze-thaw cycles. Please remember to spin the tubes briefly prior to opening them to avoid any losses that might occur from material adhering to the cap or sides of the tube.
Tested applications
Immunolocalization (IL), Western blot (WB)
Recommended dilution
1: 1000 (IL), 1 : 500-1 : 5000 (WB)
Expected | apparent MW
75 | 100 kDa
Reactivity
Confirmed reactivity
Arabidopsis thaliana, Physcomitrium patens
Predicted reactivity
Brassicaceae family

Species of your interest not listed? Contact us
Not reactive in
No confirmed exceptions from predicted reactivity are currently known
Application examples
Application examples
Application example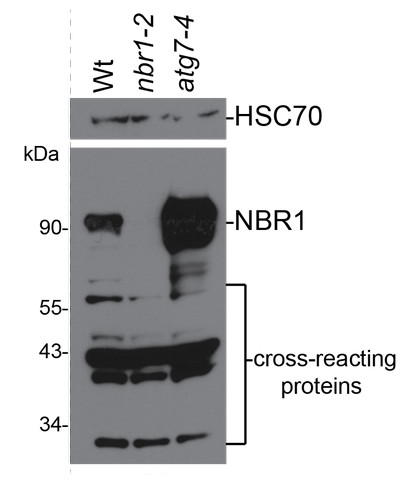 Total protein from approximately eight 8-d-old seedlings of Arabidopsis thaliana was extracted with NuPAGE sample buffer (106 mM Tris-HCl pH 8.5, 141 mM Tris Base, 2% lithium dodecyl sulfate, 0.51 mM EDTA pH 8.0, 10% glycerol, 0.22 mM Coomassie Blue G250, 0.166 mM Phenol Red) with 50 mM dithiothreitol and denatured at 100°C for 5 min. Proteins were separated by electrophoresis on a Bolt 10% Bis-Tris Plus gel (Invitrogen) and transferred for 40 min at 24 V to an Amersham Protran 0.45 µm nitrocellulose membrane (GE Healthcare Life Sciences) using semidry transfer. The membrane was blocked with 8% milk in TBS-T for 2 h at 4°C with agitation. The membrane was incubated in the primary antibody at a dilution of 1:4000 overnight at 4°C with agitation in 8% milk in TBS-T. The antibody solution was decanted and the blot was rinsed briefly twice, then washed 3 times for 5 min in 8% milk in TBS-T at 4°C with agitation. The membrane was incubated in secondary antibody (horse radish peroxidase conjugated goat anti-rabbit IgG) diluted to 1:5000 in 8% milk in TBS-T for 4 h at 4°C with agitation. The membrane was washed 3 times for 5 min in TBS-T at 4°C with agitation and incubated for 2 min with WesternBright chemiluminescent detection reagent (Advansta). Exposure time was 30 seconds.


Courtesy of Pierce Young, Rice University, USA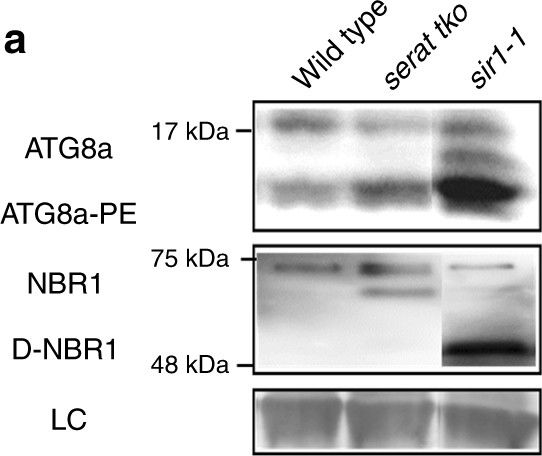 Reactant: Arabidopsis thaliana (Thale cress)
Application: Western Blotting
Pudmed ID: 29079776
Journal: Nat Commun
Figure Number: 5A
Published Date: 2017-10-27
First Author: Dong, Y., Silbermann, M., et al.
Impact Factor: 13.783
Open Publication
Autophagy is specifically induced by limited S-precursor supply for cysteine biosynthesis. a Autophagy induction in the shoot of serat tko and sir1-1 was determined by immunological detection of the canonical autophagy marker ATG8a and NBR1 with specific antisera. Lipidation of ATG8a (ATG8a-PE) (apparent size: 15–20?kDa) is essential for autophagosome formation and indicated by a significant shift during electrophoresis. NBR1 is a cargo receptor for selective autophagy and consequently degraded in autophagic bodies (D-NBR1) (apparent size: 50–75?kDa). b Level of ATG8a-PE and D-NBR1 shown in a were quantified (n?=?3, mean?ą?s.e.m., one-way ANOVA, *p?0.05). c Autophagy induction in the root of serat tko and sir1-1 was detected by MDC staining. White arrows marked the visible autophagic bodies. Scale bar, 25?ĩm. d Autophagy induction in the shoot of WT under sulfur deficiency was determined by ATG8a-PE level (n?=?3, mean?ą?s.e.m., t-test, *p?0.05)
Additional information
Specific extraction method and tissue type needs to be used as described in Minina et al, (2013), Dilution in western blot depends upon amount of NBR1 in the sample
Background
Background
NBR1 (Autophagy substrate NBR1) is involved in selective autophagy process of damaged organelles, intracellular microbes, protein aggregates, cellular structures and specific soluble proteins. NBR1 mediates the process as an autophagic adapter. The protein has two UBA domains but only the C-terminal UBA domain bound ubiquitin. Alternative names: At4g24690, Putative uncharacterized protein F22K18.110.
Product citations
Selected references
Rodriguez et al. (2020). Autophagy mediates temporary reprogramming and dedifferentiation in plant somatic cells. bioRxiv doi.org/10.1101/747410
Calero-MuÃ?Âąoz et al. (2019). Cadmium induces reactive oxygen species-dependent pexophagy in Arabidopsis leaves. Plant Cell Environ. 2019 Sep;42(9):2696-2714. doi: 10.1111/pce.13597.
Jia et al. (2019). Noncanonical ATG8-ABS3 interaction controls senescence in plants. Nat Plants. 2019 Feb;5(2):212-224. doi: 10.1038/s41477-018-0348-x.
Hackenberg et al. (2013). Catalase and NO CATALASE ACTIVITY1 promote autophagy-dependent cell death in Arabidopsis. Plant Cell. 2013 Nov;25(11):4616-26. doi: 10.1105/tpc.113.117192. Epub 2013 Nov 27.
Minina et al. (2013). Autophagy mediates caloric restriction-induced lifespan extension in Arabidopsis. Aging Cell. 2013 Apr;12(2):327-9. doi: 10.1111/acel.12048. Epub 2013 Feb 28. (method description in supplemental materials)
Katsiarimpa et al. (2013). The Deubiquitinating Enzyme AMSH1 and the ESCRT-III Subunit VPS2.1 Are Required for Autophagic Degradation in Arabidopsis.
Svenning et al. (2011). Plant NBR1 is a selective autophagy substrate and a functional hybrid of the mammalian autophagic adapters NBR1 and p62/SQSTM1. Autophagy. 2011 Sep;7(9):993-1010. Epub 2011 Sep 1. (original reference)

Related products: NBR1 | Autophagy substrate NBR1