Pex14p | Peroxisomal marker
AS08 372 | Clonality: Polyclonal | Host: Rabbit | Reactivity: Arabidopsis thaliana, Magnaporthe oryzae, Zea mays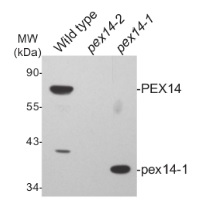 DATA SHEET IN PDF
Product Information
Immunogen
Recombinant, soluble N-terminal domain of Arabidopsis thaliana Pex14p UniProt:Q9FE40, TAIR: At5g62810) that mediates PEX5 and PEX19 binding. The transmembrane and coiled-coil domains of PEX14 were replaced with a dual StrepII-His6 tag.
Purity
Immunogen affinity purified serum in PBS pH 7.4.
Reconstitution
For reconstitution add 25 ĩl of sterile water
Storage
Store lyophilized/reconstituted at -20°C; once reconstituted make aliquots to avoid repeated freeze-thaw cycles. Please remember to spin the tubes briefly prior to opening them to avoid any losses that might occur from material adhering to the cap or sides of the tube.
Tested applications
Western blot (WB)
Recommended dilution
1 : 10 000 (WB)
Expected | apparent MW
55,5 | 75-65 kDa (depending on the gel system)
Reactivity
Confirmed reactivity
Arabidopsis thaliana, Lupinus albus, Solanum tuberosum, Zea mays

Predicted reactivity
Cucumis melo, Magnaporthe oryzae

Species of your interest not listed? Contact us
Not reactive in
No confirmed exceptions from predicted reactivity are currently known
Application examples
Application examples
Application example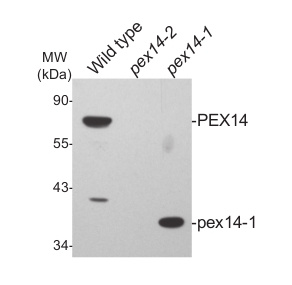 Twenty 5-day-old light grown Arabidopsis thaliana seedlings (wild type, the pex14-2 null allele, and the pex14-1 truncation allele) were ground with a pestle in a 1.5 mL tube on dry ice following the addition of a double volume (60 μL) of NuPAGE 2x loading buffer (Invitrogen). After centrifugation, 20 μL of supernatant was trasnferred to a fresh tube with 2.1 μL 0.5 M DTT and boiled at 100 °C for 5 mins. Samples were loaded onto NuPAGE 10% Bis-Tris gel (Invitrogen) next to Cruz Marker (Santa Cruz Biotechnology). After electrophoresis, proteins were transferred for 30 mins at 24 V to a Hybond ECL nitrocellulose membrane (Anersham Pharmacia Biotech) using NuPAGE transfer buffer (Invitrogen). The blot was blocked for 1 h 4 °C in 8% non-fat dry milk in TBS-T (blocking buffer),and incubated overnight wiht agitation at 4 °C with primary antibody (1:10 000 rabbit anti-PEX14, AS08 372, Agrisera) diluted in blocking buffer. The antibody soliution was decanted and the blot was rinsed 3 times, 5 min each, with blocking buffer at 4 °C. The blot was incubated with horseradish peroxidase-conjugated anti-rabbit secondary antibody (1:5000), diluted in blocking buffer for 4 h at 4 °C with agitation. The blot was washed with 3 times, 5 min each, with TBS-T and developed with chemiluminescent reagent (Advanta), 1:10 dilution in water.
Courtesy Sarah Burkhart and Bonnie Bartel, Rice University, USA.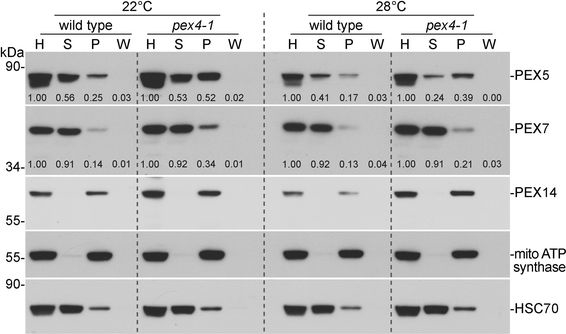 Reactant: Arabidopsis thaliana (Thale cress)
Application: Western Blotting
Pudmed ID: 26377801
Journal: BMC Plant Biol
Figure Number: 5A
Published Date: 2015-09-16
First Author: Kao, Y. T. & Bartel, B.
Impact Factor: 4.142
Open Publication
PEX5 is more membrane associated in pex4-1; high temperature does not rescue this defect. Extracts from dark-grown seedlings grown at 22 °C or 28 °C were cleared by a low-speed centrifugation to give homogenates (H). After a high-speed centrifugation, supernatants (S) were removed, and pellets were resuspended and spun at high speed to separate the wash supernatants (W) and final pellets (P). Equal volumes of each fraction were processed for immunoblotting by sequential incubation of the membrane with the indicated antibodies. PEX14 and mitochondrial (mito) ATP synthase are integral membrane proteins; HSC70 is mainly cytosolic. The positions of molecular mass markers (in kDa) are indicated on the left. Band intensities were quantified using ImageJ. For each sample, the supernatant, pellet, and wash were normalized to the corresponding homogenate to give the listed numbers
Additional information
Additional information
Pex14p is prone to degradation
Antibodies will detect Pex14 protein in both light- and dark-grown seedlings grown on petri dishes and in rosette leaves of adult plants grown in soil
Background
Background
Pex14p has a protein transporter activity and is involved in protein targeting into peroxisome. Submitted protein name: Genomic DNA, chromosome 5, P1 clone:MQB2
Product citations
Selected references
Llinas et al. (2022) An Arabidopsis pre-RNA processing8a (prp8a) missense allele restores splicing of a subset of mis-spliced mRNAs. Plant Physiol. 2022 Aug 1;189(4):2175-2192. doi: 10.1093/plphys/kiac221. PMID: 35608297.
Calero-Munoz et al. (2019). Cadmium induces reactive oxygen species-dependent pexophagy in Arabidopsis leaves. Plant Cell Environ. 2019 Sep;42(9):2696-2714. doi: 10.1111/pce.13597.
McLoughlin et al. (2018). Maize multi-omics reveal roles for autophagic recycling in proteome remodelling and lipid turnover. Nat Plants. 2018 Dec;4(12):1056-1070. doi: 10.1038/s41477-018-0299-2.
Gonzalez et al. (2018). A pex1 missense mutation improves peroxisome function in a subset of Arabidopsis pex6 mutants without restoring PEX5 recycling. Proc Natl Acad Sci U S A. 2018 Apr 3;115(14):E3163-E3172. doi: 10.1073/pnas.1721279115.
Vincent et al. (2017). A genome-scale analysis of mRNAs targeting to plant mitochondria: upstream AUGs in 5' untranslated regions reduce mitochondrial association. Plant J. 2017 Dec;92(6):1132-1142. doi: 10.1111/tpj.13749.
Zhong et al. (2016). MoDnm1 Dynamin Mediating Peroxisomal and Mitochondrial Fission in Complex with MoFis1 and MoMdv1 Is Important for Development of Functional Appressorium in Magnaporthe oryzae. PLoS Pathog. 2016 Aug 24;12(8):e1005823. doi: 10.1371/journal.ppat.1005823. eCollection 2016.
Li et al. (2015). Autophagic recycling plays a central role in maize nitrogen remobilization. Plant Cell. 2015 May;27(5):1389-408. doi: 10.1105/tpc.15.00158. Epub 2015 May 5.
Li et al. (2015). A Chaperone Function of NO CATALASE ACTIVITY1 Is Required to Maintain Catalase Activity and for Multiple Stress Responses in Arabidopsis. Plant Cell. 2015 Feb 19. pii: tpc.114.135095.

Related products: Pex14p | Peroxisomal marker