POR | Protochlorophilide oxidoreductase
AS05 067  |  Clonality: Polyclonal  |  Host: Rabbit  | Reactivity:  Arabidopsis thaliana, Cyanobacteria, Horderum vulgare, Nicotiana tabacum, Oryza sativa, Phalenopsis Sogo Yukidian cultivar V3, Pinus yunnanensis, Pisum sativum, Triticum aestivum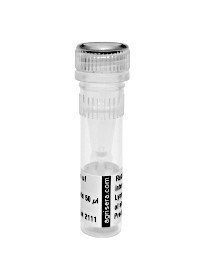 DATA SHEET IN PDF
Product Information
Immunogen
Native wheat POR protein isolated from a gel piece
Reconstitution
For reconstitution add 50 µl of sterile water
Storage
Store lyophilized/reconstituted at -20°C; once reconstituted make aliquots to avoid repeated freeze-thaw cycles. Please remember to spin the tubes briefly prior to opening them to avoid any losses that might occur from material adhering to the cap or sides of the tube.
Tested applications
Immunolocalisation (IL), Western blot (WB)
Recommended dilution
1: 500 (IL), 1 : 2000 (WB)
Expected | apparent MW
36-37 kDa (Arabidopsis thaliana)
Reactivity
Confirmed reactivity
Arabidopsis thaliana, Cyanobacteria, Horderum vulgare, Nicotiana tabacum, Oryza sativa, Phalenopsis Sogo Yukidian cultivar V3, Pinus yunnanensis, Pisum sativum, Triticum aestivum
Not reactive in
No confirmed exceptions from predicted reactivity are currently known
Application examples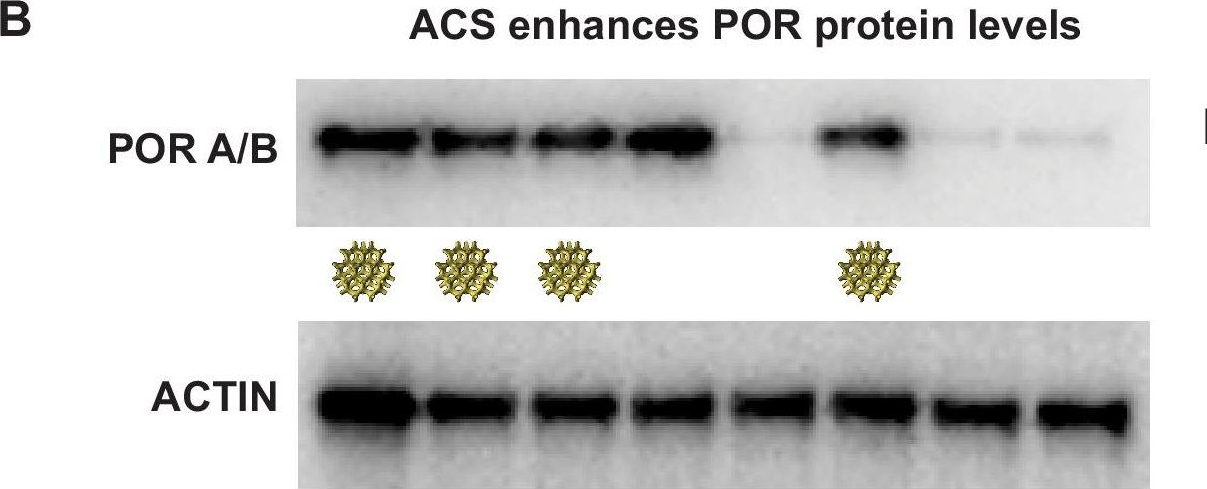 Reactant: Arabidopsis thaliana (Thale cress)
Application: Western Blotting
Pudmed ID: 32003746
Journal: Elife
Figure Number: 7B
Published Date: 2020-01-31
First Author: Cazzonelli, C. I., Hou, X., et al.
Impact Factor: 7.448
Open Publication
Chemical inhibition of CCD activity revealed how a ccr2 generated apocarotenoid signal transcriptionally up-regulates POR and PIF3 in parallel to det1-154 during skotomorphogenesis.(A) Transcript levels of PORA, PIF3 and HY5 in WT, ccr2, ccr2 det1-154 and det1-154 etiolated seedlings growing on MS media (+ /- D15). Statistical analysis denoted as a star was performed by a pair-wise t-test (p<0.05). Error bars represent standard error of means. (B), (C) and (D) Representative western blot images showing POR, DET1, PIF3 and HY5 protein levels, respectively. Proteins were extracted from WT, ccr2 and ccr2 det1-154 etiolated seedlings grown on MS media without (control; Ctrl) or with the chemical inhibitor of CCD activity (D15). The membrane was re-probed using anti-Actin antibody as an internal loading control. Lattice-like symbol below POR western (B), represents formation of a PLB in etiolated cotyledons from that genotype and treatment. (E) Model describing how a cis-carotene derived cleavage product, ACS, regulates POR, HY5, PIF3 and PLB formation during skotomorphogenesis. DET1 maintains skotomorphogenesis by post-transcriptionally maintaining a higher and lower PIF3 and HY5 protein levels, respectively. HY5 promotes and PIF3 represses PhANG expression. det1 mutants trigger photomorphogenesis in that they lack POR mRNA transcripts, protein and a PLB. ccr2 generates ACS that enhances POR mRNA transcript and protein levels that enable PLB formation in det1-154. det1-154 restores PLB formation in ccr2 by blocking a signalling pathway acting independent of POR.The DET1-154 peptide is smaller in det1-154 mutant genotypes.(A) Representative western blot image showing the reduced DET1 peptide size in ccr2 det1-154 and det1-154 (59 kDa) compared to WT and ccr2 (62 kDa). Gel electrophoresis of the gel membrane from Figure 7C (electrophoresis for 38 min at 165 volt) was extended for 120 min at 100 volts to resolve the 3 kDa difference in DET1-154 protein size. Under these conditions, the 37 kDa ACTIN peptide and pre-stained ladder were not detected on the membrane. Proteins were extracted from WT, ccr2 and ccr2 det1-154 etiolated seedlings grown on MS media without (control; Ctrl) or with the chemical inhibitor of CCD activity (D15).
Additional information
POR is present in high amounts in chloroplasts not exposed to light (etioplasts),
Background
Background
Chlorophylls are one of the most abundant classes of natural pigments and have an essential role in radiant energy absorptions during photosynthesis in bacteria, algae, and higher plants. Chlorophylls occur as noncovalently bound components of pigment-protein complexes, chloroplast-localized light-harvesting antennas LHC and photosynthetic reaction centers of PSI and PSII. Upon illumination the arrest in chlorophyll biosynthesis is ended and the etiolated parts of the plant and enzymatic photoreduction of protochlorophyllide (Pchlide) to chlorophyllide (Chlide), catalysed by POR enzyme.
Product citations
Selected references
Lee et al (2021). Chaperone-like protein DAY plays critical roles in photomorphogenesis. Nat Commun. 2021 Jul 7;12(1):4194. doi: 10.1038/s41467-021-24446-5. PMID: 34234144; PMCID: PMC8263706.
Floris & Kühlbrandt. (2021). Molecular landscape of etioplast inner membranes in higher plants. Nat Plants. 2021 Apr;7(4):514-523. doi: 10.1038/s41477-021-00896-z. Epub 2021 Apr 19. PMID: 33875833.
Dogra et al. (2019). Oxidative post-translational modification of EXECUTER1 is required for singlet oxygen sensing in plastids. Nat Commun. 2019 Jun 27;10(1):2834. doi: 10.1038/s41467-019-10760-6.
Zhang et al. (2018). Nitric oxide regulates chlorophyllide biosynthesis and singlet oxygen generation differently between Arabidopsis and barley. Nitric Oxide. 2018 Mar 3;76:6-15. doi: 10.1016/j.niox.2018.03.001.
Han et al. (2015). A nuclear-encoded chloroplast-targeted S1 RNA-binding domain protein affects chloroplast rRNA processing and is crucial for the normal growth of Arabidopsis thaliana. Plant J. 2015 Jul;83(2):277-89. doi: 10.1111/tpj.12889. Epub 2015 Jun 15.
Hu et al. (2015). Site-specific Nitrosoproteomic Identification of Endogenously S-Nitrosylated Proteins in Arabidopsis. Plant Physiol. 2015 Feb 19. pii: pp.00026.2015.
Huey-wen et al. (2014). Harpin Protein, an Elicitor of Disease Resistance, Acts as a Growth Promoter in Phalaenopsis Orchids. Journal of Plant Growth Regulation May 2014.
Svozil et al. (2014). Protein abundance changes and ubiquitylation targets identified after inhibition of the proteasome with Syringolin A. Mol Cell Proteomics. 2014 Apr 13.
Sakuraba et al. (2013). The rice faded green leaf locus encodes protochlorophyllide oxidoreductase B and is essential for chlorophyll synthesis under high light conditions. Plant J.
Related products: POR | Protochlorophilide oxidoreductase