PsaA | PSI-A core protein of photosystem I
AS06 172  |  Clonality: Polyclonal  |  Host: Rabbit  |  Reactivity: A. thaliana, C. quitensis Kunt Bartl, C. pumilum,  C. reinhardtii, C. zofingiensis, F. vesiculosus, H.vulgare, M. polymorpha, N. oceanica, N. tabacum, O. sativa, P. abies, P. sativum, P. strobus, P. vulgaris, S. oleracea, C.reinhardtii, Synechococcus  PCC 7942,  Synechocystis PCC 6803, Scenedesmus obliquus, microalgae N. gaditana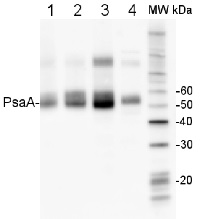 DATA SHEET IN PDF
Product Information
Immunogen
N-terminal part of recombinant PsaA protein from Chlamydomonas reinhardtii P12154
Reconstitution
For reconstitution add 50 µl of sterile water.
Storage
Store lyophilized/reconstituted at -20°C; once reconstituted make aliquots to avoid repeated freeze-thaw cycles. Please, remember to spin tubes briefly prior to opening them to avoid any losses that might occur from lyophilized material adhering to the cap or sides of the tubes.
Tested applications
Blue Native PAGE (BN-PAGE), Immunogold (IG), Western blot (WB)
Recommended dilution
1 : 20 (IG), 1 : 1000-1 : 5000 (WB)
Expected | apparent MW
82 | 55-60 kDa
Reactivity
Confirmed reactivity
Arabidopsis thaliana, Begonia sp. , Bryopsis corticulans, Chlamydomonas reinhardtii, psychrophilic Chlamydomonas sp. UWO241 and Chlamydomonas sp. ICE-MDV, Chlorella sorokiniana, Chlorella vulgaris, Chromochloris zofingiensis, Colobanthus quitensis Kunt Bartl, Craterostigma pumilum, Cytisus cantabricus (Wilk.) Rchb. F., Dianthus caryophyllus, Dioxoniella giordanoi (red alga), Drosera capensis, Euonymus japonicus, Fucus vesiculosus, Haematococcus pluvialis, Halomicronema hongdechloris, Hieracium pilosella L., Hordeum vulgare, Lasallia hispanica, Nannochloropsis oceanica strain IMET1, Nicotiana tabacum, Oryza sativa, Pisum sativum, Marchantia polymorpha (liverwort), micro Nannochloropsis gaditana, Phaseolus vulgaris, Physcomitrella patens, Picea abies, Pinus strobus, Sinapsis alba, Spinacia oleracea, Synechococcus PCC 7942, Synechocystis PCC 6803, Syntrichia muralis (Hedw.) Raab, Scenedesmus obliquus, Ulva prolifera
Predicted reactivity
Algae, Bigelowiella natans, Cannabis sativa, Catalpa bungei, Citrus x limon, Cyanobacteria, Cyanidioschyzon merolae strain 10D, Lycopersicum esculentum, Panax ginseng, Picea spinulosa, Pinus thunbergii, Phaeodactylum tricornutum, Populus alba, Thermosynechococcus elongatus (strain BP-1), Triticum aestivum
Species of your interest not listed? Contact us
Not reactive in
Chromera velia
Application examples
Application examples
Application example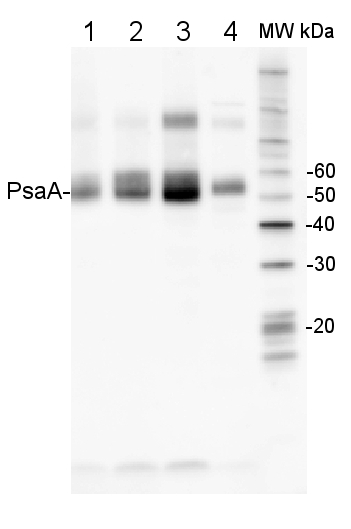 2 µg of total protein from (1) Arabidopsis thaliana leaf, (2) Hordeum vulgare leaf, (3) Chlamydomonas reinhardtii total cell, (4) Synechococcus sp. 7942 total cell all extracted with Protein Extration Buffer, PEB (AS08 300), were separated on  4-12% NuPage (Invitrogen) LDS-PAGE and blotted 1h to PVDF. Blots were blocked immediately following transfer in 2%  blocking reagent in 20 mM Tris, 137 mM sodium chloride pH 7.6 with 0.1% (v/v) Tween-20 (TBS-T) for 1h at room temperature with agitation. Blots were incubated in the primary antibody at a dilution of 1: 10 000 for 1h at room temperature with agitation. The antibody solution was decanted and the blot was rinsed briefly twice, then washed once for 15 min and 3 times for 5 min in TBS-T at room temperature with agitation. Blots were incubated in secondary antibody (anti-rabbit IgG horse radish peroxidase conjugated, frecommended secondary antibody AS09 602) diluted to 1:50 000 in 2% blocking solution for 1h at room temperature with agitation. The blots were washed as above and developed for 5 min with chemiluminescence detection reagent according the manufacturers instructions. Images of the blots were obtained using a CCD imager (FluorSMax, Bio-Rad) and Quantity One software (Bio-Rad). Exposure time was 10 seconds.
Additional information
Additional information
PsaA is a hydrophobic protein and we recommend to use PVDF membrane for transfer to assure best results.

This product can be sold containing ProClin if requested.

Immunogold localization has been done in leaf material of  Arabidopsis thaliana.

Background
Background
PsaA is a core protein of photosystem I. In plants and cyanobacteria, the primary step in oxygenic photosynthesis, the light induced charge separation, is driven bytwo large membrane intrinsic protein complexes, the photosystems I and II.  Synonym: Photosystem I P700 chlorophyll a apoprotein A1.      
Product citations
Selected references
Guardini et al. (2021). High Carotenoid Mutants of Chlorella vulgaris Show Enhanced Biomass Yield under High Irradiance. Plants 10, no. 5: 911. https://doi.org/10.3390/plants10050911
Lu et al. (2021). Role of an ancient light-harvesting protein of PSI in light absorption and photoprotection. Nat Commun. 2021 Jan 29;12(1):679. doi: 10.1038/s41467-021-20967-1. PMID: 33514722; PMCID: PMC7846763. (blue-native PAGE)
Kobayashi et al. (2020). Relationship Between Glycerolipidsand Photosynthetic Components During Recovery of Thylakoid Membranes From NitrogenStarvation-Induced Attenuation in Synechocystis sp. PCC 6803. Front Plant Sci. 2020 Apr 15;11:432. doi: 10.3389/fpls.2020.00432. eCollection 2020.
Their et al. (2020). VIPP2 interacts with VIPP1 and HSP22E/F at chloroplast membranes and modulates a retrograde signal for HSP22E/F gene expression. Plant Cell Environ. 2020 Jan 29. doi: 10.1111/pce.13732.
Jokel et al. (2020). Elimination of the flavodiiron electron sink facilitates long-term H2 photoproduction in green algae. Biotechnol Biofuels. 2019 Dec 5;12:280. doi: 10.1186/s13068-019-1618-1.
Liu et al. (2020). Acid treatment combined with high light leads to increased removal efficiency of Ulva prolifera. Algal Research,Volume 45, January 2020, 101745
Zhong et al. (2019). Slower development of PSI activity limits photosynthesis during Euonymus japonicus leaf development. Plant Physiol Biochem. 2019 Mar;136:13-21. doi: 10.1016/j.plaphy.2019.01.004.
Roth et al. (2019). Regulation of Oxygenic Photosynthesis during Trophic Transitions in the Green Alga Chromochloris zofingiensis. Plant Cell. 2019 Feb 20. pii: tpc.00742.2018. doi: 10.1105/tpc.18.00742.
Bastow et al. (2018). Vacuolar Iron Stores Gated by NRAMP3 and NRAMP4 Are the Primary Source of Iron in Germinating Seeds. Plant Physiol. 2018 Jul;177(3):1267-1276. doi: 10.1104/pp.18.00478.
Kato et al. (2018). Stepwise evolution of supercomplex formation with photosystem I is required for stabilization of chloroplast NADH dehydrogenase-like complex: Lhca5-dependent supercomplex formation in Physcomitrella patens. Plant J. 2018 Sep 3. doi: 10.1111/tpj.14080.
Zhang et al. (2018). VIRESCENT-ALBINO LEAF 1 regulates leaf colour development and cell division in rice. J Exp Bot. 2018 Aug 8. doi: 10.1093/jxb/ery250.
Giovanardi et al. (2018). In pea stipules a functional photosynthetic electron flow occurs despite a reduced dynamicity of LHCII association with photosystems. Biochim Biophys Acta. 2018 May 24. pii: S0005-2728(18)30129-4. doi: 10.1016/j.bbabio.2018.05.013.
Pao et al. (2018). Lamelloplasts and minichloroplasts in Begoniaceae: iridescence and photosynthetic functioning. J Plant Res. 2018 Mar 2. doi: 10.1007/s10265-018-1020-2. (ImmunoGold)
He at al. (2018). FRUCTOKINASE-LIKE PROTEIN 1 interacts with TRXz to regulate chloroplast development in rice. J Integr Plant Biol. 2018 Feb;60(2):94-111. doi: 10.1111/jipb.12631.
Myouga et al. (2018). Stable accumulation of photosystem II requires ONE-HELIX PROTEIN1 (OHP1) of the light harvesting-like family. Plant Physiol. 2018 Feb 1. pii: pp.01782.2017. doi: 10.1104/pp.17.01782.
Muneer et al. (2018). Proteomic Analysis Reveals the Dynamic Role of Silicon in Alleviation of Hyperhydricity in Carnation Grown In Vitro. Int. J. Mol. Sci. 2018, 19(1), 50; doi:10.3390/ijms19010050.
Schöttler et al. (2017). The plastid-encoded PsaI subunit stabilizes photosystem I during leaf senescence in tobacco. J Exp Bot. 2017 Feb 1;68(5):1137-1155. doi: 10.1093/jxb/erx009.
Fu et al. (2017). Redesigning the QA binding site of Photosystem II allows reduction of exogenous quinones. Nat Commun. 2017 May 3;8:15274. doi: 10.1038/ncomms15274. (Chlamydomonas reinhardtii)
Sakuraba et al. (2017). Rice Phytochrome-Interacting Factor-Like1 (OsPIL1) is involved in the promotion of chlorophyll biosynthesis through feed-forward regulatory loops. Journal of Experimental Botany doi:10.1093/jxb/erx231.
Gandini et al. (2017). The transporter SynPAM71 is located in the plasma membrane and thylakoids, and mediates manganese tolerance in Synechocystis PCC6803. New Phytol. 2017 Mar 20. doi: 10.1111/nph.14526. (BN-PAGE)
Míguez et al. (2017). Diversity of winter photoinhibitory responses: A case study in co-occurring lichens, mosses, herbs and woody plants from subalpine environments. Physiol Plant. 2017 Feb 14. doi: 10.1111/ppl.12551.
Mazur et al. (2016). Overlapping toxic effect of long term thallium exposure on white mustard (Sinapis alba L.) photosynthetic activity. BMC Plant Biol. 2016 Sep 2;16(1):191. doi: 10.1186/s12870-016-0883-4.
Yoshida et al. (2016). Hisabori T1.Two distinct redox cascades cooperatively regulate chloroplast functions and sustain plant viability. Proc Natl Acad Sci U S A. 2016 Jul 5;113(27):E3967-76. doi: 10.1073/pnas.1604101113. Epub 2016 Jun 22.
Gerotto et al. (2016). Flavodiiron proteins act as safety valve for electrons in Physcomitrella patens. PNAS DOI 10.1073.
Pavlovič et al. (2016). A carnivorous sundew plant prefers protein over chitin as a source of nitrogen from its traps. Plant Physiol Biochem. 2016 Mar 5;104:11-16. doi: 10.1016/j.plaphy.2016.03.008
Pavlovič et al. (2016). Light-induced gradual activation of photosystem II in dark-grown Norway spruce seedlings. Biochim Biophys Acta. 2016 Feb 18. pii: S0005-2728(16)30028-7. doi: 10.1016/j.bbabio.2016.02.009.
Related products: PsaA | PSI-A core protein of photosystem I