Sec21p | Gamma subunit, COP vesicles
AS08 327  |  Clonality: Polyclonal  |  Host: Rabbit  |  Reactivity: Arabidopsis thaliana, Zea mays | Cellular [compartment marker] of Golgi in immunolocalization and of COP1 in western blot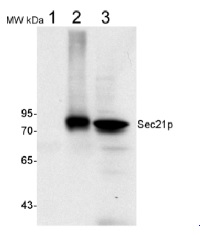 DATA SHEET IN PDF
Product Information
Reconstitution
For reconstitution add 50 ĩl of sterile water
Storage
Store lyophilized/reconstituted at -20°C; once reconstituted make aliquots to avoid repeated freeze-thaw cycles. Please remember to spin the tubes briefly prior to opening them to avoid any losses that might occur from material adhering to the cap or sides of the tube.
Tested applications
Immunofluorescence (IF), Western blot (WB)
Recommended dilution
1 : 1000 (IF), 1 : 1000 (WB)
Expected | apparent MW
98 kDa
Reactivity
Confirmed reactivity
Arabidopsis thaliana, Phaeodactylum tricornutum, Zea mays

Predicted reactivity
Brachypodium distachyon, Brassica napus, Brassica rapa subsp. pekinensis, Capsella rubella, Citrus clementina, Coffea canephora, Eutrema salsugineum, Glycine max, Glycine soja, Hordeum vulgare var. distichum, Medicago truncatula, Oryza sativa, Populus trichocarpa, Prunus persica, Ricinus communis, Solanum lycopersicum, Solanum tuberosum, Sorghum bicolor, Theobroma cacao, Triticum aestivum, Vitis vinifera, Zea mays,


Species of your interest not listed? Contact us
Not reactive in
Nicotiana tabacum, Microsporidia sp.
Application examples
Application examples
Application example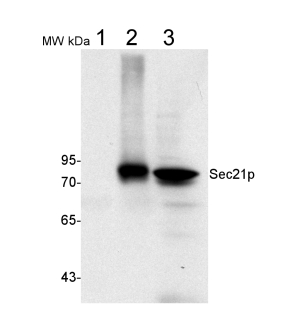 50 µg of total protein from (1) Nicotiana tabacum protoplast total protein, (2) Arabidopsis thaliana protoplast soluble protein, (3) Arabidopsis thaliana protoplast total protein were separated on 10 % SDS-PAGE and blotted 2h to nitrocellulose (Semi-dry, 200mA). Filters were blocked over night with 5% low-fat milk powder in TBS and probed with anti-Sec21p antibodies (AS08 327, 1:1000, 1h) and secondary anti-rabbit (1:20000, 1 h) antibody (HRP) in TBS-Tween. Signal was detected with chemiluminescent detection reagent, exposure time was 1 minute.

Protoplasts were extracted in 50mM Tris, 10 mM EDTA and Triton X100, 0.02%.
---
Immunofluorescence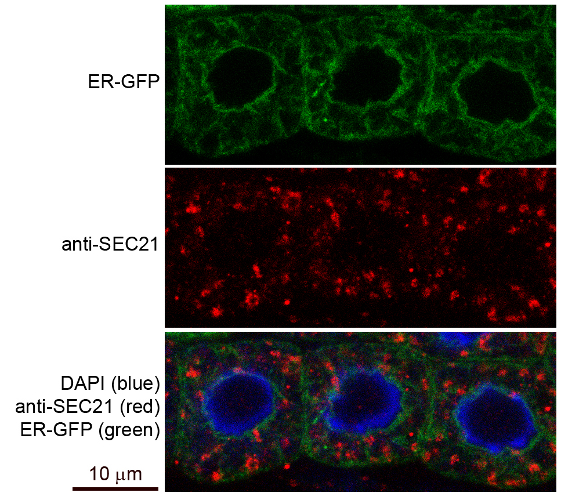 Immunofluorescence labelling of rabbit anti-SEC21 (gamma subunit of COP vesicles; red) in 5-day-old root epidermal cells of Arabidopsis thaliana expressing ER-mGFP5-HDEL (ER marker; green). The antibody was diluted 1:1000 and the secondary antibody, donkey anti-rabbit CY5-coupled (Jackson ImmunoResearch) was diluted 1:300. The nuclei were stained with DAPI (blue).
Courtesy of Dr. Anna Gustavsson and Dr. Markus Grebe, Umeå Plant Science Centre, Sweden
Additional information
Additional information
This product can be sold containing proclin if requested
This antibody can be used as a Golgi marker in immunolocalization and as a marker of COP1 in Western blot.


References describing immunolocalization (IF) and (IG) studies:
Pimpl et al (2000). In Situ Localization and in Vitro Induction of Plant COPI-Coated Vesicles. Plant Cell. 2000 Nov;12(11):2219-36.
Ritzenthaler et al. (2002). Reevaluation of the Effects of Brefeldin A on Plant Cells Using Tobacco Bright Yellow 2 Cells Expressing Golgi-Targeted Green Fluorescent Protein and COPI Antisera. Plant Cell. 2002 Jan;14(1):237-61.
Background
Background
Sec21p is a constituent of the COPI vesicle coatomer.
Product citations
Selected references
Hurny et al. (2020). SYNERGISTIC ON AUXIN AND CYTOKININ 1 Positively Regulates Growth and Attenuates Soil Pathogen Resistance. Nat Commun. 2020 May 1;11(1):2170. doi: 10.1038/s41467-020-15895-5. (immunolocalization)
Lupette et al. (2019). The architecture of lipid droplets in the diatom Phaeodactylum tricornutum. Algal Research Volume 38, March 2019, 101415.
Singh et al. (2018). A single class of ARF GTPase activated by several pathway-specific ARF-GEFs regulates essential membrane traffic in Arabidopsis. PLoS Genet. 2018 Nov 15;14(11):e1007795. doi: 10.1371/journal.pgen.1007795.
Kitakura et al. (2017). BEN3/BIG2 ARF GEF is Involved in Brefeldin A-Sensitive Trafficking at the trans-Golgi Network/Early Endosome in Arabidopsis thaliana. Plant Cell Physiol. 2017 Oct 1;58(10):1801-1811. doi: 10.1093/pcp/pcx118.
Nagel et al. (2017). Arabidopsis SH3P2 is an ubiquitin-binding protein that functions together with ESCRT-I and the deubiquitylating enzyme AMSH3. Proc Natl Acad Sci U S A. 2017 Aug 7. pii: 201710866. doi: 10.1073/pnas.1710866114.
Wang et al. (2016). Comprehensive proteomic analysis of developing protein bodies in maize (Zea mays) endosperm provides novel insights into its biogenesis. J Exp Bot. 2016 Dec;67(22):6323-6335. Epub 2016 Oct 27.
Wattelet-Boyer et al. (2016). Enrichment of hydroxylated C24- and C26-acyl- chain sphingolipids mediates PIN2 apical sorting at trans-Golgi network subdomains. Nat Commun. 2016 Sep 29;7:12788. doi: 10.1038/ncomms12788.
Derbyshire et al. (2015). Proteomic Analysis of Microtubule Interacting Proteins over the Course of Xylem Tracheary Element Formation in Arabidopsis. Plant Cell. 2015 Oct 2. pii: tpc.15.00314.
Tanaka et al. (2013). Cell Polarity and Patterning by PIN Trafficking through Early Endosomal Compartments in Arabidopsis thaliana. PLoS Genet. May;9(5). (immunolocalization).
Hopff et al. (2013). The plasma membrane proteome of maize roots grown under low and high iron conditions. J Proteomics Jan 24.
Pimpl et al (2000). In situ localization and in vitro induction of plant COPI-coated vesicles. Plant Cell. 2000 Nov;12(11):2219-36.

Related products: Sec21p | Gamma subunit, COP vesicles