BRI1 | Brassinosteroid insensitive 1
AS12 1859 | Clonality: Polyclonal | Host: Rabbit | Reactivity: Arabidopsis thaliana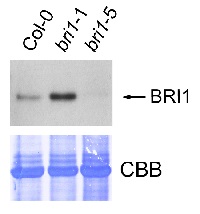 DATA SHEET IN PDF
Product Information
Immunogen
KLH-conjugated synthetic peptide derived from Arabidopsis thaliana BRI1 protein, Uniprot: O22476, TAIR: AT4G39400
Purity
Immunogen affinity purified serum in PBS pH 7.4.
Reconstitution
For reconstitution add 50 ĩl of sterile water
Storage
Store lyophilized/reconstituted at -20°C; once reconstituted make aliquots to avoid repeated freeze-thaw cycles,Please remember to spin the tubes briefly prior to opening them to avoid any losses that might occur from material adhering to the cap or sides of the tube.
Tested applications
Immunoprecipitation (IP), Western blot (WB)
Recommended dilution
1 : 5000 (WB)
Expected | apparent MW
above 130 kDa (due to N-glycosylation)
Reactivity
Confirmed reactivity
Arabidopsis thaliana
Predicted reactivity
Brassica napus, Brassica rapa
Species of your interest not listed? Contact us
Not reactive in
Hordeum vulgare, Oryza sativa, Solanum lycopersicum

Application examples
Application examples
Application example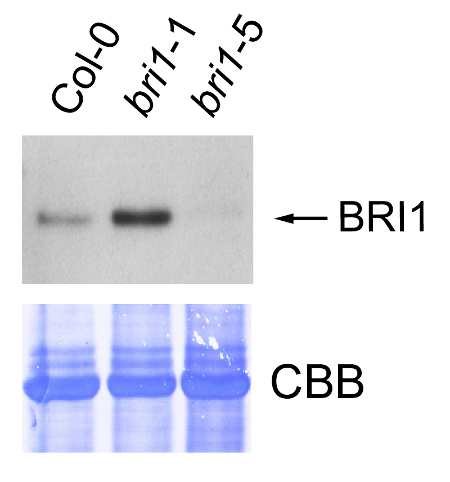 15 µg of total protein from leaf material of 5 week-old plants of Arabidopsis thaliana, were extracted with homogenization buffer (250 mM sucrose, 50 mM HEPES-KOH pH 7.5, 5% glycerol, 0.5% Triton X-100, 50 mM Na4P2O7, 1 mM Na2MoO4, 25 mM NaF, 2 mM DTT, Sigma plant protease inhibitor cocktail). 3 parts of protein extract were mixed with 1 part of standard SDS loading buffer (200 mM TRIS pH=6.8, 400 mM DTT, 8% SDS, 40% glycerol, 0.1% bromophenol blue). Protein denaturation was done at 90°C/5 min. Proteins were separated on a 10 % SDS-PAGE and blotted using BioRad Tank Blot device onto a PVDF membrane at 100 V for 1 h 15 using following blotting buffer: 50 mM TRIS-base, 50 mM boric acid of pH of 8.3. Blots were blocked with TBS-T (150mM NaCl, 10mM Tris-HCl pH8, 0.05% Tween-20) containing 5% skimmed milk powder for 1h at room temperature (RT) with agitation. The blot was incubated in the primary antibody at a dilution of 1: 5 000 in TBS-T with milk powder overnight at 4°C with agitation. The antibody solution was decanted and the blot was rinsed briefly twice, then washed 5 times for 15 min in TBS-T (with milk powder) at RT with agitation. The blot was then incubated in secondary antibody (Agrisera Goat anti-rabbit IgG (H&L) HRP conjugate, AS09 602) diluted to 1:5000 in TBS-T (with milk powder) for 2h at RT with agitation. The blot was washed 5 times for 15 min in TBS-T (without milk powder) and developed using chemiluminescent detection. Exposure time was 3 minutes.



Courtesy of Dr. Elena Petusching, Georg-August-University Goettingen, Germany

Reactant: Arabidopsis thaliana (Thale cress)
Application: Western Blotting
Pudmed ID: 31519953
Journal: Nat Commun
Figure Number: 7A,B
Published Date: 2019-09-13
First Author: Chen, W., Lv, M., et al.
Impact Factor: 13.783
Open Publication
BES1 can be activated by the EMS1-TPD1-SERK1/2 signaling pathway. a Immunoblotting analyses using transgenic plants harboring pBRI1::TPD1(TPD1), pBRI1::EMS1-GFP(EMS1), or both in Col-0 indicated that the expression of TPD1 and EMS1 can lead to the accumulation of non-phosphorylated BES1. b The TPD1- and EMS1-induced accumulation of non-phosphorylated BES1 is independent of the BR signaling. Homemade anti-BES1 antibody was used to detect phosphorylated (p-BES1) or non-phosphorylated BES1 (BES1). bes1-c1, bes1-c2 bzr1-c1 were used as negative controls for the anti-BES1 antibody. Coomassie Brilliant Blue stained rubisco protein was used as a loading control. EMS1-GFP and BRI1 immunoblotting analyses were carried out by using anti-GFP or anti-BRI1 antibody to confirm the accumulation of EMS1-GFP and the bri1-116 background, respectively. c, d Nuclear localization of BES1 or BZR1 in the somatic cell layer closest to the microsporocytes is partially dependent on the presence of EMS1. Scale bars represent 20??m
Additional information
Additional information
This product can be sold containing proclin if requested
Antibody was tested on bri1-1 and bri1-5 mutants. Bri1-1 is a point mutation in the kinase domain that renders the protein non-functional and plants compensate for that by over-accumulating the non-functional receptor. Bri1-5 is a mutant in the extracellular domain and the bri1-5 protein is retained in the ER. The bri1-5 plants contain less protein than the wild type and show an intermediate brassinosteroid deficient phenotype. Also BRI1-5 migrates higher than wild type BRI1 in SDS-PAGE, because it carries ER-type high mannose N-glycans.  

For IP: 15 µl GFP-trap beads was used for 200 mg plant material to precipitate GFP-tagged protein followed by detection with Co-IPed BRI1 on Western with 1:5000 diluted anti-BRI1 antibody.

Protein extraction has to be done efficiently as this step is crucial, recommended material to buffer ratio: 15 µl/µg or less.
Background
Background
BRI1 (Protein BRASSINOSTEROID INSENSITIVE 1) is a receptor which binds brassinolide and has a dual specificity kinase activity acting on both serine/threonine- and tyrosine-containing substrates. Involved in a signaling cascade including expression of light- and stress-regulated genes, promotion of cell elongation, normal leaf and chloroplast senescence, and flowering. Alternative names:BRI1, BRASSINOSTEROID INSENSITIVE 1, CBB2, CABBAGE 2, DWF2, DWARF 2, BIN1, BR INSENSITIVE 1, ATBRI1, Brassinosteroid LRR receptor kinase
Product citations
Selected references
Lee et al (2021). Chaperone-like protein DAY plays critical roles in photomorphogenesis. Nat Commun. 2021 Jul 7;12(1):4194. doi: 10.1038/s41467-021-24446-5. PMID: 34234144; PMCID: PMC8263706.
Chen et al. (2019). BES1 is activated by EMS1-TPD1-SERK1/2-mediated signaling to control tapetum development in Arabidopsis thaliana. Nat Commun. 2019 Sep 13;10(1):4164. doi: 10.1038/s41467-019-12118-4.
Hou et al. (2019). Less Conserved LRRs Is Important for BRI1 Folding. Front Plant Sci. 2019 May 21;10:634. doi: 10.3389/fpls.2019.00634. eCollection 2019.
Chen et al. (2019). BZR1 Family Transcription Factors Function Redundantly and Indispensably in BR Signaling but Exhibit BRI1-Independent Function in Regulating Anther Development in Arabidopsis. Mol Plant. 2019 Jun 20. pii: S1674-2052(19)30207-2. doi: 10.1016/j.molp.2019.06.006.

Related products: BRI1 | Brassinosteroid insensitive 1