PR-3 / CHN | Class I chitinase
AS07 207  |  Clonality: Polyclonal  |  Host: Rabbit  |  Reactivity: A. stolonifera cv. 'Penncross', C. annuum, N. tabacum, P. abies, S. esculentum, S. lycopersicum, S. tuberosum, V. vinifera | Cellular marker of vacuolar contents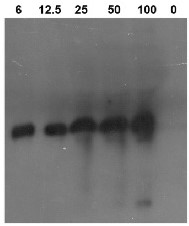 DATA SHEET IN PDF
Product Information
Immunogen
Purified tobacco class I chitinase. The preparation used is a mixture of two class I isoforms (Shinshi et al., 1990; van Buuren et al., 1992): 1) Chitinase A (CHN A) P08252 encoded by gene chn48 derived from the N. tomentosiformis ancestor of tobacco. 2) Chitinase B (CHN B) P24091 encoded by gene chn50 derived from the N. sylvestris ancestor of tobacco.
Purity
Total IgG. Protein G purified in PBS pH 7.4.
Reconstitution
For reconstitution add 100 ĩl of sterile water
Storage
Store lyophilized/reconstituted at -20°C; once reconstituted make aliquots to avoid repeated freeze-thaw cycles. Please remember to spin the tubes briefly prior to opening them to avoid any losses that might occur from material adhering to the cap or sides of the tube.
Tested applications
Co-Immunoprecipitation (IP) (Co-IP), Immunolocalization (IL), Western blot (WB)
Recommended dilution
8 µg/ml (WB)
Expected | apparent MW
35, 34 | 32 and 34 kDa
Reactivity
Confirmed reactivity
Agostis stolonifera

 
cv. 'Penncross', 
Capsicum annuum, Nicotiana tabacum, Picea abies, Solanum esculentum, Solanum lycopersicum, Solanum tuberosum, Vitis vinifera

Predicted reactivity
Arabidopsis thaliana, Manihot esculenta, Zea mays
Species of your interest not listed? Contact us
Not reactive in
No confirmed exceptions from predicted reactivity are currently known
Application examples
Application examples
Application example

Detection of tobacco chitinase I in ng loaded per respective well using anti-tobacco chitinase I antibodies. Primary antibodies have been used at 8 µg/ml.
Additional information
Additional information
Antibody is recognizing closely related tobacco class I isoforms: endochitinase A CHN-A (ca. 34 kDa) and endochitinase B CHN-B (ca. 32 kDa)
This antibody can be used as a marker of vacuolar contents
Keefe
et al. (1990). The effect of ethylene on the cell-type-specific and intracellular localization of β-1,3-glucanase and chitinase in tobacco leave. Plant 182: 43-51. 
Important note: For blocking 5 % skim milk in PBS without Ca++ should be used,This antibody is purified by affinity chromarography on Portein G
Background
Background
Pathogenesis-related (PR) proteins, are induced in response to the infection of plants with microbial pathogens. Combinations of glucanase I and chitinase I are potent inhibitors of fungal growth in vitro however precise mechanism of that is still not known.  Glucanase I  (PR-2) and chitinase I (PR-3) contribute to defense against fungal infection and are currently used as markers for innate immunity, and in particular the ethylene/jasmonate signalling pathway in pathogenesis.
Product citations
Selected references
Mansilla et al. (2020).- Characterization of functionalized bentonite as nanocarrier of salicylic acid with protective action against Pseudomonas syringae in tomato plants. Eur J Plant Pathol 158, 211?222 (2020). https://doi.org/10.1007/s10658-020-02067-w
Colman et al. (2019). Chitosan microparticles improve tomato seedling biomass and modulate hormonal, redox and defense pathways. Plant Physiology and Biochemistry Volume 143, October 2019, Pages 203-211.
Kumari et al. (2017), Overexpression of a Plasma Membrane Bound Na+/H+ Antiporter-Like Protein (SbNHXLP) Confers Salt Tolerance and Improves Fruit Yield in Tomato by Maintaining Ion Homeostasis. Front Plant Sci. 2017 Jan 6;7:2027. doi: 10.3389/fpls.2016.02027.
Jespersen et al. (2017). Metabolic Effects of Acibenzolar-S-Methyl for Improving Heat or Drought Stress in Creeping Bentgrass. Front Plant Sci. 2017 Jul 11;8:1224. doi: 10.3389/fpls.2017.01224. eCollection 2017. (western blot, Agostis stolonifera cv. ?Penncross?)
Ko et al. (2016). Constitutive expression of a fungus-inducible carboxylesterase improves disease resistance in transgenic pepper plants. Planta. 2016 Aug; 244(2):379-92. doi: 10.1007/s00425-016-2514-6. Epub 2016 Apr 13.
Anil Kumar et al. (2016). Beyond just being foot soldiers ? osmotin like protein (OLP) and chitinase (Chi11) genes act as sentinels to confront salt, drought, and fungal stress tolerance in tomato. Environmental and Experimental Botany 132 (2016) 53?65
Wu et al. (2016). Laminarin modulates the chloroplast antioxidant system to enhance abiotic stress tolerance partially through the regulation of the defensin-like gene expression. Plant Science, Volume 247, June 2016, Pages 83?92.
Falcioni et al. (2013). Effect of salicylic acid treatment on tomato plant physiology and tolerance to potato virus X infection. Eur J Plant Pathol DOI 10.1007/s10658-013-0333-1.
Munger et al. (2012). Beneficial 'unintended effects' of cereal cystatin in transgenic lines of potato, Solanum tuberosum. BMC Plant Biology, 12:198.
Sticher et al. (1993). Posttranslational processing of a new class of hydroxyproline-containing proteins: Prolyl hydroxylation and C-terminal cleavage of tobacco (Nicotiana tabacum) vacuolar chitinase. Plant Physiol. 101, 1239-1247.
Related products: PR-3 / CHN | Class I chitinase