CNX1/2 | CALNEXIN HOMOLOG 1/2
AS12 2365 | Clonality: Polyclonal | Host: Rabbit | Reactivity: Arabidopsis thaliana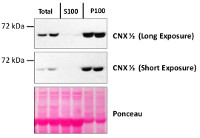 DATA SHEET IN PDF
Product Information
Immunogen
KLH-conjugated synthetic peptide derived from Arabidopsis thaliana  CNX1 UniProt: P29402 TAIR: AT5G61790, CNX2 UniProt: Q38798, TAIR: AT5G07340. This peptide is NOT present in calreticulins.
Purity
Immunogen affinity purified serum in PBS pH 7.4.
Storage
Aliquite upon arrival to avoid repeated freeze-thaw cycles and store -20°C; Please remember to spin the tubes briefly prior to opening them to avoid any losses that might occur from material adhering to the cap or sides of the tube.
Tested applications
Western blot (WB)
Recommended dilution
1 : 2500 (WB)
Expected | apparent MW
CNX1 60.5 kD, processing aa 1-20, mature peptide 58.1 kD

CNX2 60.5/61.4 kD, processing aa 1-25, mature peptides 57.6/58.6 kD
Reactivity
Confirmed reactivity
Arabidopsis thaliana, Nicotiana tabacum, Petunia hybrida, Solanum lycopersicum

Predicted reactivity
Brassica napus, Coccomyxa suellipsoidea, Hordeum vulgare, Glycine max, Medicago truncatula,  Oryza sativa, Petunia inflata, Physcomitrium patens, Picea sitcHensis, Pisum sativum, Populus trichocarpa, Ricinus communis, Stereum hirsutum, Zea mays, Vitis vinifera
Species of your interest not listed? Contact us
Not reactive in
Chlamydomonas reinhardtii
Application examples
Application examples
Application example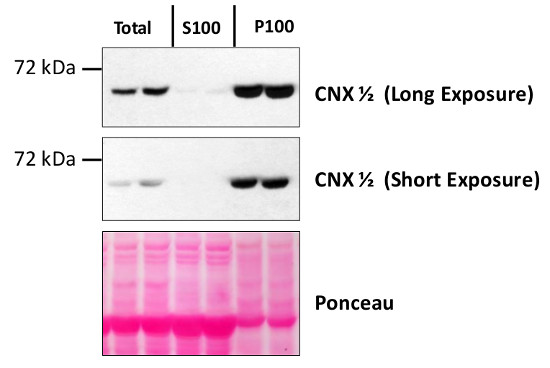 Total protein from Col-0 (wild-type)
Arabidopsis thaliana
were extracted with 50mM HEPES-KOH buffer containing 250 mM sucrose, 5% glycerol, 50 mM NaPP, 1 mM NaMo, 25 mM NaF, 10mM EDTA, 0.5% PVP, 3mM DTT, 1mM PMSF, 10uM Leupeptin & 10nM Calyculin, and then fractionated by ultracentrifugation at 100,000 x gravity for 30 min at 4°C into soluble (S100) and microsomal (P100) proteins as described in
LaMontagne
et al. (2016). Isolation of Microsomal Membrane Proteins from Arabidopsis thaliana. Current Protocols in Plant Biology 1:1-18. doi: 10.1002/cppb.20020. 30 µg proteins of total, S100 and P100 fractions were denatured at 37°C for 5 min, separated on a 7.5 % SDS-PAGE and blotted 1h to nitrocellulose using tank transfer. Blots were blocked with 1x PBS (from Fisher Scientific BP665-1) + 0.1 %Tween 20 (PBS-T) + 5% milk for 1h at room temperature (RT) with agitation. Blot was incubated in the primary antibody at a dilution of 1: 2500 overnight at 4°C with agitation in 1x PBS-T + 5% milk. The antibody solution was decanted, and the blot was rinsed briefly once, then washed four times for 7 min in 1x PBS-T at RT with agitation. Blot was incubated in secondary antibody (anti-rabbit IgG horse radish peroxidase conjugated) diluted to 1:10 000 in 1x PBS-T + 5% milk for 2 hrs at RT with agitation. The blot was washed as above and developed for 4 min with Amersham ECL (RPN2106). Exposure time was 30 seconds and 2 min
Courtesy of Erica LaMontagne & Dr. Antje Heese (Division of Biochemistry, Interdisciplinary Plant Group (IPG) - University of Missouri; Columbia, MO, USA)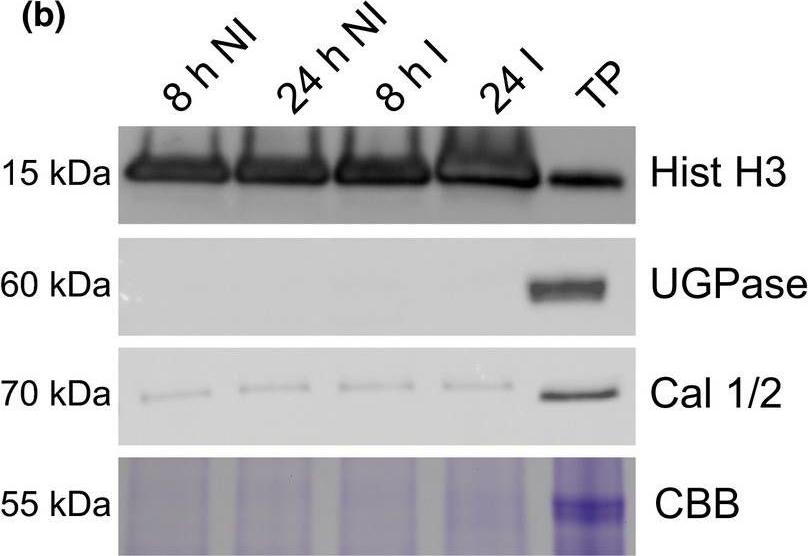 Reactant: Nicotiana benthamiana
Application: Western Blotting
Pudmed ID: 28394025
Journal: New Phytol
Figure Number: 1B
Published Date: 2017-07-01
First Author: Howden, A. J. M., Stam, R., et al.
Impact Factor: 7.96
Open Publication
A simple workflow combining nuclear enrichment with quantitative mass spectrometry allows the study of host nuclear processes during infection. (a) Method overview. Detached leaves from 4?wk?old tomato plants were spray?inoculated with Phytophthora capsici zoospores at a concentration of 500 000 spores ml?1, or water as a control (i). Leaves were harvested 8 and 24 h post?infection and subject to nuclear enrichment (ii). Nuclear protein extracts were generated and fractionated in?gel and digested with trypsin (iii). Peptide samples were subjected to liquid chromatography?tandem mass spectrometry (LC?MSMS) analysis and peptide identification and label?free quantification was carried out using the maxquant and perseus software packages, to identify proteins that were differentially expressed during infection. Nuclear predictions were performed using prediction software on our in?house Galaxy server as described in the Methods. Subsequent data filtering was completed using the r software package (iv and v). Three independent biological replicates were generated. I, infected samples; NI, noninfected samples (v). (b) Successful enrichment of nuclear proteins demonstrated by western blotting with anti?histone H3 antibody and subcellular markers. Protein extracts from enriched nuclear samples were compared to a total protein extract (TP) from tomato leaves. Protein concentrations were adjusted for equal loading. Nonnuclear contamination was assessed by probing with anti?UDP?glucose pyrophosphorylase (UGPase) antibody (cytoplasm) and calnexin homologue 1/2 antibody (endoplasmic reticulum). Samples were also run on gels and stained with Coomassie brilliant blue (CBB) to assess protein loading and Rubisco abundance. The figure shows the results from a single biological replicate. Blots for all three replicates are provided in Supporting Information Fig. S2.
Additional information
Antibody can be used as a marker of microsmal membrane
Background
Background
CNX1/2 (calnexin homolog 1/2) is a calcium-binding protein involved in protein folding. It interacts with newly synthesized glycoproteins in the endoplasmic reticulum.
Product citations
Selected references
Ekanayake et al. (2021) A. DYNAMIN-RELATED PROTEIN DRP1A functions with DRP2B in plant growth, flg22-immune responses, and endocytosis. Plant Physiol. 2021 Feb 3:kiab024. doi: 10.1093/plphys/kiab024. Epub ahead of print. PMID: 33564884.
Ekanayake et al. (2021) A. DYNAMIN-RELATED PROTEIN DRP1A functions with DRP2B in plant growth, flg22-immune responses, and endocytosis. Plant Physiol. 2021 Feb 3:kiab024. doi: 10.1093/plphys/kiab024. Epub ahead of print. PMID: 33564884.
Kramer et al. (2020). N6-methyladenosine and RNA secondary structure affect transcript stability and protein abundance during systemic salt stress in Arabidopsis. Plant Direct . 2020 Jul 24;4(7):e00239.doi: 10.1002/pld3.239.
Collins et al. (2020). EPSIN1 Modulates the Plasma Membrane Abundance of FLAGELLIN SENSING2 for Effective Immune Responses . Plant Physiol. 2020 Feb 24. pii: pp.01172.2019. doi: 10.1104/pp.19.01172
Butler et al. (2019). Soybean resistance locus Rhg1 confers resistance to multiple cyst nematodes in diverse plant species. Phytopathology. 2019 Aug 12. doi: 10.1094/PHYTO-07-19-0225-R.
Howden et al. (2017), Quantitative analysis of the tomato nuclear proteome during Phytophthora capsici infection unveils regulators of immunity. New Phytol. 2017 Jul;215(1):309-322. doi: 10.1111/nph.14540.
Foley et al. (2017). A Global View of RNA-Protein Interactions Identifies Post-transcriptional Regulators of Root Hair Cell Fate.Dev Cell. 2017 Apr 24;41(2):204-220.e5. doi: 10.1016/j.devcel.2017.03.018.
LaMontagne et al. (2016). Isolation of Microsomal Membrane Proteins from Arabidopsis thaliana. Curr. Protoc. Plant Biol. 1:217-234. doi: 10.1002/cppb.20020.
Related products: CNX1/2 | CALNEXIN HOMOLOG 1/2