SMT1 | Sterol methyltransferase 1
AS07 266  |  Clonality: Polyclonal  |  Host: Rabbit  |  Reactivity: Arabidopsis thaliana | Marker antibody of integral ER membrane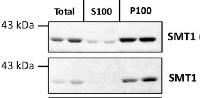 DATA SHEET IN PDF
Product Information
Immunogen
KLH-conjugated synthetic peptide derived from Arabidopsis thaliana SMT1 UniProt: Q9LM02, TAIR: At5g13710
Purity
Affinity purified IgG
Reconstitution
For reconstitution add 100 ĩl of sterile water
Storage
Store lyophilized/reconstituted at -20C; once reconstituted make aliquots to avoid repeated freeze-thaw cycles, Please, remember to spin tubes briefly prior to opening them to avoid any losses that might occur from lyophilized material adhering to the cap or sides of the tubes
Tested applications
Immunolocalization (IL), Western blot (WB)
Recommended dilution
1 : 50-1 : 100 (IL), 1 : 500-1 : 1000 (WB)
Expected | apparent MW
38 kDa
Reactivity
Confirmed reactivity
Arabidopsis thaliana
Predicted reactivity
Amborella trichopoda, Brassica napus, Brassica rapa, Capsella rubella, Citrus clementina, Eutrema salsugineum, Glycine max, Glycine soja, Gossypium mexicanum, Medicago truncatula, Populus trichopocarpa, Prunus persica, Ricinus communis, Theobroma cacao, Vitis vinifera
Species of your interest not listed? Contact us
Not reactive in
Hordeum vulgare, Triticum aestivum, Withania somnifera

Application examples
Application examples
Application example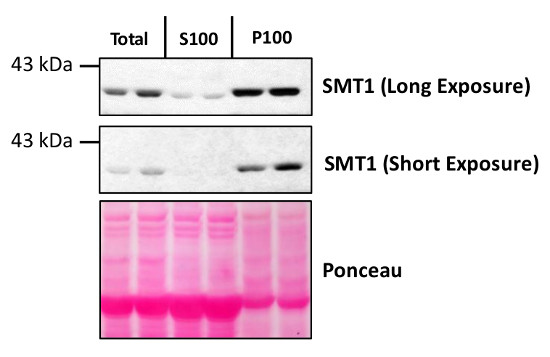 Total protein from Col-0 (wild-type)
Arabidopsis thaliana
were extracted with 50mM HEPES-KOH buffer containing 250 mM sucrose, 5% glycerol, 50 mM NaPP, 1 mM NaMo, 25 mM NaF, 10mM EDTA, 0.5% PVP, 3mM DTT, 1mM PMSF, 10uM Leupeptin & 10nM Calyculin, and then fractionated by ultracentrifugation at 100,000 x gravity for 30 min at 4°C into soluble (S100) and microsomal (P100) proteins as described in
LaMontagne et al
. (2016). Isolation of Microsomal Membrane Proteins from Arabidopsis thaliana. Current Protocols in Plant Biology 1:1-18. doi: 10.1002/cppb.20020. 30 µg proteins of total, S100 and P100 fractions were denatured at 37°C for 5 min, separated on a 7.5 % SDS-PAGE and blotted 1h to nitrocellulose using tank transfer. Blots were blocked with 1x PBS (from Fisher Scientific BP665-1) + 0.1 %Tween 20 (PBS-T) + 5% milk for 1h at room temperature (RT) with agitation. Blot was incubated in the primary antibody at a dilution of 1: 1000 overnight at 4°C with agitation in 1x PBS-T + 5% milk. The antibody solution was decanted and the blot was rinsed briefly once, then washed four times for 7 min in 1x PBS-T at RT with agitation. Blot was incubated in secondary antibody (anti-rabbit IgG horse radish peroxidase conjugated) diluted to 1:10 000 in 1x PBS-T + 5% milk for 2 hrs at RT with agitation. The blot was washed as above and developed for 4 min with chemiluminescent detection reagent. Exposure time was 30 seconds and 2 min.
Courtesy of Erica LaMontagne & Dr. Antje Heese (Division of Biochemistry, Interdisciplinary Plant Group (IPG) - University of Missouri; Columbia, MO, USA)
Additional information
Additional information
SMT1 is an integral membrane protein of ER (Boutte et al., 2009) while BiP is a membrane associated protein.

Endogenous SMT1 is expressed at very low levels in root epidermis and root cap as compare to cortex and endodermis and therefore this can contribute to SMT1 detection problems.
SMT1 antibody characterization in Western Blot and immunofluorescence labeling:
Boutté
Y et al. (2010). Endocytosis restricts Arabidopsis KNOLLE syntaxin to the cell division plane during late cytokinesis. EMBO J. 29, 5465-5458.
Background
Background
SMT1 (EC=2.1.1.41) is an enzyme involved in steroid biosynthesis localized specific to the Endoplasmic Reticulum (ER), Boutte et al., 2009 . It is catalyzing the methyl transfer from S-adenosyl-methionine to the C-24 of cycloartenol to form 24-methylene cycloartenol. The protein is highly expressed in vascular tissue, mature leaves and in regions undergoing cellular expansion. Alternative names: Cycloartenol-C-24-methyltransferase, 24-sterol C-methyltransferase 1, Protein STEROL METHYLTRANSFERASE 1, Protein CEPHALOPOD
Product citations
Selected references
Ming-fang et al. (2021) Improved quantification of immune-gold labeling and its use to compare the distribution of cellular factors among sub-chloroplast compartments,Micron,2021,103060,ISSN 0968-4328,https://doi.org/10.1016/j.micron.2021.103060.
Laohavisit (2020). Quinone perception in plants via leucine-rich-repeat receptor-like kinases. Nature. 2020 Nov;587(7832):92-97. doi: 10.1038/s41586-020-2655-4. Epub 2020 Sep 2. PMID: 32879491.
Collins et al. (2020). EPSIN1 Modulates the Plasma Membrane Abundance of FLAGELLIN SENSING2 for Effective Immune Responses . Plant Physiol. 2020 Feb 24. pii: pp.01172.2019. doi: 10.1104/pp.19.01172
Yang et al. (2016). Arabidopsis PROTEASOME REGULATOR1 is required for auxin-mediated suppression of proteasome activity and regulates auxin signalling. Nat Commun. 2016 Apr 25;7:11388. doi: 10.1038/ncomms11388.
LaMontagne et al. (2016). Isolation of Microsomal Membrane Proteins from Arabidopsis thaliana. Curr. Protoc. Plant Biol. 1:217-234. doi: 10.1002/cppb.20020.
Yoshimoto et al. (2014). Quality control of plant peroxisomes in organ specific manner via autophagy. J cell Science, August 1, 2014, 127 (15).

Related products: SMT1 | Sterol methyltransferase 1