BiP | Lumenal-binding protein (rabbit antibody)
AS09 481 | Clonality: Polyclonal | Host: Rabbit | Reactivity: A. thaliana, B. napus, Chara australis,  C. reinhardtii, C. sativus, M. perniciosa, N. benthamiana, N. tabacum, R. sativa, L.Tokinashi-daikon, O. europaea, O. sativa, P. abies, P. patens, S. oleracea, S. lycopersicum, S. tuberosum, T. aestivum, Z. mays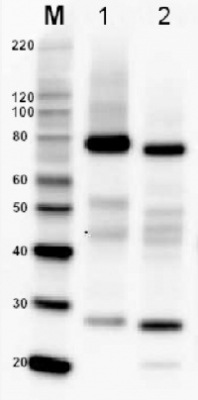 DATA SHEET IN PDF
Product Information
Purity
Immunogen affinity purified serum in PBS pH 7.4.
Reconstitution
For reconstitution add 50 ĩl of sterile water
Storage
Store lyophilized/reconstituted at -20°C; once reconstituted make aliquots to avoid repeated freeze-thaw cycles. Please remember to spin the tubes briefly prior to opening them to avoid any losses that might occur from material adhering to the cap or sides of the tube.
Tested applications
ELISA (ELISA), Immunofluorescence (IF), Immunogold (IG), Western blot (WB)
Recommended dilution
1 : 8000 (ELISA), 1 : 600 (IF), 1 : 2000 (WB)
Expected | apparent MW
73,5 | 80 kDa
Reactivity
Confirmed reactivity
Anacardium occidentale, Arabidopsis thaliana, Brassica napus,Chara australis R.Br, Chlamydomonas reinhardtii, Cucumis sativus, Mangifera indica, Moniliophthora perniciosa, Nicotiana benthamiana, Nicotiana tabacum, Raphanus sativa L. Tokinashi-daikon, Olea europaea, Oryza sativa, Picea abies, Pistachio sp., Physcomitrium patens, Schinus molle, Spinacia oleracea, Solanum lycopersicum, Solanum tuberosum, Triticum aestivum, Zea mays
Predicted reactivity
Arabis alpina, Capsella rubella, Capsicum annuum, Citrus clementina, Citrus sinsensis, Eucalyptus grandis, Glycine max, Hordeum vulgare, Isatis tincorina, Prunus persica, Triticum aestivium, Petunia hybrida, Picea sitcHensis, Populus trichocarpa, Ricinus comminus, Vitis vinifera
Species of your interest not listed? Contact us
Not reactive in
Ostreococcus tauri
Application examples
Application examples
Western blot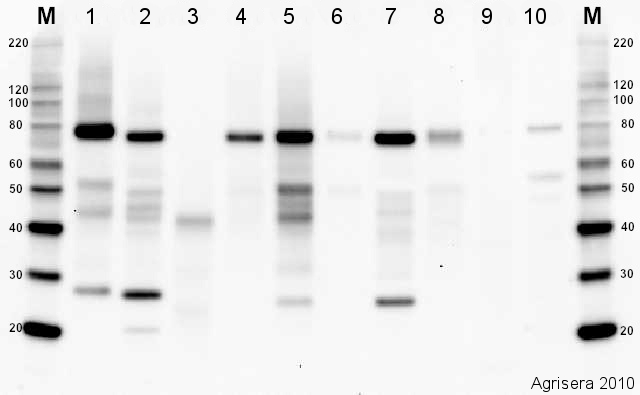 5 µg of total protein from A.thaliana (1), H. vulgare (2), P. sativum (3)*, Z. mays (4), C. sativus(5), S. tuberosum (6), S. oleracea (7), S. lycopersicum (8) P. patens (9)*, C. reinhardtii (10)  extracted with Agrisera PEB extraction buffer (AS08 300) were separated on  4-12% SDS-PAGE and blotted 1h to PVDF. Blots were blocked immediately following transfer in 5 % non-fat milk in TBS-T,  for 1h at room temperature with agitation. Blots were incubated in the primary antibody at a dilution of 1: 10 000 for 1h at room temperature with agitation. The antibody solution was decanted and the blot was rinsed briefly twice, then washed once for 15 min and 3 times for 5 min in TBS-T at room temperature with agitation. Blots were incubated in secondary antibody (anti-rabbit IgG horse radish peroxidase conjugated, from  Agrisera AS09 602) diluted to 1:50 000  for 1h at room temperature with agitation. The blots were washed as above and developed for 5 min with ECL  detection reagent of extreme femtogram range, according to the manufacturers instructions.  Exposure time was 5 seconds. * Lack of the signal or its low signal intensity in those samples can be due to the sample biology. If you work with those species, please inquire.
---
Immunolocalization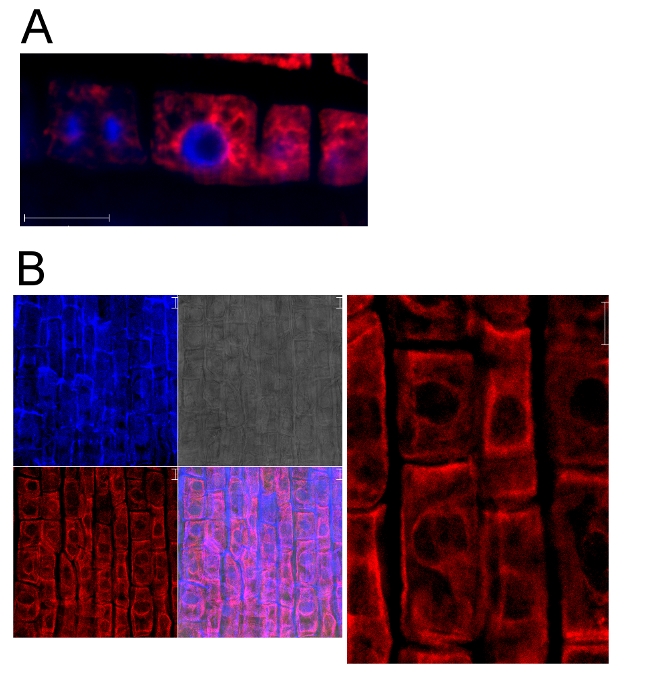 BiP localization in 5 days old Arabidopsis thaliana roots (A), 3 days old Triticum aestivum roots (B).
BiP signal shown in red, DAPI in blue. The material has been fixed in para-formaldehyde for 30 minutes. Tissue cleaning has been performed before immunolocalization. Rabbit anti-BiP primary antibody diluted in 1: 600 and ALEXA 555 conjugated anti-rabbit secondary antibody (red color) have been used. Co-staining with DAPI visualized nucleus (blue color).  Scale bar – 10 µm.
Courtesy Dr. Taras Pasternak, Freiburg University, Germany
Additional information
Protein or membrane sample should be treated at 70°C for 10 min before loading on the gel, This antibody has so far not worked in IP
Background
Background
BiP2 (Binding immunoglobulin protein) is localized in endoplasmic reticulum lumen (ER) and plays a role in protein assembly inside ER.  BiP protein is abundant under all growth conditions but its synthesis can increase under conditions that lead to the accumulation of unfolded polypeptides in endoplasmic reticulum (ER).
Product citations
Selected references
Gu et al. (2021) A Lipid Bodies-Associated Galactosyl Hydrolase Is Involved in Triacylglycerol Biosynthesis and Galactolipid Turnover in the Unicellular Green Alga Chlamydomonas reinhardtii
Dittmer, Kleine, & Schwenkert. (2021) The TPR- and J-domain-containing proteins DJC31 and DJC62 are involved in abiotic stress responses in Arabidopsis thaliana. J Cell Sci. 2021 Oct 1;134(19):jcs259032. doi: 10.1242/jcs.259032. Epub 2021 Oct 12. PMID: 34515300.
Shteinberg et al. (2021) Tomato Yellow Leaf Curl Virus (TYLCV) Promotes Plant Tolerance to Drought. Cells. 2021 Oct 25;10(11):2875. doi: 10.3390/cells10112875. PMID: 34831098; PMCID: PMC8616339.
Mishra et al. (2021) Interplay between abiotic (drought) and biotic (virus) stresses in tomato plants. Mol Plant Pathol. 2021 Dec 30. doi: 10.1111/mpp.13172. Epub ahead of print. PMID: 34970822.
Yang et al. (2020). PROTEIN PHOSPHATASE 95 Regulates Phosphate Homeostasis by Affecting Phosphate Transporter Trafficking in Rice. Plant Cell. 2020 Jan 9. pii: tpc.00685.2019. doi: 10.1105/tpc.19.00685.
Jang et al. (2020). 1Molecules and CellsCrABCA2 Facilitates Triacylglycerol Accumulation in Chlamydomonas reinhardtii under Nitrogen Starvation. Mol Cells. 2020 Jan 31;43(1):48-57. doi: 10.14348/molcells.2019.0262.
Hurny et al. (2020). SYNERGISTIC ON AUXIN AND CYTOKININ 1 Positively Regulates Growth and Attenuates Soil Pathogen Resistance. Nat Commun. 2020 May 1;11(1):2170. doi: 10.1038/s41467-020-15895-5. (immunolocalization)
Dalmadi et al. (2019). AGO-unbound cytosolic pool of mature miRNAs in plant cells reveals a novel regulatory step at AGO1 loading. Nucleic Acids Res. 2019 Aug 8. pii: gkz690. doi: 10.1093/nar/gkz690.
Feng et al. (2019). Analyses of transgenic fibroblast growth factor 21 mature rice seeds. J-STAGe, Online ISSN : 1347-3735.
Mares et al. (2020). Hydrosoluble phylloplane components of Theobroma cacao modulate the metabolism of Moniliophthora perniciosa spores during germination.Fungal Biol. 2020 Jan;124(1):73-81. doi: 10.1016/j.funbio.2019.11.008.
Zhang et al. (2019) Arabinosyl Deacetylase Modulates the Arabinoxylan Acetylation Profile and Secondary Wall Formation. Plant Cell. 2019 May;31(5):1113-1126. doi: 10.1105/tpc.18.00894. Epub 2019 Mar 18. PMID: 30886126; PMCID: PMC6533017.
Bastiaan-Net et al. (2018). IgE Cross-Reactivity of Cashew Nut Allergens. Int Arch Allergy Immunol. 2018 Oct 26:1-14. doi: 10.1159/000493100.
Wang et al. (2018). Resistance protein Pit interacts with the GEF OsSPK1 to activate OsRac1 and trigger rice immunity. Proc Natl Acad Sci U S A. 2018 Nov 16. pii: 201813058. doi: 10.1073/pnas.1813058115.
Pertl-Obermeyer et al. (2018). Dissecting the subcellular membrane proteome reveals enrichment of H+ (co-)transporters and vesicle trafficking proteins in acidic zones of Chara internodal cells. PLoS One. 2018 Aug 29;13(8):e0201480. doi: 10.1371/journal.pone.0201480.
Qiao et al. (2018). Two Crinivirus-Conserved Small Proteins, P5 and P9, Are Indispensable for Efficient Lettuce infectious yellows virus Infectivity in Plants. Viruses. 2018 Aug 28;10(9). pii: E459. doi: 10.3390/v10090459.
Mares et al. (2017). Proteomic analysis during of spore germination of Moniliophthora perniciosa, the causal agent of witches' broom disease in cacao. BMC Microbiol. 2017 Aug 17;17(1):176. doi: 10.1186/s12866-017-1085-4.
Gelová et al. (2017). Antibody-mediated modulation of cytokinins in tobacco: organ-specific changes in cytokinin homeostasis. J Exp Bot. 2017 Dec 23. doi: 10.1093/jxb/erx426.
Nagel et al. (2017). Arabidopsis SH3P2 is an ubiquitin-binding protein that functions together with ESCRT-I and the deubiquitylating enzyme AMSH3. Proc Natl Acad Sci U S A. 2017 Aug 7. pii: 201710866. doi: 10.1073/pnas.1710866114.
Lomin et al. (2017). Studies of cytokinin receptor–phosphotransmitter interaction provide evidences for the initiation of cytokinin signalling in the endoplasmic reticulum. Functional Plant Biology, CSIRO Publications. (Nicotiana benthamiana, western blot)
Zhang et al. (2017). Control of secondary cell wall patterning involves xylan deacetylation by a GDSL esterase. Nat Plants. 2017 Mar 3;3:17017. doi: 10.1038/nplants.2017.17. (Oryza sativa, immunolocalization, western blot)
Je et al. (2016). Signaling from maize organ primordia via FASCIATED EAR3 regulates stem cell proliferation and yield traits. Nat Genet. 2016 Jul;48(7):785-91. doi: 10.1038/ng.3567. Epub 2016 May 16.

Related products: BiP | Lumenal-binding protein (rabbit antibody)