COXIIb | Algal Cytochrome oxidase subunit II b
AS06 151  |  Clonality: Polyclonal  |  Host: Rabbit  |  Reactivity: Chlamydomonas reinhardtii  |  cellular [compartment marker] of mitochondrial inner membrane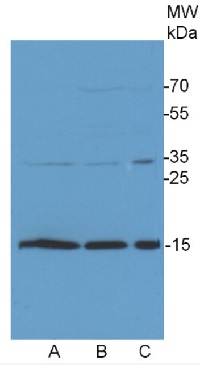 DATA SHEET IN PDF
Product Information
Immunogen
GST fusion with the aminoacids 4-153 of the subunit 2b of the Chlamydomonas reinhardtii cytochrome oxidase, UniProt: Q9AU05
Reconstitution
For reconstitution add 50 ĩl of sterile water
Storage
Store lyophilized/reconstituted at -20°C; once reconstituted make aliquots to avoid repeated freeze-thaw cycles. Please remember to spin the tubes briefly prior to opening them to avoid any losses that might occur from material adhering to the cap or sides of the tube.
Tested applications
Western blot (WB)
Recommended dilution
1 : 5000-1 : 25 000 (WB)
Expected | apparent MW
15 kDa
Reactivity
Confirmed reactivity
Chlamydomonas reinhardtii
Not reactive in
No confirmed exceptions from predicted reactivity are currently known
Application examples
Application examples
Application example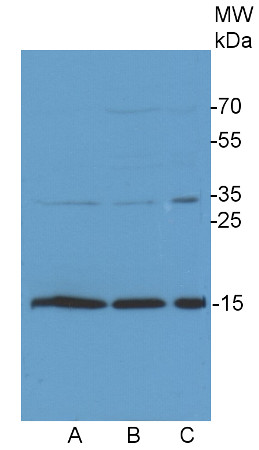 Chlamydomonas reinhardtii membrane extract (A), Chlamydomonas reinhardtii total cell extract, prepared by sonication, loading 14 µl equivalent to 30 µg of total protein (B), Chlamydomonas reinhardtii total cell extract, rapid, prepared directly by spinning down the cells and lysis of cell pellet in SDS-PAGE sample buffer and loading 14 µl equivalent to 98 µg of total protein (C), denatured at 100°C for 5 min. were separated on 15 % SDS-PAGE and blotted 1h to PVDF using tank transfer. Blots were blocked with 1 % blocking buffer (2 ml blocking reagent stock solution ROCHE 11 520 709 001 in 20 ml TBS) for ON at 4°C without agitation. Blot was incubated in the primary antibody at a dilution of 1: 25 000 for 1h at RT with agitation. The antibody solution was decanted and the blot was rinsed briefly twice, then washed once for 15 min and 3 times for 5 min in TBS-T at RT with agitation. Blot was incubated in secondary antibody (anti-rabbit IgG horse radish peroxidase conjugated, from Agrisera AS09 602) diluted to 1:20 000 in for 1h at RT with agitation. The blot was washed as above and developed using chemiluminescent detection reagent according to manufacture instructions. Exposure time was 8 seconds.

Courtesy of Nadine Coosemans, Laboratoire de génétique et physiologie des microalgues, Université de Liège, Belgium
Additional information
Additional information
Cellular [compartment marker] of mitochondrial inner membrane for Chlamydomonas reinhardtii

This product can be sold containing ProClin if requested.

Background
Background
COXII - mitochondrial cytochrome oxidase subunit II is located in inner mitochondrial membrane. The enzyme is a component of the respiratory chain complex involved in the transfer of electrons from cytochrome c to oxygen.
Product citations
Selected references
Burlacot et al. (2022) Alternative photosynthesis pathways drive the algal CO2-concentrating mechanism. Nature 605, 366–371 (2022). https://doi.org/10.1038/s41586-022-04662-9
Ma et al. (2020). An ortholog of the Vasa intronic gene is required for small RNA-mediated translation repression in Chlamydomonas reinhardtii. Proc Natl Acad Sci U S A. 2020 Jan 7;117(1):761-770. doi: 10.1073/pnas.1908356117.
Jokel et al. (2020). Elimination of the flavodiiron electron sink facilitates long-term H2 photoproduction in green algae. Biotechnol Biofuels. 2019 Dec 5;12:280. doi: 10.1186/s13068-019-1618-1.
Upadhyaya and Jagadeeshwar Rao (2019). Reciprocal regulation of photosynthesis and mitochondrial respiration by TOR kinase in Chlamydomonas reinhardtii. Plant Direct Volume 3, Issue 11.
Jokel et al. (2018). Hunting the main player enabling Chlamydomonas reinhardtii growth under fluctuating light. Plant J. 2018 Mar 25. doi: 10.1111/tpj.13897.
Uhmeyer et al. (2017). Impaired Mitochondrial Transcription Termination Disrupts the Stromal Redox Poise in Chlamydomonas. Plant Physiol. 2017 Jul;174(3):1399-1419. doi: 10.1104/pp.16.00946.
Volgusheva et al. (2017). Comparative analyses of H2 photoproduction in magnesium- and sulfur-starved Chlamydomonas reinhardtii cultures. Physiol Plant. 2017 Apr 7. doi: 10.1111/ppl.12576.
Schulz-Raffelt et al. (2016). Hyper-accumulation of starch and oil in a Chlamydomonas mutant affected in a plant-specific DYRK kinase. Biotechnol Biofuels. 2016 Mar 8;9:55. doi: 10.1186/s13068-016-0469-2. eCollection 2016.
Kropat et al. (2015). Copper economy in Chlamydomonas: Prioritized allocation and reallocation of copper to respiration vs. photosynthesis. Proc Natl Acad Sci U S A. 2015 Feb 2. pii: 201422492.
Dang et al. (2014). Combined Increases in Mitochondrial Cooperation and Oxygen Photoreduction Compensate for Deficiency in Cyclic Electron Flow in Chlamydomonas reinhardtii. Plant Cell. 2014 Jul 2. pii: tpc.114.126375.
Johnson et al. (2014). Proton Gradient Regulation 5-Mediated Cyclic Electron Flow under ATP- or Redox-Limited Conditions: A Study of DeltaATPase pgr5 and DeltarbcL pgr5 Mutants in the Green Alga Chlamydomonas reinhardtii. Plant Physiol. 2014 May;165(1):438-52. doi: 10.1104/pp.113.233593. Epub 2014 Mar 12.

Related products: COXIIb | Algal Cytochrome oxidase subunit II b