FeSOD | Chloroplastic Fe-dependent superoxide dismutase
AS06 125  |  Clonality: Polyclonal  |  Host: Rabbit  |  Reactivity: A. maritima, A. thaliana, B. juncea, Ch. reinhardtii, D. bardawil, D.salina, M. sativa, Morus spp.,O. sativa, Salicornia sp., S. tuberosum, winter triticale, Z. mays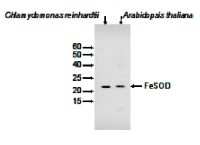 DATA SHEET IN PDF
Product Information
Immunogen
overexpressed Chlamydomonas reinhardtii thioredoxine fusion protein A8IGH1, FeSOD excised from a gel piece
Reconstitution
For reconstitution add 50 ĩl of sterile water
Storage
Store lyophilized/reconstituted at -20°C; once reconstituted make aliquots to avoid repeated freeze-thaw cycles, Please, remember to spin tubes briefly prior to opening them to avoid any losses that might occur from lyophilized material adhering to the cap or sides of the tubes
Tested applications
Western blot (WB)
Recommended dilution
1 : 1500-1 : 5000 (WB)
Expected | apparent MW
25 | 22 kDa
Reactivity
Confirmed reactivity
Armeria maritima, Arabidopsis thaliana, Brassica juncea, Chlamydomonas reinhardtii, Dunaliella bardawil, Dunaliella salina, Fremyella diplosiphon, Medicago sativa, Morus spp., Oryza sativa, Salicornia sp., Solanum tuberosum, winter triticale, Zea mays
Predicted reactivity
Algae, Dunaliella salina, Glycine max, Helianthus annuus, Marchantia polymorpha, Nannochloropsis gaditana, Solanum lycopersicum,  Physcomitrella patens, Pinus pinaster, Populus balsamifera, Volvox carteri



Species of your interest not listed? Contact us
Application examples
Application examples
Application example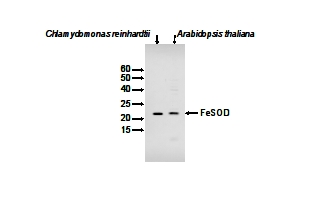 5 µg of stromal protein from (1) Chlamydomonas reinhardtii (left), (2) Arabidopsis thaliana were separated on  SDS-PAGE. Primary antibodies have been used in 1: 3000.  

Additional information
The antibody will detect FeSOD enzyme only in plants grown on low Cu (0.1 μM).Reference: Salah et al (2005) Two P-type ATPases are required for copper delivery in Arabidopsis thaliana chloroplasts. Plant Cell, 17, 1233-1251

Out of three FeSOD isoforms, FeSOD2 and FeSOD3 are not expressed in the roots. In roots of Arabidopsis thaliana, FeSOD1 is detected Takáč et al. (2018)

This product can be sold containing ProClin if requested
Background
Background
Antioxidant system works as a defense against oxidative stress. SOD (superoxide dismutase) catalyzes the dismutation of superoxide into oxygen and H,O,. SODs are classified, according to their metal cofactor, as FeSOD, MnSOD, or Cu / ZnSOD. Chloroplasts generally contain Cu/ZnSOD and, in a number of plant species, FeSOD
Product citations
Selected references
Konkolewska et al. (2020). Combined use of companion planting and PGPR for the assisted phytoextraction of trace metals (Zn, Pb, Cd).
Jokel et al. (2020). Elimination of the flavodiiron electron sink facilitates long-term H2 photoproduction in green algae. Biotechnol Biofuels. 2019 Dec 5;12:280. doi: 10.1186/s13068-019-1618-1.
Shull et al. (2019). Anatase TiO2 nanoparticles induce autophagy and chloroplast degradation in thale cress (Arabidopsis thaliana). Environ Sci Technol. 2019 Jul 29. doi: 10.1021/acs.est.9b01648.
Mermod et al. (2019). SQUAMOSA promoter-binding protein-like 7 mediates copper deficiency response in the presence of high nitrogen in Arabidopsis thaliana. Plant Cell Rep. 2019 May 15. doi: 10.1007/s00299-019-02422-0.
Chen et al. (2018). The molecular chaperon AKR2A increases the mulberry chilling-tolerant capacity by maintaining SOD activity and unsaturated fatty acids composition. Sci Rep. 2018 Aug 14;8(1):12120. doi: 10.1038/s41598-018-30379-9.
Bastow et al. (2018). Vacuolar Iron Stores Gated by NRAMP3 and NRAMP4 Are the Primary Source of Iron in Germinating Seeds. Plant Physiol. 2018 Jul;177(3):1267-1276. doi: 10.1104/pp.18.00478.
Hura et al. (2018). Rieske iron-sulfur protein of cytochrome-b6f is involved in plant recovery after drought stress. Rieske iron-sulfur protein of cytochrome-b6f is involved in plant recovery after drought stress.
Balážová et al. (2018). Zinc oxide nanoparticles phytotoxicity on halophyte from genus Salicornia. Plant Physiol Biochem. 2018 Sep;130:30-42. doi: 10.1016/j.plaphy.2018.06.013.
Jokel et al. (2018). Hunting the main player enabling Chlamydomonas reinhardtii growth under fluctuating light. Plant J. 2018 Mar 25. doi: 10.1111/tpj.13897.
Volgusheva et al. (2017). Comparative analyses of H2 photoproduction in magnesium- and sulfur-starved Chlamydomonas reinhardtii cultures. Physiol Plant. 2017 Apr 7. doi: 10.1111/ppl.12576.
Momčilović et al. (2014). Improved procedure for detection of superoxide dismutase isoforms in potato, Solanum tuberosum L. Acta Physiologiae Plantarum, August 2014, Volume 36, Issue 8, pp 2059-2066.
Dang et al. (2014). Combined Increases in Mitochondrial Cooperation and Oxygen Photoreduction Compensate for Deficiency in Cyclic Electron Flow in Chlamydomonas reinhardtii. Plant Cell. 2014 Jul 2. pii: tpc.114.126375.
Related products: FeSOD | Chloroplastic Fe-dependent superoxide dismutase