Fucose
AS07 268  |  Clonality: Polyclonal  |  Host: Rabbit  |  Reactivity: Higher plants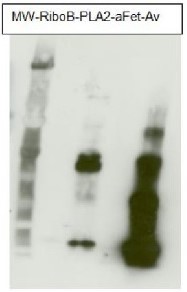 DATA SHEET IN PDF
Product Information
Immunogen
Core fucose residues bound to the N-glycan in alpha 1,3
Purity
Immunogen affinity purified serum in PBS pH 7.4.
Reconstitution
For reconstitution add 50 ĩl of sterile water
Storage
Store lyophilized/reconstituted at -20°C; once reconstituted make aliquots to avoid repeated freeze-thaw cycles. Please remember to spin the tubes briefly prior to opening them to avoid any losses that might occur from material adhering to the cap or sides of the tube.
Tested applications
ELISA (ELISA), Immunolocalization (IL), Western blot (WB)
Recommended dilution
0,5 ĩg/ml (ELISA), 1 : 40 (IL), 1 ug/10 ml (WB)
Expected | apparent MW
10 - 100 for various glycoproteins
Reactivity
Confirmed reactivity
Higher plants, Pheodactylum tricornutum (diatom)
Predicted reactivity
Higher plants, Phaeodactylum tricornutum
Not reactive in
No confirmed exceptions from predicted reactivity are currently known
Application examples
Application examples
Western blot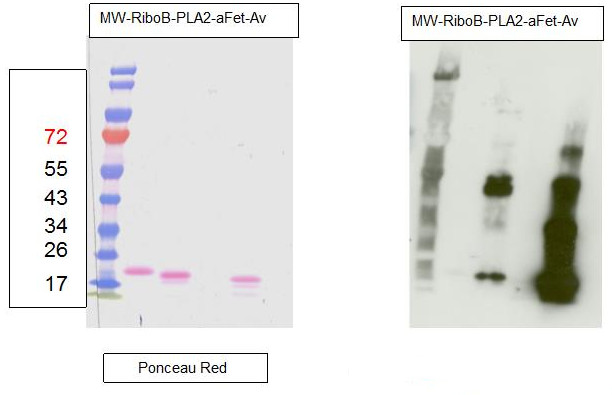 The Anti-fucose antibodies exhibit a positive response with PLA2 and Avidin and a negative one with asialofetuin. This suggests this antibody recognizes only α1,3 fucose epitopes.

For each sample, 1µg of purified protein was denatured with leammli sample buffer at 100°C for 10 minutes loaded on a Bis-Tris gel 4-12% and blotted 1h15 to nitrocellulose membrane using semi-dry transfer. Blots were saturated in TBST over night with agitation. Blot was incubated for 2 hours with primary antibody at a dilution of 1:5000 in TBST at RT with agitation. The antibody solution was discarded and after quick whashes with TBST, the blot was washed 3X15 min in TBST. Blot was incubated in secondary antibody (Goat anti Rabbit IgG, HRP conjugated AS09 602 lot 1707 from AGRISERA) diluted to 1:50 000 in TBST for 1 hour at RT with agitation. The blot was washed as above, plus 1 wash in TBS for 10 min at RT with agitation. The blot was developed for 5 min with chemiluminescent detection reagent. Exposure time was 5 seconds.

RiboB: RiboNuclease B contains only oligomannosidic N-Glycans. Used here as a negative control. PLA2: Phospholipase A2 from honey bee venom (Apis mellifera) contains α1,3 Fucose residues. aFet: Asialofetuin is a glycoprotein with α1,6 fucose. Used here as a negative control. Av: recombinant Avidin expressed in corn contains α1,3 Fucose residues.


Courtesy Dr. Muriel Bardor, University of Rouen, France



---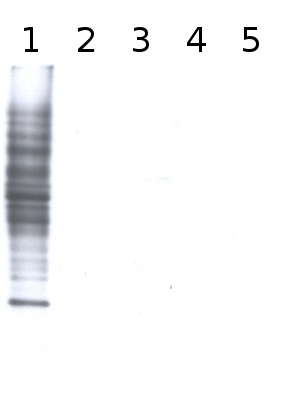 Total cell extract from Arabidopsis thaliana wild type (1) and cell extracts from different mutants defective in fucosyltransferases (2-5) (data not published yet).

Primary antibody has been used at 10 µg/10 ml of incubation buffer. Detection has been done using enchanced chemiluminescence (ECL).
---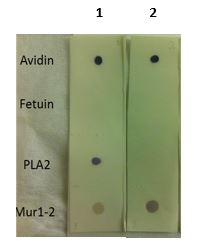 Dot blot reaction of anti-Fucose and anti-Xylose antibodies with various controls: Avidin (Fuc+/Xyl+), Fetuin (Fuc-/Xyl-), PLA2 (Fuc+/Xyl-) and Mur1-2 (Fuc-/Xyl+). 2 µl of each extract were spotted on a nitrocellulose membrane, placed on top of 2 WHATMAN filters (one soaked in TBS-T) and dried for 1.5 h at RT. The mem-brane was blocked for 30 min with 2% low-fat milk powder in TBS-T (0.1% TWEEN 20) and incubated with anti-Fucose(1) (AS07 268, 1:1000) or anti-Xylose(2) (AS07 267, 1:1000) for 30 min and then with secondary anti-rabbit(1:1000) antibody (ALP conjugated, recommended secondary antibody AS09 607). Membrane was washed with TBS-T 3 x 10 minutes before reaction development using alkaline phosphatase reagent BCIP®/NTB premixed solution (Sigma, Prod. No. B6404).

Please follow this link for a more detailed Dot-Blot protocol

---

Immunolocalization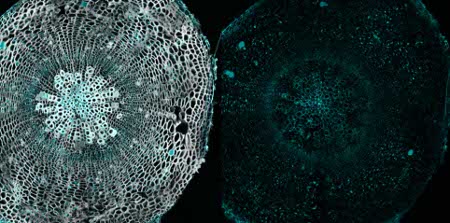 Immunolocalization using anti-fucose antibodies on a 40µm vibratome section of a 21 day old Arabidopsis thaliana hypocotyl (wood). Fixation: 4% formaldehyde fixation in 1X PME (100 mM PIPES, 1 mM MgSO4, 2 mM EGTA); blocking: 5 % BSA; primary antibody dilution: 1:40; secondary antibody: 1:300 AlexaFluor568 from Invitrogen (Life Technologies), Alexa Fluor® 568 Goat Anti-Rabbit IgG (H+L); Left panel, immunolabel channel (cyan) overlaid on grayscale channel (0.001% Calcofluor white which stains cellulose and hemicellulose). Right panel, only immunolabelling

Courtesy of Dr. Hardy Hall and Dr. Urs Fischer, Umeå Plant Science Centre, Sweden
Additional information
Additional information
Alpha (1,3) fucose is present not only in plants but also in some invertebrates (such as nematodes, bees, etc,) , However, cross-reaction with glycoproteins from these organisms is weaker than the one observed in plants, This sugar residue does not exist in mammals, in their endogenous glycoproteins
Controls:
PLA2 (phospholipase 2 from bee venom) which contains only α1.3 fucose, Sigma, product number P9279.
Type II - horseradish peroxidase which contains β1.2 Xylose and α1.3 fucose, Sigma, product number P8250.
The antibody does not recognize alpha 1,6-fucose.
Background
Background
This antibody specifically cross-reacts against fucose residues bound to the protein N-glycans in alpha 1,3. This residue is characteristic of the plant protein N-glycans and is absent in protein N-glycans from animals. This residue is added in the Golgi apparatus.
Product citations
Selected references
Zhang et al. (2018). An important role of L -fucose biosynthesis and protein fucosylation genes in Arabidopsis immunity. New Phytol. 2018 Dec 15. doi: 10.1111/nph.15639.
Jansing et al. (2018). CRISPR/Cas9-mediated knockout of six glycosyltransferase genes in Nicotiana benthamiana for the production of recombinant proteins lacking β-1,2-xylose and core α-1,3-fucose. Plant Biotechnol J. 2018 Jul 3. doi: 10.1111/pbi.12981.
Nakanishi et al. (2017). Protection of Human Colon Cells from Shiga Toxin by Plant-based Recombinant Secretory IgA. Sci Rep. 2017 Apr 3;7:45843. doi: 10.1038/srep45843. (ELISA)
Hanania et al. (2017). Establishment of a tobacco BY2 cell line devoid of plant specific xylose and fucose as a platform for the production of biotherapeutic proteins. Plant Biotechnol J. 2017 Feb 3. doi: 10.1111/pbi.12702.
Ebert et al. (2015). Identification and Characterization of a Golgi-Localized UDP-Xylose Transporter Family from Arabidopsis. Plant Cell. 2015 Mar 24. pii: tpc.114.133827.
Lehtimäki et al. (2014). Posttranslational modifications of FERREDOXIN-NADP+ OXIDOREDUCTASE in Arabidopsis chloroplasts. Plant Physiol. 2014 Dec;166(4):1764-76. doi: 10.1104/pp.114.249094
Baiet et all. (2010). N-glycans of Phaeodactylum tricornutum diatom and functional characterization of its N-acetylglucosaminyltransferase I enzyme. J Biol. Chem. Dec 17.