EGFP, S65T-GFP, RS-GFP, YFP| Green Fluorescence Protein and its variants
AS20 4512 | Clonality: Polyclonal | Host: Rabbit | Reactivity: FP, YFP, EGFP | Green Fluorescence Protein and its variants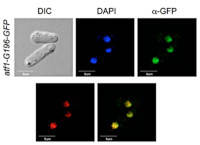 DATA SHEET IN PDF
Product Information
Immunogen
Recombinant, His-tagged EGFP protein from Aequorea victoria, UniProt: P42212

Purity
Serum. Contains 0.05 % sodium azide.
Storage
Store at -20°C, Avoid repeated freeze-thaw cycles. Please remember to spin the tubes briefly prior to opening them to avoid any losses that might occur from material adhering to the cap or sides of the tube.
Tested applications
Immunofluorescence (IF), Immunoprecipitation (IP), Western blot (WB)
Recommended dilution
assay dependent (IP), 1 : 4000 (IF), 1 : 2000 (WB)
Reactivity
Confirmed reactivity
EGFP, S65T-GFP, RS-GFP, YFP
Application examples
Application examples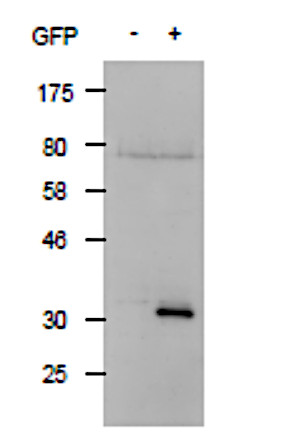 Lysate of 293T celss trasfected with empty vector (letf panel "-")
Lysate of 293T cells transfected with the plasmid carrying the GFP gene

Membrane for transfer: nitrocellulose. 
Anti-GFP antibodies were used at 1: 2000 dilution 1h/RT incubation in TBS-T. Followed by washes and incubation with secondary antibodies, HRP-conjugated and detection using chemiluminescence, following manufacture's recommendations.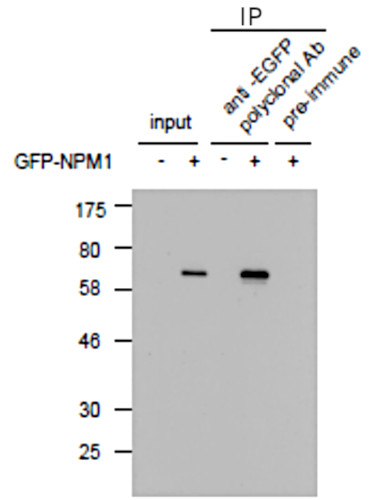 -: Lysate of 293T cells transfected with an empty vector
+: Lysate of 293T cells transfected with carrying the GFP-tagged NPM1 gene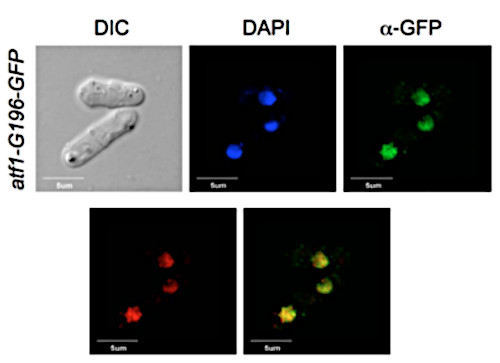 Immunofluorescence of GFP- and G196-tagged nuclear protein in fission yeast Atf1-G196-GFP expressing cells. Fixation: 3 % formaldehyde. 
Anti-GFP polyclonal antibodies: 1: 1000 over night incubation at RT, followed by incubation with Alexa-488 anti-rabbit secondary antibodies. 
Background
Background
GFP (Green fluorescent protein) was originally identified in photo organs on jellyfish Aequorea victoria. It is a naturally fluorescent protein which emits green light at a maximum wavelength of 509 nm when excited by blue or UV light. It is extensively used in laboratory as a reporter molecule to label and study cellular and subcellular proteins in living cells using a wide range of applications. Antibodies to GFP protein are used in immunoblotting and ELISA. GFP protein has molecular weight of 27 kDa.
Product citations
Selected references
Tatsumi et al. (2017). G196 epitope tag system: a novel monoclonal antibody, G196,recognizes the small, soluble peptide DLVPR with high affinity. Sci Rep. 2017 Mar 7;7:43480.doi: 10.1038/srep43480. (Immunofluorescence, Western blot)

Related products: EGFP, S65T-GFP, RS-GFP, YFP| Green Fluorescence Protein and its variants
AS16 ECL-S-N | low pico to mid femtogram and extreme low femtogram detection

This product can b...
From 26 €
AS15 2998 | Clonality: Polyclonal | Host: Chicken | Reactivity: native and recombinant GFP
402 €
AS09 602 |  Clonality: Polyclonal | Host: Goat | Reactivity: Rabbit IgG (H&L)

10 ...
201 €