Glyphosate
AS13 2739 | Clonality: Polyclonal | Host: Chicken | Reactivity: Glyphosate DATA SHEET IN PDF
Product Information
Immunogen
BSA-conjugated Glyphosate (coupled via EDAC/NHS) , Target: Glyphosate, CAS no,: 1071-83-6 from SIGMA,
Purity
Total IgY. Purified by PEG precipitation.
Quantity
5 mg (at 5 mg/ml)
Storage
Store Store at 4°C up to one month or in aliquots at -20°C for long time storage. Avoid repeated freezing and thawing. For long time storage in 4°C, please add sodium azide 0,02 %.
Tested applications
ELISA (ELISA), Immunoaffinity chromatography (IAC)
Recommended dilution
1 : 2000 (ELISA)
Additional information
Additional information
Antibody is provided in 0,01M PBS, pH 7,2. Composition of PBS: 8 mM Na2HPO4; 2 mM KH2PO4, 137 mM NaCl; 2,68 mM KCl.

For coating OVA-glyphosate or KLH-glyphosate can be used.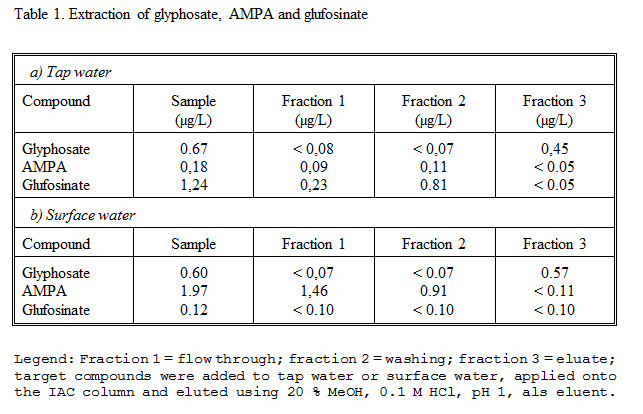 This antibody was used to prepare anti-glyphosate immunoaffinity column which showed to be very specific and retained glyphosate but not AMPA or glufosinate. Recover of glyphosate was ca. 100 %.

The antibody is applicable for any type of (waste) water sample. The detection limit is 2,5 μg/l, while the end concentration is 100 μg/l. The standard curve runs from 5 – 100 μg/l. For an optimal ELISA result it is crucial to use Greiner high affinity plates; As assay buffer 0,1M PBS, 1% BSA heat-treated, pH 7,4 is recommended.
Background
Background
Glyphosate (N-(phosphonomethyl)glycine) is a herbicide of a broad action spectrum which is used to kill broadleaf weeds and grasses known to compete with commercial crops world-wide. Due to its physico-chemical properties glyphosate easily enters the aqueous environment where it is rapidly converted into its main metabolite AMPA (aminomethylphosphonic acid).
Product citations
Selected references
Vestri et al. (2021) LSPR immuno-sensing based on iso-Y nanopillars for highly sensitive and specific imidacloprid detection. J Mater Chem B. 2021 Nov 17;9(44):9153-9161. doi: 10.1039/d1tb01344k. PMID: 34694310.
Viirlaid et al. (2019). Immunoassay for rapid on-site detection of glyphosate herbicide. Environ Monit Assess. 2019 Jul 24;191(8):507. doi: 10.1007/s10661-019-7657-z.

Related products: Glyphosate
AS15 TMB-HRP | TMB based, especially formulated with extreme sensitivity, HRP substrate for microw...
From 10 €
AS09 606 | Clonality: Polyclonal  |  Host: Goat  | Reactivity: Chicken IgY (H&L...
206 €
AS10 1489 | Clonality: Polyclonal | Host: Rabbit | Reactivity: Chicken IgG/Y (H&L)

10 % un...
206 €