Goat anti-Mouse IgG (H&L), Affinity purified, Unconjugated, min, cross-reactivity to bovine, horse, human, pig or rabbit serum
AS10 1423 | Clonality: Polyclonal | Host: Goat | Reactivity: Mouse IgG (H&L)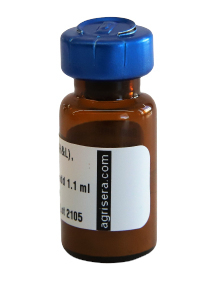 DATA SHEET IN PDF
Product Information
Immunogen
Purified mouse IgG (H&L) AAA51107
Purity
Immunogen affinity purified goat IgG.
Recommended dilution
This antibody is suitable for all immunoassay applications, The optimal working dilution should be determined by the investigator
Additional information
Additional information
Purity of this preparation is > 95% based on SDS-PAGE. Antibody concentration is > 4.5 mg/ml (E 1% at 280 nm = 14.0). Antibody is supplied in 10 mM sodium phosphate, 0.15 M sodium chloride, pH 7.2. Contains 0.05% (w/v) sodium azide as preservative of bacterial growth.
Based on immunoelectrophoresis, this antibody reacts with:heavy chains on mouse IgG, light chains on all mouse immunoglobulins Based on immunoelectrophoresis, no reactivity is observed to: non-immunoglobulin mouse serum proteins,serum proteins from bovine, horse, human, pig, or rabbit.
Background
Background
Goat anti-mouse IgG (H&L) is a secondary antibody which binds to mouse IgG (H&L) in immunological assays. Antibody is affinity purified using solid phaseMouse IgG (H&L).
Related products: Goat anti-Mouse IgG (H&L), Affinity purified, Unconjugated, min, cross-reactivity to bovine, horse, human, pig or rabbit serum