RuvA (protein, positive control)
AS21 4543P |  Protein/positive control for Western blot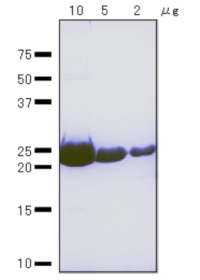 DATA SHEET IN PDF
Product Information
Purity
Contains 50% glycerol, 10 mM Tris-HCl (pH 7,5), 2 mM EDTA, 100 mM NaCl, 5 mM mercaptoethanol. Over 90 % pure by SDS-PAGE.
Storage
Store at 4°C or -20°C for a longer period of time; once make aliquots to avoid repeated freeze-thaw cycles. Please remember to spin the tubes briefly prior to opening them to avoid any losses that might occur from material adhering to the cap or sides of the tube.
Tested applications
Western blot (WB)
Expected | apparent MW
22 kDa (monomer)
Application examples
Application examples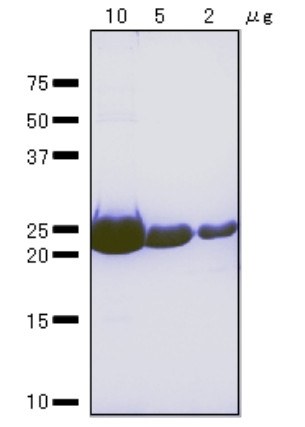 10, 5 and 2 µg of highly purified RuvA protein from Escherichia coli was separated on SDS-PAGE and stained by Coomasie.
Additional information
Additional information
This product can be used in functional studies as Holliday junction specific binding protein, which promotes Holliday-junction branch migration in combination with RuvB protein
RuvA protein is full length, highly purified (over 90 %, SDS-PAGE). UniProt: P0A809
Background
Background
RuvA protein of Escherichia coli binds specifically to the Holliday structure which is the intermediate of recombination at the late stage of homologous recombination and recombination repair and forms a complex with RuvB motor protein allowing the migration of Holliday junction using ATP hydrolysis energy and expands the heteroduplex region. In solution, it forms a tetramer and binds to the cross-like DNA of the Holliday junction from below and above holding it in between.
Product citations
Selected references
Han et al. (2006). Direct observation of DNA rotation during branch migration of Holliday junction DNA by Escherichia coli RuvA-RuvB protein complex. Proc Natl Acad Sci U S A. 2006 Aug 1;103(31):11544-8. doi: 10.1073/pnas.0600753103. Epub 2006 Jul 24. PMID: 16864792; PMCID: PMC1544206.
Iwasaki et al. (1992) Escherichia coli RuvA and RuvB proteins specifically interact with Holliday junctions and promote branch migration. Genes Dev. 1992 Nov;6(11):2214-20. doi: 10.1101/gad.6.11.2214. PMID: 1427081.

Related products: RuvA (protein, positive control)