Agrisera Secondary/ECL offer
Product no: AS18 SecondaryECL


For an extra 30 EUR on your order you will receive:
- Goat anti-rabbit secondary antibody of high titer, min. 1: 25 000 1h/RT, HRP conjugated
- Two Agrisera chemiluminescence reagents:
with low picogram (Agrisera Bright)
and extreme low
femtogram detection range (Agrisera SuperBright)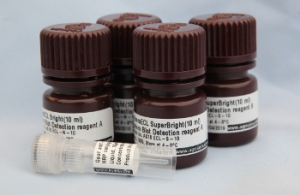 DATA SHEET IN PDF
Offer contains the following products:
1. Secondary antibody
Goat anti-Rabbit IgG, HRP-conjugated-trial sample(10 µl)
, to be used at dilutions from 1: 25 000 to 1: 50 000, 1h/RT incubation. Tested on a wide range of species including: dicots, monocots, moss, algae, cyanobacteria and diatoms.
High dilution of this antibody gives the benefit of low background signal.
Enough for 50 Western blots (10 ml incubation volume/test).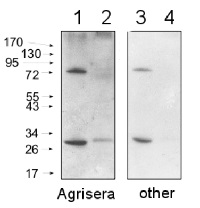 Agrisera ECL kit (Bright/SuperBright) trial pack
ECLBrught -low pico to mid femtogram detectio, for detection of protein of moderate and high expression
ECLSuperBright - extreme low femtogram detection, for detection of protein with low expression level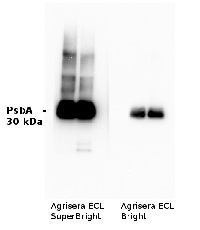 This set combines Agrisera primary antibody with matching effective secondary antibody and high and medium sensitivity chemiluminescent detection reagents.

Related products: Agrisera Secondary/ECL offer